Save Our Sons: Women, dissent and conscription in the Vietnam War by Carolyn Collins
Monash University Publishing, $34.95 pb, 360 pp
History
Stopping 'Ming' in his tracks
The weapon of feminine respectability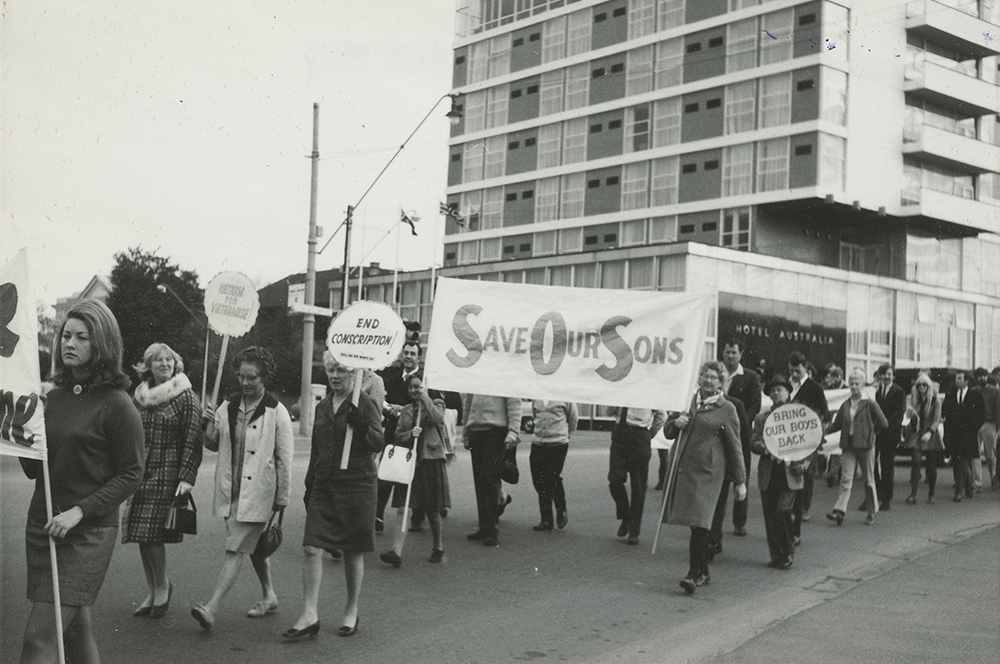 Two weeks after he announced the reintroduction of conscription in late 1964, Prime Minister Robert Menzies addressed a political rally at Hornsby, in the Liberal heartland of Sydney's north-west. Menzies received what historian Carolyn Collins described as a 'rockstar welcome'. However, when he spoke about national service, a group of black-clad women in the audience rose to their feet and covered their heads with black veils, standing silently for several minutes in the face of jeers and boos. They eventually filed out of the hall, handing out anti-conscription pamphlets as they left. Margaret Holmes, who had helped organise the protest, recalled later that it 'stopped [Menzies] in his tracks'. Organised by the Women's International League of Peace and Freedom, it was the first women's protest against conscription in the Vietnam era, but it would not be the last. Weaponising decorous, middle-class femininity would prove to be a potent strategy in the nine long years it took to abolish conscription in Australia.
This arresting story opens the first chapter of Carolyn Collins's compelling, deeply researched history of Save Our Sons, or SOS. The group's first branch was formed in Sydney in 1965, sending out a 'distress call – SOS – to mothers everywhere' to urge them to campaign against national service. Women across Australia established their own SOS groups, all vowing to campaign for the repeal of the National Services Act 1964. They were one of the earliest and most visible groups to campaign against national service, and they maintained their activism until it was finally abolished in 1973. As Collins explains, Menzies' national service scheme was different from previous ones because it allowed for conscripts to be sent overseas at a time when Australia was not at war, and because the ballot used to select conscripts seemed inherently unfair.
Save Our Sons is the first national history of SOS. Through a lively combination of oral history, SOS archives, ASIO files, and press coverage, Collins carefully traces the formation of the various SOS groups around the country, deftly contextualising the group within a longer history of women's peace and anti-war activism from World War I onwards. SOS was a largely white, middle-class organisation, with a mix of political allegiances and activist experience. SOS counted doctor's wives, Quakers, and other Christians among its members, but some also had ties to the communist-linked Union of Australian Women or to older pacifist groups like the Women's International League for Peace and Freedom. Almost all SOS members were women, most of them mothers, and the organisation was characterised by a passionate rhetoric of mothers' rights.
Collins combines a strong narrative drive with nuanced, thoughtful analysis of the rhetoric and strategies of SOS. The group worked within a longer tradition of women's maternalist political activism, and Collins is alert to the tensions and possibilities of this tradition for women. Maternalist politics had long been an acceptable avenue for women to participate in public life, and SOS capitalised on this in the face of the state's attempts to send their sons off to war. One SOS member justified her decision to join the group: 'There are a few women amongst us who are sick and tired of creating life at the cost of suffering and years of careful nurturing only to see it wantonly destroyed.' This rhetoric sharpened as the war continued: another woman supported her son's decision to refuse to register for the draft in 1970, stating that: 'My son will never register. I am proud that he will never kill mothers and children in Vietnam.' Yet SOS women also faced gendered criticism for their stance: a self-described 'proud mother' wrote that 'the frequent exhibitions your members put on in public is a disgrace to womanhood. Far better you stay home and look after your homes and make men of your sons.'
This book is a welcome addition to histories of Australian women's activism, particularly in those years 'between the waves' of suffrage and second-wave feminism. It is clear that, for many members, joining the group was a continuation of earlier activism, but conscription radicalised others. Save Our Sons also makes an important contribution to the historiography of the 1960s in Australia. SOS was symptomatic of the emerging 'new middle class' in the 1960s, which was galvanised by social issues and a willingness to defy convention. For much of its existence, SOS was out of step with majority public opinion; the ALP's heavy defeat at the 1966 federal election was particularly devastating. Save Our Sons sheds new light on the emergence of the new progressive middle-class constituency that turned to the ALP in the late 1960s but that was operating in a Cold War climate of suspicion of the far left.
Collins is especially attentive to the ways that SOS members deployed feminine respectability as both armour and weapon. Although the group attracted the attention of ASIO from the outset, maintaining a respectable face was crucial to broadening their appeal. Collins demonstrates that the widely accepted origin story of Sydney SOS – that it was the spontaneous creation of suburban mother Joyce Golgerth – was carefully crafted by the movement's founders, most of whom had previous political experience in the left-wing Union of Australian Women (UAW) or the Communist Party. She concludes that it was probably Noreen Hewett, an activist with close links to the Communist Party and the UAW, who actually founded SOS. Early protests were carefully calibrated to work within the confines of acceptable femininity: protesters were told to be 'dignified and ladylike'. Yet by 1971 some SOS women were working in the safe house network, moving draft resisters around to help them avoid jail. The jailing of five Melbourne SOS mothers (the 'Fairlea Five') just before Easter in 1971 was a public relations disaster for Billy McMahon's government. The fact that a group of 'respectable married women' were engaging in civil disobedience helped mobilise public opinion against conscription. But it took an election and a change of government to finally abolish it: Whitlam officially did so in June 1973, and SOS branches wound up soon after.
By placing SOS centre stage, Collins is able to tell a new story about Australia's anti-war movement. Accounts of this movement have tended to overlook the role of SOS in favour of more radical groups. The parallel rise of women's liberation alongside the anti-war movement exposed the sexism of male activists. Yet Collins suggests that the members of SOS – older women in an all-women organisation – largely escaped this blatant sexism and built their political skills for further activism. She demonstrates that SOS capitalised on the ways that women's capacity and appetite for political engagement were underestimated in 1960s Australia. Their principled stance helped broaden the appeal of the anti-war movement and coaxed women into political activity. More radically, they challenged the deep-seated idea that women's patriotic duty was to sacrifice their sons for the nation. Save Our Sons is a fitting tribute to their dedication and creativity as activists, and an important new history of Australia in the 1960s.
Save Our Sons: Women, dissent and conscription in the Vietnam War
by Carolyn Collins
Monash University Publishing, $34.95 pb, 360 pp