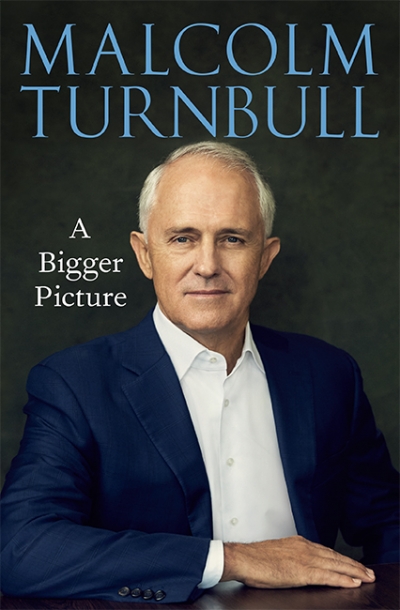 A Bigger Picture
by Malcolm Turnbull
Hardie Grant Books, $55 hb, 704 pp
Memoir
A Bigger Picture
by Malcolm Turnbull
Malcolm Turnbull looks us straight in the eye from the cover of this handsome book, with just a hint of a smile. He looks calm, healthy, and confident; if there are scars from his loss of the prime ministership in August 2018, they don't show. The book's voice is the engaging one we heard when Turnbull challenged Tony Abbott in July 2015 and promised a style of leadership that respected people's intelligence. He takes us from his childhood in a very unhappy marriage, through school and university, his astonishing successes in media, business, and the law, his entry into politics as the member for Wentworth, and ends with his exit from parliament.
It is a Sydney story, full of the Sydney identities Turnbull worked with as he made his name and fortune: Kerry Packer, of course, but a host of others, and the politicians, like Neville Wran and Bob Carr, who were his friends. Like the young Paul Keating, Turnbull sat at the feet of Jack Lang. The stories of his successes, friendships, and enmities before he entered politics are lively and well told, but they have a rehearsed feel, the jagged edges worn away. The book's energy is in his three years as prime minister (2015–18) which occupy more than half the book.
The brutal twists and turns of the week in August 2018 when Peter Dutton challenged Turnbull make for compelling reading, not least because Turnbull is so frank in his character assessments of the key players. He was amazed that anyone, including Dutton, could seriously think he was a viable candidate for leader. He believed that Greg Hunt was motivated solely by his desire to be foreign minister in Dutton's cabinet. He was hurt by what he saw as betrayal by Mathias Cormann, whom he had come to trust and had thought was his friend.
Turnbull remains unsure exactly what role Scott Morrison and his supporters played in the events of that week, but he was relieved that it was Morrison and not Dutton who became prime minister. Turnbull's take on Morrison is the only published close-up view we have so far of the man who is now our leader. Turnbull regards him as a purely political animal, with few policy convictions, and widely distrusted by his colleagues. He also believes that Morrison's compulsive leaking as treasurer derailed the government's policy options, such as on the GST and negative gearing.
There are detailed chapters on his government's major domestic and foreign policy achievements. He is especially proud of the same-sex marriage legislation's victory over the Coalition's right wing. Many of the staunchest advocates of 'traditional' marriage, he notes, were the keenest practitioners of traditional adultery, a comment he repeats when discussing the ban on sexual relations between ministers and their staff, which he introduced after the affair between Barnaby Joyce and his erstwhile media adviser became public. He had already had to speak to several ministers about this kind of thing, he writes, leaving us to wonder who.
Turnbull's singular failure was not achieving an energy policy that took seriously Australia's responsibility to lower its emissions. Turnbull's support for Kevin Rudd's Emissions Trading scheme was the catalyst for his losing the Liberal Party leadership to Tony Abbott in 2009, and he trod softly on climate when he became leader a second time. After the first loss he went into a black depression, the first time this ebullient, gifted man had risked serious mental illness. While he considered leaving politics for good, he stayed, and he believes that he emerged from the darkness a better, stronger, less self-absorbed person. It was this better person, determined to consult widely, whom many of us found so frustrating. Why wouldn't he 'do a Gough', crash through or crash in a confrontation with the climate deniers? This book helps us understand.
The prime minister Turnbull is most like is Whitlam, both brilliant, ambitious Sydney lawyers with big visions and big egos. But where Whitlam was able to ride a hunger for change in Australia, the times did not suit Turnbull. He was not a partisan warrior in a parliament that had become polarised, at least since John Howard and toxically so under Abbott; and he was not sufficiently tribal for the Liberal right, which believed he was a Labor Trojan horse.
There have always been rumours that Turnbull tried to join the Labor Party. However true these are, he concluded, rightly, that he belonged in the party committed to individualism and free enterprise, not the party of collectivism and the unions. He hoped he would be able to steer the Liberals back to the centre, closer to its liberal foundations, and as prime minister he worked hard to build consensus. He eschewed 'captain's calls' and restored proper processes of cabinet government after the Abbott debacle. He didn't hate Labor, and he was widely criticised by his side for not running a negative campaign in 2016. Nor did he heed the many warnings from his colleagues about whom not to trust, which was pretty well everyone in the senior team. If he had, he writes, 'I would not have been able to work with any of them', nor achieve anything.
Paul Keating said of Turnbull, 'brilliant, utterly fearless and no judgement'. This book gives plenty of evidence to confirm all three qualities. The achievements of his early adulthood are astonishing: courting the great and powerful; achieving extraordinary successes, like defeating the British government in the Spycatcher case; and making serious money. Other reviewers have criticised some of these accounts as a little self-serving, and no doubt they are. Most people are unreliable narrators of their own lives.
It was the lack of judgement that most interested me when I read the book, and Turnbull's buoyant, unrealistic optimism. When he first became prime minister, Turnbull kept telling us that this was the most exciting time to be an Australian, to be alive even, full of challenges and opportunities. Really, I thought, compared with the booming Australia of the 1950s, or the first days of the Whitlam government? And what about the sense of dread so many of us feel about the heating planet and the degraded natural world our grandchildren seem set to inherit?
As leader, there were two spectacular failures of judgement. The first was the Godwin Grech affair of June 2009 when, as leader of the Opposition, Turnbull accused Prime Minister Rudd of giving special treatment to a mate on the basis of emails that Grech, a public servant, leaked to him. He liked and trusted Grech, but the emails turned out to be fake and he was hugely embarrassed.
The second was his decision to take the country to a double dissolution election in July 2016. It was a foolish decision, which I can only put down to an over-optimistic reading of his government's electoral chances. A normal election could have been held as soon as August, and the trigger was unconvincing – to pass the Building and Construction Industry bills. Turnbull thought the election would deliver a more workable Senate. Instead, the Coalition barely scraped home, and he destroyed a massive amount of political capital.
A Bigger Picture gives us clues to the origins of this lack of judgement in its first chapter on Turnbull's childhood. His parents, Coral and Bruce, were ill-suited, an ambitious, intellectual woman and a good-looking, knockabout guy. They married a year after Malcolm was born, but the marriage didn't last. When Malcolm was about eight, his mother left for New Zealand with another man. He was sent to boarding school, where he was desperately unhappy, and Bruce brought him up. The story Bruce told his young son was that Coral had gone to study and that she loved him more than anything else on earth. Maybe she did, but she had left him, and this truth only slowly became apparent to him as 'her absence crept up on me like a slow, cold chill around the heart'. By sheltering him from the truth, Bruce was protecting his son's self-esteem, but perhaps he also weakened his reality-testing capacities, leaving him vulnerable to unrealistic optimism and misplaced trust.
In one important life matter, though, Turnbull's judgement was impeccable. He wed his wife, Lucy, forty years ago this March, and together they have built a loving, supportive marriage of equals and raised two children. He told Leigh Sales that he had always had 'a stronger sense of Lucy and me than I do of me'.
Turnbull lost the leadership twice because of his belief that climate change was real. In office he was unable to act effectively on this belief. Seeming to promise so much, he turned out to be a disappointment, as leaders so often do. For all the hopes we project onto them, our political leaders are only people, trying to do their best with the circumstances and the colleagues fate gives them. I finished this book with a great deal of sympathy for Turnbull. He failed to defeat the climate deniers in his party, but at least he tried.