It is hard to think of a more distinctive and idiosyncratic author than Western Australian Shaun Tan. Winner of the prestigious Astrid Lindgren Memorial Award for children's literature, Tan's work has also been recognised by numerous awards in speculative fiction, illustration, and children's books, including an Academy Award in 2011 (for the animated short adaptation of The Lost Thing). By sheer force of imagination and talent, Tan seems to have carved out a unique niche for himself, one that hovers between the worlds of images and words, children and adults, extravagant fantasy and the most visceral realism. In his latest book, Tales from the Inner City, Tan brings his focus to the fissure between the natural and human worlds.
Many of Tan's previous books feature an overpowering and oppressively industrial landscape, where organic life often takes an alien, uncontrolled, and distinctly unfamiliar form. The Lost Thing (2000) hybridises an octopus/hermit crab and a teapot/steam boiler, The Red Tree (2001) grows unexpectedly from a bedroom floor, while origami birds and fish flourish in The Arrival (2006).
---

---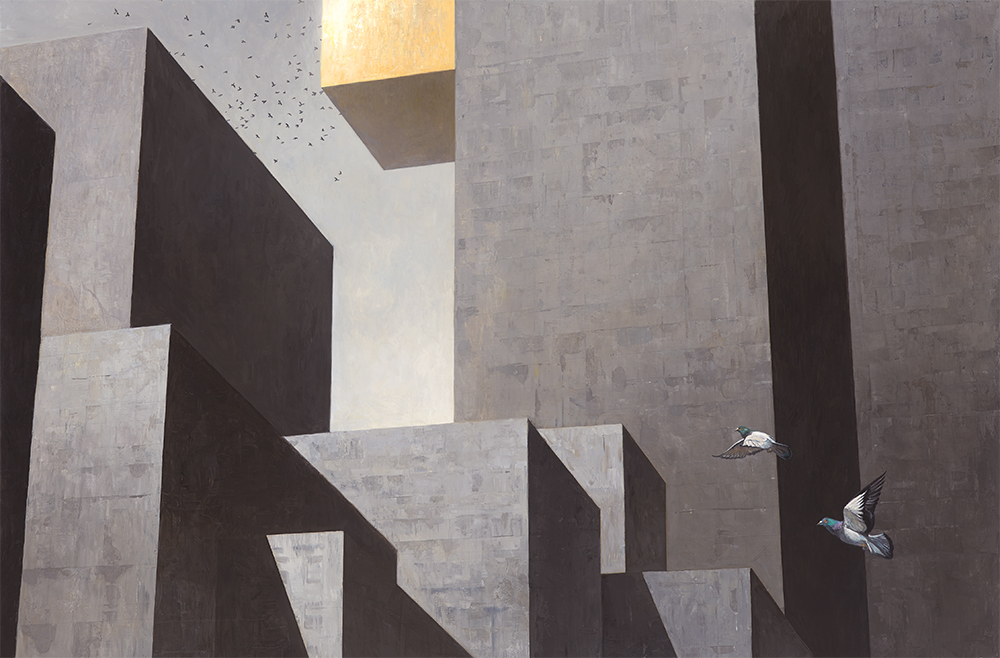 An illustration from Tales from the Inner City by Shaun Tan
By contrast, Tales from the Inner City takes its inspiration from familiar animals of the natural world. In characteristic fashion, Tan imagines them into fantastical places of his, and our, own construction: high-rise crocodiles, night-sky moonfish, the last rhino on the motorway. This is not wilderness so much as wildness – nature in the cracks of both our cities and our minds. The animals featured are mostly 'Old World' creatures that dominate mythology and folklore – the spirit animals of animistic beliefs that cross the boundaries between night and day, water and air, life and death: tigers, bears, whales, sharks, eagles, and owls.
A fox runs through suburban nightmares, maintaining our perfumed, beige confines by day, making 'every toilet the mineral-blue of some imaginary Nordic lake'. At night the fox runs wild, revelling in every craving, fear, dream, vice, and embarrassing secret. In the illustration, a red fox hangs suspended, either caught mid mouse-pounce or lifted asleep, above a dreaming human in a bed adrift in a swampy forest.
Mercantile pigeons upgrade from cliffs to high-rise monuments to money. 'The ocean below might have been replaced by the surge and crash of invisible commodities across marble steps, but high above it all every pigeon continues to make the same sound and steady investments they always have: mates, nests, eggs and more pigeons.'
The pigeons take over a floating, empty edifice that embodies modern capitalism. Like Douglas Adams's 'longest and most destructive party ever held', the building devastates the planet over which it hovers. And yet, after crashing to earth, it is found to be filled with genuine riches deposited by generations of pigeons, proving that 'they alone are humanity's greatest investment bankers'.
The lost things here are no longer the lost things of our imagination, childhood, or emotions; they are the lost things of the natural world as they inextricably slide towards a mass extinction of our own creation. Tan illustrates how much we stand to lose by alienating ourselves from our fellow species, how we are reflected in them, how we can be improved and uplifted by them. Or, as Tan's story of human-faced lungfish illustrates, we can watch them gradually diminish and disappear from us, taking their brighter, better, and more enlightened world with them.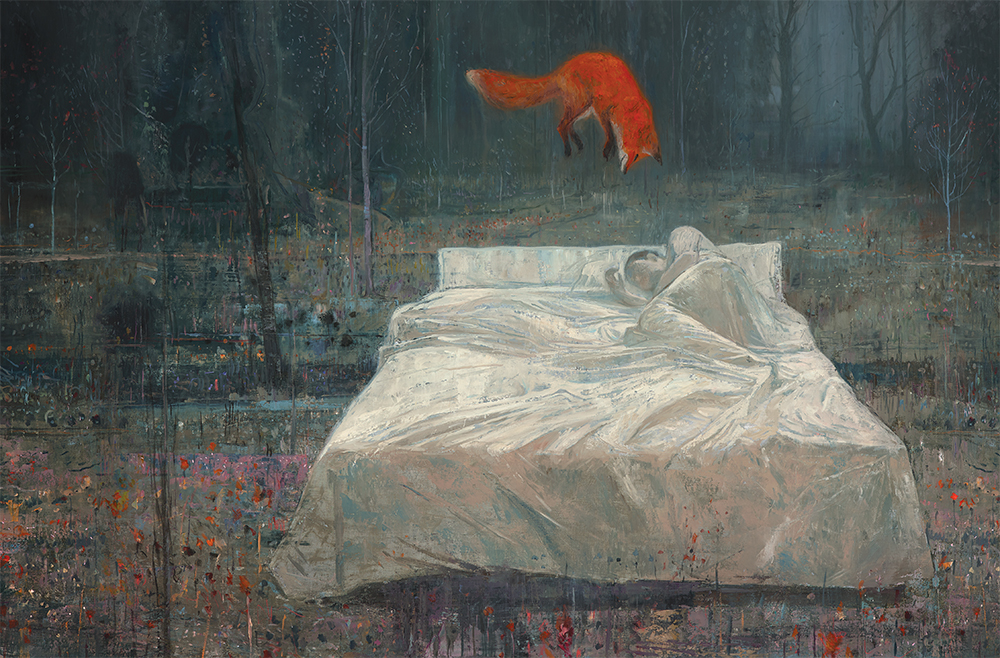 An illustration from Tales from the Inner City by Shaun Tan
Like all of Tan's books, Tales from the Inner City deals with alienation, loneliness, belonging, and love. This book creates a longing for connection – arms outstretched to a transient cloud of butterflies; commuters lost within the soft, nostalgic fur of a giant yak; grief and joy for the nameless, yet multi-named Greatest Cat in the World. The cat illustration is a story in itself: a mother and child cling to each other on top of a giant cat's head, swimming through a tumultuous ocean, with no safe harbour or rescue in sight. The waves seem insurmountable, and yet the tiny humans feel safe aboard their assured feline host. The image is suffused with hope for an increasingly hopeless world, perhaps reflecting our need to work together if we are not to be crushed by unforgiving nature.
Literary expressions of grief and loss over extinction are appearing more regularly, from this year's masterful Overstory by Richard Powers to local picture books like Mike Lucas's Vanishing. Maybe, at long last, this reflects a broader shift in an awareness that might, finally, be matched by a willingness to make real changes in private and public lives. If not, Tan describes a bleak but not undeserved future: 'Jammed between all the things that once walked, swam, crawled, climbed and flew, here it is, a layer-cake of rock at our knees that sparkles with granulated plastic and brittle, faintly radioactive, ash.'
It is, as Tan says, hard to understand how we could be so callous, selfish, and lonely in our ruthless isolation from the innumerable other species that support us. We can only be grateful for writers like Tan. As he puts it, 'at least we gave them our most beautiful words'. And pictures.