Linda Martín Alcoff ends her book Rape and Resistance with the question of love, as it has been explored in the fiction of Dominican- American writer Junot Díaz. There are no easy moral binaries in Díaz's writing, she notes. Sex lives are navigated in the midst of intergenerational trauma transferred from mothers who are rape victims to daughters and sons. As Díaz says: 'in the novel [The Brief and Wondrous Life of Oscar Wao] you see the way the horror of rape closes in on them all. The whole family is in this circuit of rape. And, you know, the point the book keeps making again and again and again is that, in the Dominican Republic, which is to say, in the world that the DR built, if you are a Beli, a Lola, a Yunior – if you are anybody – rape is never going to be far.' Rape, as a form of colonial violence, ripples out from individuals to affect families, societies, and communities. Masculinity, Díaz argues, becomes 'a hyperactive retreat from the vulnerability that accompanies real intimacy'. For Alcoff, Díaz represents precisely the kind of thinking she has aimed for in her book – intersectional, community-oriented, and unafraid of ambiguities.
Two days after I put down Alcoff's book, a personal essay by Díaz entitled 'The Silence' appeared in The New Yorker. 'That violación,' he wrote, 'not enough pages in the world to describe what it did to me. The whole planet could be my inkstand and it still wouldn't be enough.' Díaz went on to describe the effects of child rape: '[it] threw me completely out of orbit, into the lightless regions of space where life is not possible.' He tells us how 'trauma is a time traveller, an ouroboros that reaches back and devours everything that came before'. As a boy, he 'checks the locks on bedroom doors four times a night', and as a man he lurches from one failed relationship to the next, never able to speak about what happened to him. Díaz documents his depression, his self-protective mask, and, finally, the therapy that healed him.
I wrote a draft review of Alcoff's book with Díaz's essay in front of me, marvelling at what a perfect coda his words provided for her work. The article underlined and in a way proved two of her most important arguments: words are hopelessly inadequate to describe rape – our cultural repertoire of concepts and narratives are either ill-fitting or complicit in violence; and survivors need to be accorded epistemic authority. The reason why Díaz has written so coherently and cleverly on rape was because his experience as a survivor has accorded him knowledge. It is only through privileging rather than pathologising the voices of survivors that we will be able to expand our understanding of rape and move forward.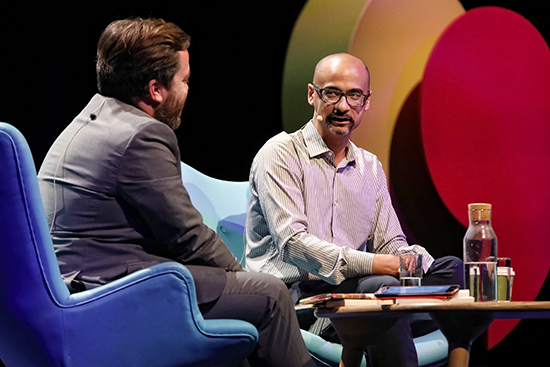 Junot Díaz in conversation with Michael Williams at the 2018 Sydney Writers' Festival (photograph by Prudence Upton)
One week after I submitted the review, the Sydney Writers' Festival, which had been highlighting Díaz, released a statement: 'Eventually the past finds you', they warned, quoting from Díaz's personal essay, 'As for so many in positions of power, the moment to reckon with the consequences of past behaviour has arrived.' Díaz had withdrawn from the festival and other planned events in Australia and was on his way back to America. He had been confronted during the question time following a panel discussion by author Zinzi Clemmons about sexually assaulting her six years previous when she was a graduate student at Columbia. Clemmons later tweeted that Díaz had forced her to kiss him; she was followed by a host of other women who described verbal abuse and bullying. There was not just one past, it seemed, but many pasts, all intermeshed, a jostling of voices and victims engaged in a fraught conversation with the present. Aside from feeling exhausted by the news, my first response was to chop Díaz from the review. How could he stand for the general principle that we need to accord survivors authority when he had failed to account for the harm he had done to these women? Why did women bear the burden of publicly raising private harm, when he had had so much opportunity to do so? Could I say that he wrote cleverly about rape when he had failed to imagine the harm he inflicted upon his victims with the same sensitivity he had afforded himself?
As a grad student, I invited Junot Diaz to speak to a workshop on issues of representation in literature. I was an unknown wide-eyed 26 yo, and he used it as an opportunity to corner and forcibly kiss me. I'm far from the only one he's done this 2, I refuse to be silent anymore.

— zinziclemmons (@zinziclemmons) May 4, 2018
Upon further reflection, I decided to leave Díaz in because the episode stands for what is possibly the overarching theme of Alcoff's book: the need to acknowledge complexity. A juridical approach looks to questions of individual culpability and finds itself confused when the abused become the abusers. A Western approach conflates personhood with agency and falters when victims, perceived to be a kind of degraded humanity lacking in will, respond to violence with violence. The kind of intersectional thinking that Alcoff exhorts is one that sees sexual violation as 'not just traumatising singular victims' but altering the victim's family, community, and future relationships. Sexual violations, she argues, have an effect on 'relationships of love and sex and on the construction of norms of masculinity as well as femininity'. And it is this 'toxic' model of masculinity, this 'hyperactive retreat from vulnerability', which links Díaz's misogynistic verbal abuse with his sexual abuse. We accord him 'compassion and accountability', in Aya de Leon's words, but also, Alcoff would add, understanding – a perspective that acknowledges institutional failure, intergenerational trauma, and the way that historical violence can travel between past and present.
Alcoff's powerful book comes as a welcome moment of pause for those of us who have been at once exhilarated and troubled by the #MeToo campaign. On the one hand, the unprecedented global outpouring of testimony about the harms (mostly) women endure affords the potential for genuine social change, yet too often the debate appears reductive, unnecessarily polarised, and with tendencies towards vigilantism on both sides. As Alcoff notes: 'the atmosphere around sexual violence can appear to resemble a team sport with clearly demarcated sides and no space in the middle.' Claims like 'rape is rape' are ultimately unhelpful. Rape, she argues, is just as clouded by ambiguity and complexity as sex. But Alcoff is not writing this book from the middle ground; she is writing as a survivor, an advocate, and a feminist philosopher with an interest in metaphysics (how we name the world) and epistemology (how we know what we think we know). Social progressives, she rightly argues, should not baulk at complexity.
Drawing upon philosopher Michel Foucault's writing on the politics of speech, knowledge, and subjectivity, Alcoff argues that we need to change the way we talk about rape. The book's seven chapters are thematically porous and certain overarching concerns run throughout, including: how to develop a better language for understanding the harm of rape; how to improve the social conditions within which survivor testimony is received, how to balance a philosophical wariness towards the authority of experience with the need to accord survivors presumptive credibility, and why our conceptual frames for understanding rape need to be intersectional and global.
Alcoff's analysis of the language of consent is one of the highlights of the book and is particularly relevant in light of the Law Reform Commission's current review of sexual consent laws in New South Wales. 'You must explicitly ask for permission to have sex,' declared Pru Goward, minister for the prevention of domestic violence and sexual assault, when commenting on the review, 'if it's not an enthusiastic yes, then it's a no'. Yet when is sex ever so rational and transactional, Alcoff asks. Her incisive analysis of consent reveals how the application of the clod-footed juridical concept of consent to the delicate shadow-lands of sex can at best create confusion and at worst justify violence. The critique develops over three middle chapters and by the end has the feeling of a crescendo. We begin with some standard feminist criticism: consent implies an active male who asks and a passive woman who accepts; in court it places the onus of proof on the woman; it presumes that women and men are equal parties and therefore eclipses the structural constraints placed on women's decision-making, and, finally, merely saying 'no' or 'yes' provides a very low bar for sexual volition – social scientists are increasingly finding that women will consent to sex to avoid rape. Consent fails to ask about women's desire, pleasure, and will.
These critiques are useful, but the analysis becomes truly exciting when Alcoff excavates the origins of consent in seventeenth-century ideas of property and contract. Here we have her insight that there is a poor fit between the temporality of contract – the promise to deliver goods over a specified period of time – with sex: 'to consent to sex does not mean that you can commit to sustain a desire or a mood,' she notes, and this thinking leads to beliefs that men are 'owed' sex if consent has been given. There is also the Lockean conflation of our personhood with property; the idea that contract allows you to consent to bargain out your body's labour, which is what distinguishes free labour from slavery. When applied to sexual violence this contractual model of consent implies that we make a rational decision to offer up our bodies for sex prior to the act, rather than the act itself constituting our will. In other words, our bodies and minds are not separate; intention is embodied and this is why, Alcoff argues, rape is so damaging. It is not something separate from the self that is stolen; 'it is not that "my body" has been taken; I have been taken'.
This reasoning leads to Alcoff's alternative to consent: the idea of sexual subjectivity, or the ability to engage in the process of making our sexual selves. Juridical modes of thinking have constrained us, she argues, and they have not been developed from the survivor's point of view. Sexual subjectivity, on the other hand, grounds the survivor and her experiential knowledge at the centre of analysis. Consent, will, desire, and pleasure are all relevant when considering whether someone's sexual agency has been violated, and from this vantage point we can see the intersubjective nature of rape – its wider effects upon families, communities, and cultures, and its complicity in colonialism.
At a time when popular feminism appears to have abandoned research, Rape and Resistance is a reminder of the joys of an activist agenda informed by deep thinking, experiential knowledge, and incisive theoretical analysis. It is because, rather than in spite of, its scholarly tone that this book deserves the widest audience.