In his new account of Donald Trump's presidency, Fire and Fury, Michael Wolff describes how Trump's 'adviser' Steve Bannon counselled fellow White House newbies to read The Best and The Brightest as preparation for their administration's tasks. Rarely for the mordant Bannon, his enthusiasm for David Halberstam's 1972 classic of the West Wing mandarinate who mangled the Vietnam War seems have been unfeigned and unironic. 'A very moving experience reading this book,' Wolff quotes Bannon as saying, 'It makes the world clear, amazing characters and all true.'
Is anyone likely to say the same of Wolff's rapid-fire reportage of the Trump White House? Not in forty-five years, that's for sure; maybe, at a pinch, for forty-five minutes. The book has apparently already sold nearly two million copies, benefiting enormously from Trump's reflex threats of legal action and suppression. Yet so extensively have its contents been parsed that the very little new in it already seems old, while the old lies dead on the page. Trump is a deluded solipsist surrounded by cretinous enablers and epigones. Colour me amazed.
Fire and Fury concerns less the presidency, or even politics, than rivalry – that between what Wolff calls 'Jarvanka', allies of the Trump family circle led by his daughter Ivanka and son-in-law Jared Kushner, and 'the Bannonites', led by the Manichean Bannon in loose alliance with chief of staff Reince Priebus and chief flak Kellyanne Conway. Some of these characters have intellectual pretensions; all are presented as rubes and naïfs in varying shades of stupidity and vulgarity. Only Bannon, as previously described in Joshua Green's The Devil's Bargain (2017), thought Trump any chance at the election of November 2016. None was prepared for the day-to-day demands of administration – what Max Weber called its slow drilling through thick boards. Instead, they took the drills and boards and set about each other, while their boss wandered about in a self-pitying daze.
He could not really converse ... not in the sense of sharing information, or of a balanced back-and-forth conversation. He neither particularly listened to what was said to him, nor particularly considered what was said in response (one reason he was so repetitive). Nor did he treat anyone with any sort of basic or reliable courtesy. If he wanted something, his focus might be sharp and attention lavish, but if someone wanted something from him, he tended to become irritable and quickly lost interest. He demanded you pay him attention, then decided you were weak for grovelling.
That's Wolff writing about Trump; but, frankly, it could be Wolff writing about Wolff. Much has been made of his celebrity journalist's working method. Indeed, he makes much of it himself, claiming to have had a 'semi-permanent seat on a couch in the West Wing' and 'fly-on-the-wall status' for the duration of his research. The result is a fly-on-the-couch mess: people spoke to Wolff on a host of different bases with varying conditions of confidentiality and ... well, bugger it ... he just used what he wanted where he wanted to. Wolff is strangely reticent about inserting himself, so as to help distinguish between what he saw, what he heard about, and what he guessed. His being nowhere spreads him everywhere and the effect is strangely muting and monotonous: much of Fire and Fury reads so unsurprisingly that it could have been tossed off without any access at all.
Now and again, Wolff gets in a good line. Trump is 'impetuous yet did not like to make decisions', has 'no interest in personnel problems, since they put the emphasis on other people'. Jared Kushner is 'what used to be called a Rockefeller Republican and might now more properly be a Goldman Sachs Democrat'; Steve Bannon is 'the equivalent of Trump's personal talk radio' (although why 'equivalent'?); Bob Woodward has written 'a long shelf of books in which even the most misguided presidential actions seems part of an epochal march of ultimate responsibility'. There are a few funny stories – they might even be too good to be true. The ten-day White House communications director Anthony Scaramucci makes a memorably profane cameo; Bannon, Wolff reports, heard that 'The Mooch' had been sacked when a New Yorker fact checker rang to ask whether it was true that he sucked his own cock.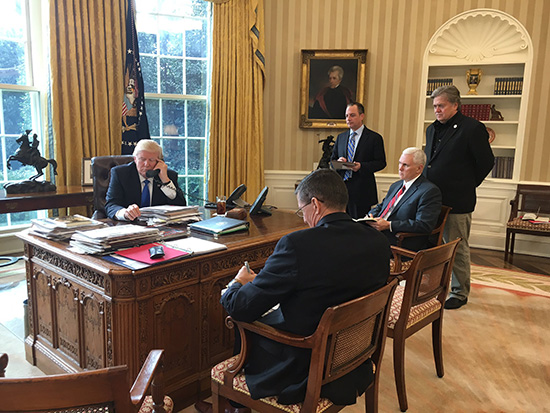 President Donald Trump speaking to Russian President Vladimir Putin in the Oval Office (photograph by Sean Spicer, White House press secretary, Wikimedia Commons)
Despite the boast of being based on 'two hundred interviews', however, the reporting in Fire and Fury is diaphanously thin. Mike Pence and Neil Gorsuch barely feature; George Papadopoulos, Rich Higgins, Ben Carson, and Rick Perry don't. Scarcely any new light is shed on the administration's denials and admissions around contact with Russian emissaries; on occasions where testimony conflicts, Wolff lazily lays out competing versions without comment; on occasions where historical perspective or policy insight is required, he is embarrassingly lightweight. Where they offer limited colour and movement, key moments are overlooked. Wolff sniffs, for example, that Trump had no interest in the 'no-fun issue' of health care; he proceeds to echo the president's indifference by dismissing last year's collapse of the Republican push to 'repeal and replace' Obamacare, perhaps Trump's most mortifying policy setback, in a single sentence.
Worse, Wolff has a prose ear of the purest tin. His sentences are cantilevered with clichés: holy grails, silver bullets, magic bullets, domino theories, ground zeroes, road maps, smoking guns, feedback loops, free passes, quantum leaps and dead meats, with the occasional pretentious reaching for ad hominem, beau ideal, ne plus ultra, and joie de guerre (no fewer than four times). In consecutive sentences, he likens Trump to a Delphic oracle, an energetic child and the Sun God; twice he likens Bannon to Cassandra; at one point Kushner gets 'saddled with an impossible hurdle', which you wouldn't wish on anybody. Simple sentiments such as that Trump and the media are mutually fascinated come out as: 'He was the whale against which media emotions, self-regard, ego, joie de guerre, career advancement and desire to be at the centre of the story, too, all churned in nearly ecstatic obsession. In reverse regard, the media was the same whale, serving the same function, for Trump.' In other words, Wolff makes Kitty Kelley read like Robert Caro.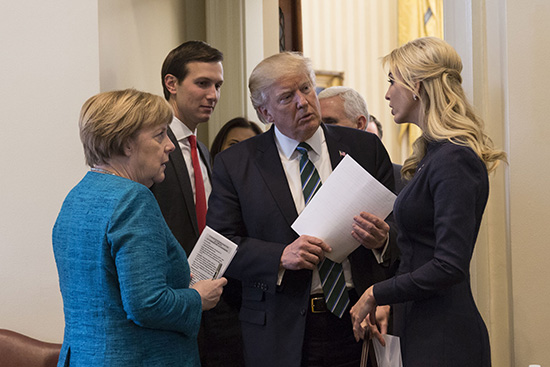 President Donald Trump talks with German Chancellor Angela Merkel, and Jared Kushner and Ivanka Trump (Photograph by Shealah Craighead, White House, Wikimedia Commons)
About the public that elected Trump, meanwhile, Wolff has the least to say of all. They are reduced to mere spectators: 'Perhaps never before in history – not through world wars, the overthrow of empires, periods of extraordinary social transformations, or episodes of government-shaking scandal – have real-life events unfolded with such emotional plot-thickening impact. That was the radical and transformational nature of the Trump presidency: it held everybody's attention.' Seriously? That's it? What about the clash of its ostensible economic populism with its beneficiation of the one per cent and assault on public-facing institutions? Fire and Fury, then, is the self-amused, morally weightless salute of one hollow showman for another. Perhaps it is no better than Trump's cruel, mendacious, and vituperative administration deserve. The rest of us could do with something other than The Least and the Lightest.