There have been at least half a dozen previous biographies of Robert Menzies, but Troy Bramston's new life of Australia's longest-serving prime minister is arguably the most attractive combination of research and readability.
Menzies was born in 1894 in the Victorian country town of Jeparit. Its population was then only two hundred, but Menzies did not have a deprived childhood. His father ran the general store and was later a member of the Victorian parliament. Menzies finished his school years at one of Melbourne's élite institutions and then attended law school at Melbourne University where he won many academic prizes and headed a wide range of student bodies.
His university years largely coincided with those of the Great War. His two elder brothers enlisted but, under family pressure, Menzies did not. This was a far-reaching decision, given the fact that in the 1920s and 1930s there was a real gulf in Australian society between those males who had fought in the war and those who had not.
Menzies started at the Victorian Bar in 1918, reading with Owen Dixon who would later become the High Court's Chief Justice, and taking silk in 1929 as the youngest King's Counsel in the country. He combined this extremely successful legal career with the world of politics, entering the Victorian parliament in 1928 and in 1932 becoming attorney-general and deputy premier in the United Australia Party state government. Not all of his political colleagues appreciated his wit. When accused in a parliamentary debate of having a superiority complex, Menzies replied: 'Considering the company I keep in this place, it is hardly surprising.'
In 1934 he moved to the federal political scene where he at once became the Commonwealth attorney-general and soon afterwards deputy to UAP Prime Minister Joseph Lyons. Despite this meteoric rise, not everyone was an admirer. Victorian Premier Stanley Argyle said to one of Menzies' new federal colleagues: 'Thank god we have got rid of him. You're welcome to him.' Menzies resigned from the federal cabinet in March 1939, ostensibly over a policy dispute about national insurance, although some saw it as an attempt to undermine his leader. In any event, Lyons died a few weeks later and Menzies returned as prime minister. As the book notes, when war broke out in September 1939, Menzies still favoured negotiations with Hitler's Germany, as did many British politicians. Menzies was certainly blunt in a letter to Australia's high commissioner in London, saying that 'nobody really cares a damn about Poland'.
Britain suspended elections during the war years, but political conflict in Australia continued largely unabated. The 1940 federal election did not produce a majority for any party. Menzies continued as prime minister, although he spent considerable amounts of time in London and seemed anxious to swap his Australian role for one in the British war cabinet. This was not to be, and in August 1941 he was deposed by his own party. A few months later, Labor took office under John Curtin.
This was certainly the low point of Menzies' career, but, as the book explains in some detail, he worked tirelessly over the next few years to create the Liberal party from the ashes of the UAP. This culminated in a decision to form the new party at a conference of community organisations in Canberra in October 1944. Labor, under Curtin's successor, Ben Chifley, won the 1946 federal election comfortably but lost office in 1949.
Menzies was prime minister from 1949 until 1966. Bramston makes the often overlooked point that, like almost all successful politicians, Menzies had some exceedingly good luck. The 1954 election was very close, and the 1961 poll was decided by one seat. If those results had gone the other way, Menzies' career would have been quite different. Moreover, after the Labor split of 1955, the Liberals were able to rely on the preferences of the Democratic Labor Party that affectively kept them in office until 1972. After Chifley's death in 1951, he faced opposition leaders in H.V. Evatt and Arthur Calwell, neither of whom possessed much electoral appeal.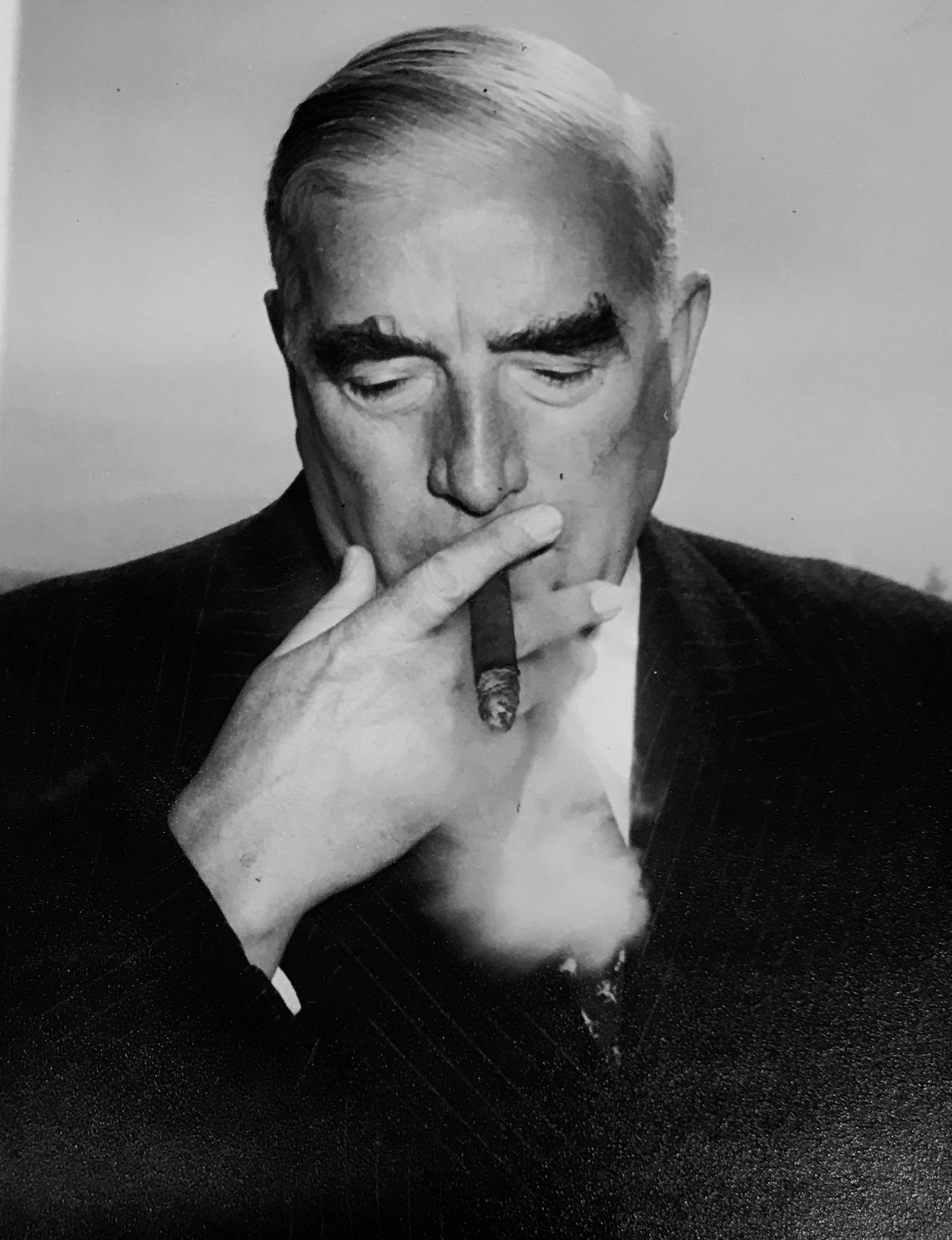 Robert Menzies (photograph via the RG Menzies Papers, National Library of Australia)
It needs to be remembered that Menzies never led a conservative government. There was no notion of small government, but a continuing increase in federal legislation and expenditure, symbolised by the rapid growth of Canberra and its bureaucracy. Nor was there any focus on economic reform with tariffs remaining substantial and industrial relations highly centralised.
On the international stage, Menzies was not as sure-footed as he was at home. When Egypt, under the leadership of Colonel Nasser, nationalised the Suez Canal in 1956, Menzies led a delegation to try to persuade Nasser to compromise. It is true that the Americans effectively torpedoed these negotiations, but it was always a dangerous diplomatic exercise. His support for the British and French position also appeared to be misjudged when they invaded the Canal zone, but were soon forced into an ignominious withdrawal.
During the Menzies period, Australian troops were sent overseas to fight in four conflicts: the Korean War in the early 1950s; the suppression of communist guerrillas in Malaya throughout the 1950s; Indonesian incursions into Borneo in the mid-1960s; and Vietnam from the early 1960s. The last of these was far and away the most controversial decision in retrospect, although it was largely supported by the Australian community until it became clear towards the end of the 1960s that the war could not be won. The first significant commitment of Australian ground troops to Vietnam was made in April 1965. Although the book is critical of this decision, it does not quite explain the full cynicism of Menzies and his cabinet colleagues. It was obvious that they had no concern for South Vietnam or its people, but it is now clear that they had no concern for the long-term interests of the United States either. The Australian commitment was designed to be an insurance policy with the Americans and Canberra was indifferent to the consequences for them if the war could not be prosecuted successfully. As it turned out, the war caused serious divisions within the American community and significantly damaged the international standing of the United States, in a way that, to some extent, has never been repaired.
It was once conventional wisdom that Menzies dispatched his rivals, such as Percy Spender, Richard Casey, and Garfield Barwick, to posts outside politics. As the book makes clear, these were not really his rivals in the first place. He did, however, leave something of a vacuum behind when he retired in early 1966. Harold Holt, his long-term deputy, became prime minister, but he was struggling in this role when he drowned in late 1967. John Gorton succeeded Holt, only to be deposed by his party three years later, and William McMahon was defeated at the 1972 election.
Menzies health deteriorated in retirement and he died in 1978. This book details his remarkable career and is a very welcome addition to Australian political biography. I would, however, have omitted the entire chapter containing Menzies' – extremely bad – efforts at poetry.