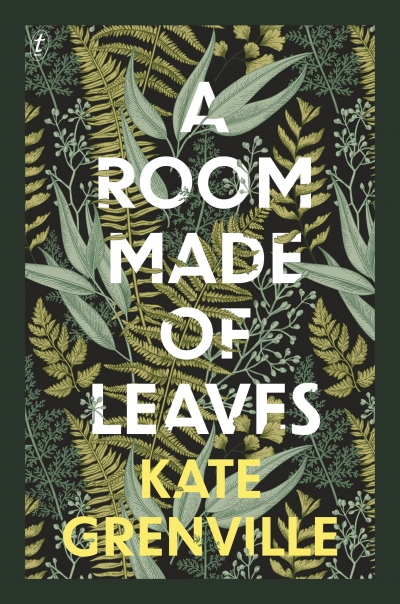 A Room Made of Leaves
by Kate Grenville
Text Publishing, $39.99 hb, 322 pp
Fiction
A Room Made of Leaves
by Kate Grenville
Kate Grenville's new novel, her first in almost a decade, is dedicated to 'all those whose stories have been silenced', for which, as its 'memoirist'–narrator heroine is Elizabeth Macarthur, we might read 'women'. Did she – wife of the notorious John Macarthur, wool baron in early Sydney – write what Grenville's publishers call 'a shockingly frank secret memoir'? In her 'Editor's Note', Grenville tells, tongue firmly in cheek, of there being discovered in the ceiling of a historic Parramatta house under renovation a long-hidden box containing that memoir. In an 'Author's Note' at the book's end, we are assured that 'No, there was no box of secrets found in the roof of Elizabeth Farm. I didn't [as she claimed at the beginning, in her Editor's Note] transcribe and edit what you've just read. I wrote it.' Perhaps those who thought otherwise failed to observe the book's epigraph from Elizabeth Macarthur – 'Do not believe too quickly' – though whether those words were inscribed by the historic Elizabeth or by Grenville's fictional one may be a matter for discussion. Apropos of previous books, Grenville the novelist has had disputes with historians about matters of fiction and fact.
---
Already a subscriber?
Sign in
to continue reading. If you need assistance, feel free to
contact us
.