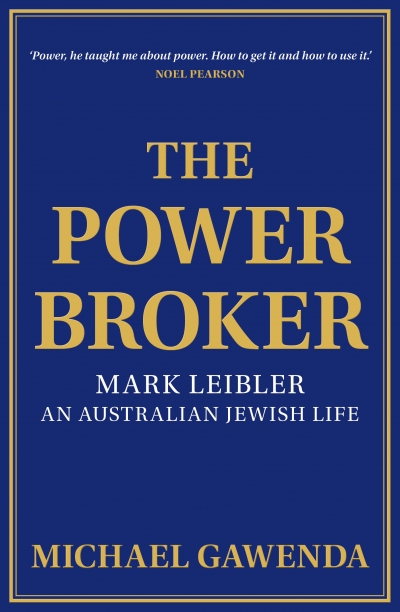 The Power Broker: Mark Leibler, an Australian Jewish life
by Michael Gawenda
Monash University Publishing, $39.95 hb, 371 pp
Biography
Matters of identity
An engaging biography of Mark Leibler
Michael Gawenda's engaging biography of Melbourne lawyer Mark Leibler traverses matters of Australia's migration history, Jewish identity, and political influence. What has it meant to live a Jewish life in an Australian city? What have been the intergenerational impacts of the Holocaust, anti-Semitism, and the establishment of the State of Israel? How, if at all, might the balance depicted between commitment to minority cultural distinctiveness and broad societal participation exhibit a way forward for multicultural futures?
Mark Leibler's life, as a successful Australian lawyer and a publicly committed leader of Jewish organisations, has emerged from the remarkable history of refugees who lost their families in the Holocaust. From small business beginnings, a significant number became upwardly mobile and in Melbourne some achieved great success. Leibler's parents were young middle-class members of the Jewish community in Antwerp, Belgium, who moved to Australia months before the start of the Nazi horror in September 1939.

To continue reading, sign in or subscribe to ABR.Subscriptions start from as little as $10 per month. If you need assistance, feel free to contact us.