Advances
News from the Editor's Desk
Media censorship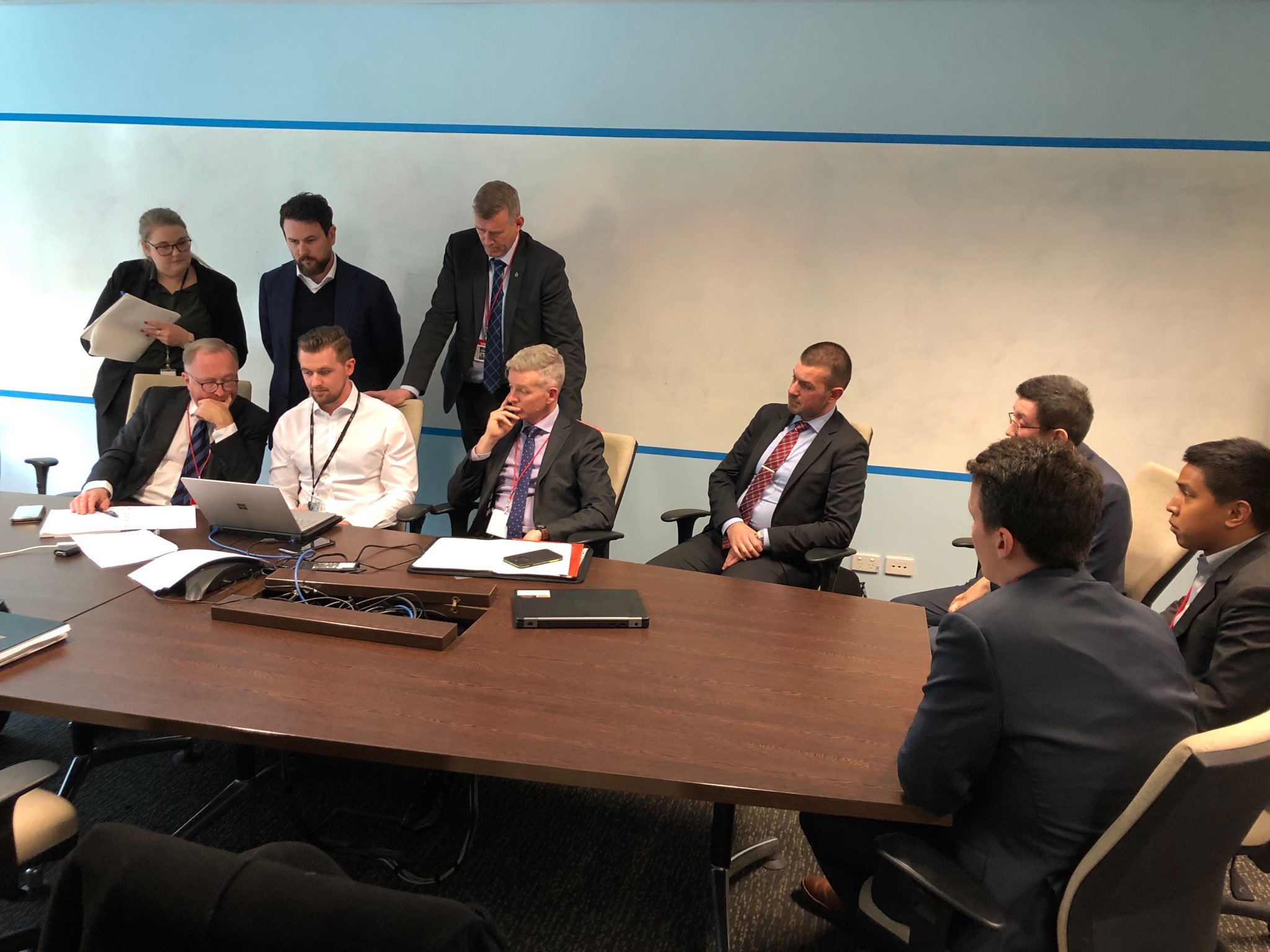 ABC lawyers and AFP officers hover over a computer as they work out what comes within the terms of the warrant. At the end of the table, on the right, are the AFP digital forensics people. (photograph by John Lyons)
It's not often that Australia's media organisations come together in a display of solidarity, but so they did on October 21, when virtually every newspaper in the country led with a redacted front cover above the stark message: 'When government keeps the truth from you, what are they covering up?'
The Right to Know coalition ('an unprecedented show of unity between competitors', to quote Fergus Hunter, a Fairfax reporter) could hardly be more timely. By stealth and attrition, successive federal governments have eroded press freedoms, intimidated whistleblowers and journalists, and defended a culture of secrecy. The June AFP raids on the Sydney headquarters of the ABC and the home of News Corp's Annika Smethurst represent a new threat to press freedom.
Like the Right to Know coalition, ABR deplores these repressive measures. In our cover story, Australian lawyer Kieran Pender examines some of the present risks. As he states, 'The only winners are those who wish to cloak government operations in a shroud of secrecy.'
Clearly, it's up to writers and journalists and citizens to reject these punitive, censorious tendencies of government.
The University of Sydney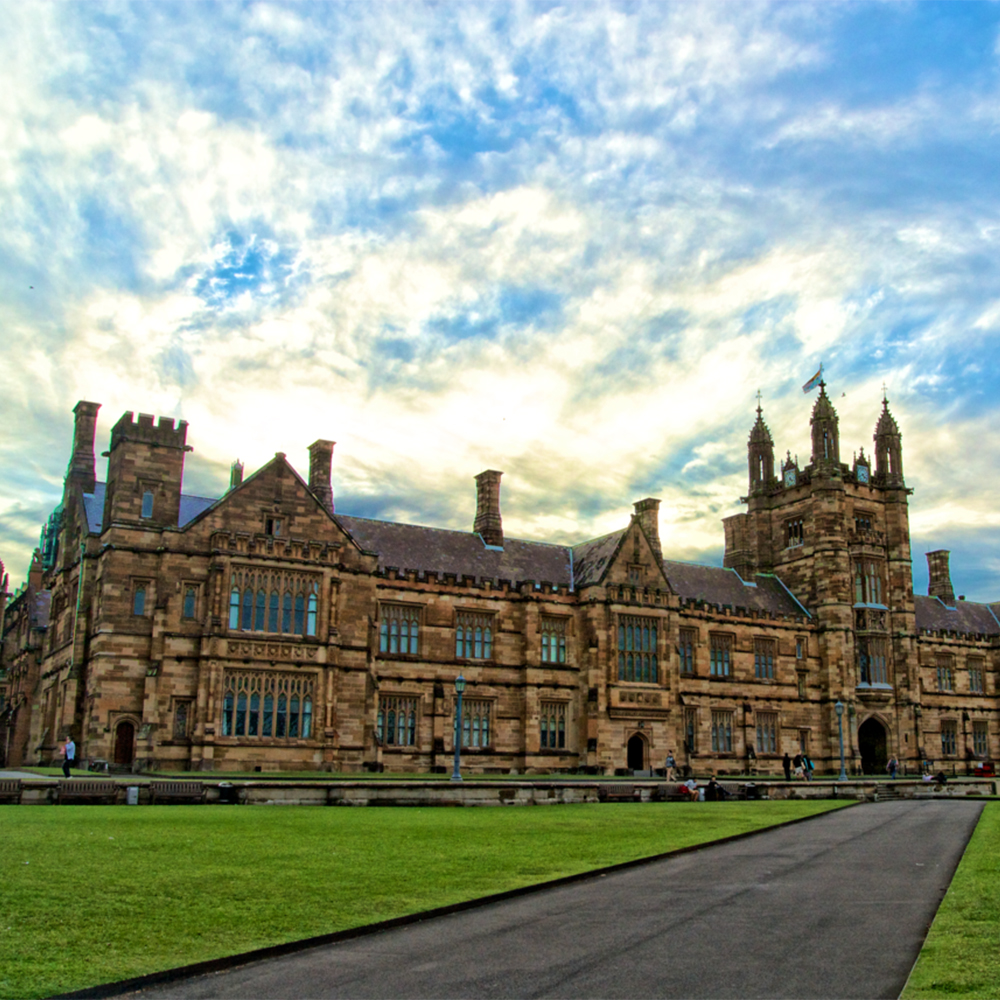 The Main Quadrangle of the University of Sydney (photograph via Wikimedia Commons)
Umbrage greeted the announcement in mid-October that the University of Sydney will not be replacing the outgoing Chair of Australian Literature, Professor Robert Dixon. It beggars belief that such a wealthy university can abandon the professorship. We don't have enough chairs in Australian literature to allow them to lapse in such a cavalier fashion.
We're pleased to have recently published an official statement from the Association for the Study of Australian Literature.
Rising Stars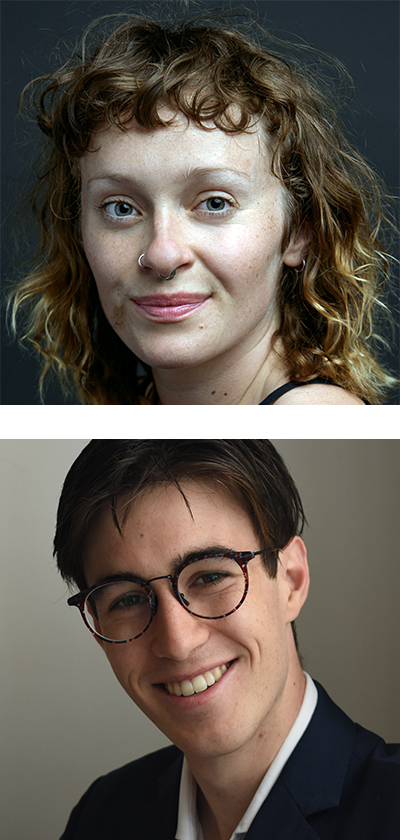 Sarah Walker (top) and Alex Tighe (bottom)On a brighter note, we are pleased to name our first two ABR Rising Stars: Sarah Walker (Victoria) and Alex Tighe (New South Wales). Rising Stars – a new initiative supported by Creative Victoria and Create NSW – is intended to encourage outstanding young ABR writers and critics around the country. Sarah and Alex, who have made such an impression since first publishing with us, will receive a number of paid commissions over the next twelve months.
Sarah Walker, who was placed second in the 2019 Calibre Essay Prize, told Advances:
In a cultural climate where intelligent, long-form writing is becoming increasingly rare, and where opportunities to establish a sustainable writing practice are dwindling, ABR's commitment to supporting new writers is quite remarkable. As a young and emerging writer, I was surprised and gratified that the publication of my Calibre essay was only the beginning of a rich relationship with the magazine. To have been treated with such respect and care by ABR has been most validating. As a fledgling writer, being supported with well-paid publication opportunities and careful editing has been hugely important. As a freelance artist, the opportunity for a year of close editorial association through the Rising Stars program means the ability to create a sustainable writing practice, to find my feet in the industry, and to learn and grow as a writer. I am completely chuffed.
With support from state governments, we hope to extend the Rising Stars program to other states.
Gumtrees and emus
With this issue we revive our language column, which has been mute for a while. Amanda Laugesen's column on Sidney J. Baker and Australian slang is the first in a bimonthly series of articles on the etymology, politics, and sheer quirkiness of Australian English. The column emanates from the Australian National Dictionary Centre (ANDC), of which Dr Laugesen is the current director, and with which ABR has a long connection.
It's little wonder that H.L. Mencken – author of The American Language (1919) – described Baker's Dictionary of Popular Slang (1941) as 'extremely pungent and original'. Baker, to paraphrase Bill Ramson, first director of the ANDC, was an unremitting fossicker, with a keen ear for the exceptional idiom.
Let's all hope to 'kick the arse off an emu' (enjoy good health) and to avoid for some time 'seeing our last gumtree' (being near death).
Prizes galore
When the Peter Porter Poetry Prize closed on October 1, we had received 1,050 entries – our largest field to date. Judging has begun, and we look forward to publishing the five shortlisted poems in the January–February issue.
Meanwhile, the Calibre Essay Prize remains open until 15 January 2020. The judges on this occasion are J.M. Coetzee, Lisa Gorton, and Peter Rose.
Free gift subscription
We're feeling generous again! New and renewing subscribers can now direct a free six-month digital subscription to ABR to a friend or colleague. Qualify for this special offer by renewing your current ABR subscription – even before it is due to lapse. Renew for two years and give away two free subs, etc.
To arrange your gift, contact us on (03) 9699 8822 or at This email address is being protected from spambots. You need JavaScript enabled to view it.. We will then contact the nominated recipient.
Terms and conditions apply. See our website for more information.