Fiction
Property
by Lionel Shriver
The sadly departed Terry Pratchett once said, 'Stories of imagination tend to upset those without one.' While it is difficult to imagine anyone claiming that the great fantasist had no right to tell the stories of witches, orang-utans, and sentient luggage, authors of literary fiction have lately been held to a different standard. Lionel Shriver has been foremost in the cross-hairs, a fact she addresses in Property, her thirteenth book and first short story collection.
Shriver's public pronouncements on cultural appropriation and defence of imaginative fiction condemn her new work to intense scrutiny, which will not always be conducted in a spirit of critical objectivity.
Property is an especially cohesive story collection: each of the ten shorts and two novellas examine the bête noire of ownership in some form or other. The book opens with 'The Standing Chandelier', an eighty-page novella about friendship, and culminates in 'The Subletter', a seventy-five-pager set in Northern Ireland. With the other ten stories, the standard short fiction compendium review disclaimer that there must forcibly be a variance in quality does not apply. There is a measured excellence in Shriver's work, and the use of a unifying theme makes Property feel like a novel.
Shriver's characters provoke a visceral response. They are often reasonable yet maddening. In 'The Standing Chandelier', long-time friends and tennis partners Jillian and Weston reach an impasse when Weston chooses to marry. After years of comparing sordid notes on their respective sexual adventures, Weston's new fiancée, Paige, objects to the intimate nature of his relationship with obnoxious artist Jillian. It is hard to argue with Paige's logic, and yet the notion of treating friends and partners as possessions to be discarded is disquieting. Matters are complicated further by an enormous piece of installation art given to the couple by Jillian as a wedding present. Does she have the right to ask for its return when the friendship sours? Who owns art? Who owns anything, for that matter?
People and property are conflated further in 'Negative Equity'. When Graham and Rosalind Landers break up, they are obliged to continue living together because of a shared mortgage commitment. A battle of wills ensues as each enters the dating scene. 'Vermin' similarly sees a young creative couple pressured into buying their run-down rental when a bossy neighbourhood matriarch threatens to steal it out from under them. 'She seemed one of those modern mothers who are sanctimonious about having made the gallant sacrifice of reproduction, and always wanted credit for it.' Laid-back musician Michael changes completely once he is a homeowner, transforming into the sort of obsessive renovator you want to throttle.
Empty-nest baby-boomer anxiety is given full throat in 'Domestic Terrorism', the satirical story of a returned Millennial fledgling who resists his parents' attempts to force him into a lifestyle similar to their own. Armed with a viral social media campaign that shames his parents into handing over the keys to the kingdom, Liam's strategy will give any reader with an adult child living at home the cold sweats.
'Kilifi Creek', which won the BBC National Short Story Award in 2014, is worth mentioning, if only because it reads just as well now as it did four years ago. Despite having the weakest link to the theme, the story of a narcissistic American brat almost coming to grief in a Kenyan river is a powerful one. Liana's subsequent penchant for mentally compiling all the moments she could have been killed lends the story a humorous slant in its final pages.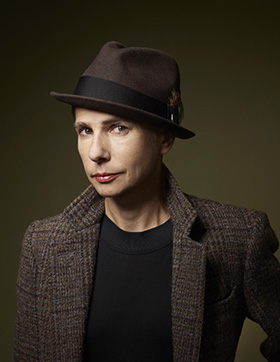 Lionel Shriver (photograph by Suki Dhanda)Shriver's enemies will doubtless scour Property seeking indiscretions. They will be hard pushed to find any. The sole story that might have them in a lather is 'The Subletter', in which American journalist Sara Moseley openly appropriates the conflict in Northern Ireland to become a pseudo-Loyalist who peppers her speech with local aphorisms. Those who see Ireland through emerald-tinted glasses may also be offended. Moseley is a conflict junkie whose opinion of Belfast tailspins as the story progresses. She describes the people as 'developmentally stalled at about the age of thirteen'. As a native of that city, I can say with confidence that every excruciating Shriverian detail of quotidian life in Belfast is spot on. Little wonder, given the author lived there for twelve years.
Not that she had to do so in order to write about it. That readers are increasingly unable to separate the lives of authors from those of their characters is indicative of a faultline in modern literature. The ubiquity of confessional social media platforms and the publishing industry's increased reliance on memoir as a means to stay afloat have created a vast army of commentators determined to prioritise personal narrative storytelling over works of imagination. Authors of invention are dismissed as being out of touch and irrelevant, while in the opposing camp J.K. Rowling gamely decries those who, 'choose to remain comfortably within the boundaries of their own experience, never troubling to wonder how it would feel to have been born other than they are'.
Whatever your opinion on the subject, it makes sense that Shriver leads the charge for the imagination. Her work balances empathy and discomfort in a way that infuriates and excites readers. Her lush sentences are replete with wit and tension. The attention to detail is second to none. She may like nothing more than turning up to bourgeois dinner parties swinging a baseball bat, but Shriver's characters are undeniably complex and flawed human beings with their own stories to tell.