Friday, 24 February 2017 17:31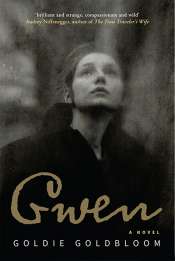 Goldie Goldbloom has an eye for the dramatic and the morbid. Her novel about the real-life love affair, beginning in 1904, between artists Gwen John and Auguste Rodin, thirty-six years her senior, begins with a list of seventeen women – including Camille Claudel, Isadora Duncan, and Lady Victoria Sackville-West – whom Rodin allegedly bedded. One, we learn, was hit by a bus, one froze to death, three died by suicide, one from starvation, one in childbirth, one of a broken heart, one in the American bombing of Japan, one by accidental strangulation (possibly, it is suggested, during a sex act), and we all know what happened to Isadora Duncan. The last in her list is Gwendolen Mary John.
After a miserable childhood in Wales, Gwen John had followed her priapic younger brother Augustus – to whom she was unhealthily close – to London to take instruction at the Slade, the only British art school that took women. At a time when a woman artist had little chance of gaining the same education, training, and respect as a man, Gus thought Gwen the better painter, although it was Gus's paintings that sold.
The story is told from the point of view of Gwen, whose dreams, fears, and delusions permeate the text, undifferentiated from reality. Lists of smells and sensations and remembered landscapes pile on top of each other. Gwen is haunted by a disquieting caricature of a Jew, apparently a figment of her imagination, that is a premonition of things to come, and other people appear at times to be witches or unnatural beings. The real Gwen was evidently an uncomfortable and needy woman; Goldbloom's Gwen is also sexually voracious, almost predatory.
Additional Info
Free Article

No

Custom Article Title

Suzanne Falkiner reviews 'Gwen' by Goldie Goldbloom

Contents Category

Fiction

Book Title

Gwen

Book Author

Goldie Goldbloom

Author Type

Author

Biblio

Fremantle Press $29.99 pb, 392 pp, 9781925164251
Tuesday, 24 May 2011 03:08
A native of Western Australia, Goldie Goldbloom now resides in Chicago with her eight children, whom she gleefully admits, in her amusing introduction to this volume of short stories, to trouncing regularly at Scrabble, 'with little or no compunction'. Her lyrical and inventive use of language in these eighteen stories comes as no surprise, then. More puzzling is that only four of these original, often charming tales have been published previously.
Additional Info
Free Article

No

Custom Article Title

Chris Flynn reviews 'You Lose These + Other Stories' by Goldie Goldbloom

Contents Category

Fiction

Book Title

You Lose These + Other Stories

Book Author

Goldie Goldbloom

Biblio

Fremantle Press, $27.95 pb, 240 pp, 9781921696879