Fiction
Autumn
by Ali Smith
Ali Smith is a formally and thematically exuberant writer who takes obvious pleasure in the art of storytelling, the mutability of language, and slippages in representation and perception. Her novels are typically embedded in the contemporary world, and take account of social and technological developments, as well as political conflicts and crises. They also tend to give equal space to suffering and pleasure: the racking cough of the homeless woman in Hotel World (2001) is as memorable as the 'woooooooo-hooooooo' of its tumbling ghost.
Smith's writing has always generated a sense of immediacy, but with Autumn – the first of a seasonal quartet – her gift for transforming the present into fiction is taken to the extreme. The novel's first dedication reads 'For Gilli Bush-Bailey / see you next week'; an epigraph cites a newspaper article from late July, 2016; and the early scenes take place in post-Brexit London – 'just over a week since the vote'.
Autumn's chief protagonist, Elisabeth, is a young academic with 'no job security' whose passport has expired. Daniel is a centenarian who babysat and mentored Elisabeth when she was a child. Elisabeth is distressed by the social and political transformations she witnesses daily, while Daniel slips between vivid dreams as he lies in a care facility, seemingly close to death.
While the bulk of Autumn is set in the present, its action is thrown into relief by flashbacks. We witness Elisabeth's childhood and Daniel's late adolescence. We encounter the 1960s Pop Art painter Pauline Boty, and the model Christine Keeler (who was at the centre of the 'Profumo affair' in the early 1960s), and we read of Hannah Gluck's escape from likely internment in Nice in 1943 (Hannah is probably Daniel's sister, and seems likely to reappear in subsequent volumes). These flashbacks serve to anchor the narrative in a larger historical context.
Daniel encourages Elizabeth to be a creative and inventive reader, to 'trifle with stories that people think are set in stone', and to thereby envisage new possibilities for herself and the world. This is something that Smith has done throughout much of her fiction, and Autumn duly trifles with the stories of Homer, Charles Dickens, Aldous Huxley, and others. Autumn begins with a pointed revision of the opening sentence from A Tale of Two Cities (1859): 'It was the worst of times, it was the worst of times.' We learn that Daniel has washed up on the beach, naked as Odysseus, and is concerned to hide himself from a local Nausicaa and her handmaidens. Then he notices human bodies scattered along the shore:
Some of the bodies are of very small children. He crouches down near a swollen man who has a child, just a baby really, still zipped inside his jacket, its mouth open, dripping sea, its head resting dead on the bloated man's chest.
Further up the beach there are more people. These people are human, like the ones on the shore, but these are alive. They're under parasols. They are holidaying up the shore from the dead.
Smith presents a grim juxtaposition of dream-images: Odysseus, who enjoys the generous welcome of the Phaeacians, notwithstanding his dishevelled state and unproven identity; the drowned bodies of contemporary asylum seekers, who are summarily refused entry despite the legitimacy of their claims; and holidaymakers, who ignore, or simply can't see, the tragic spectacle down shore. It is a collage for our times.
Mentors who help protagonists see the world clearly, and to act bravely, are recurring figures in Smith's fiction. A grandfather in Girl Meets Boy (2007) reveals the emancipatory qualities of rebellion by encouraging his granddaughter, Anthea, to throw a stone through a window. In How to Be Both (2014), Franscesco's mother inverts the cautionary message of a myth to inspire her daughter to take risks. In Autumn, Daniel illustrates the fleetingness of time, and the need to embrace the moment, by throwing his watch into a canal.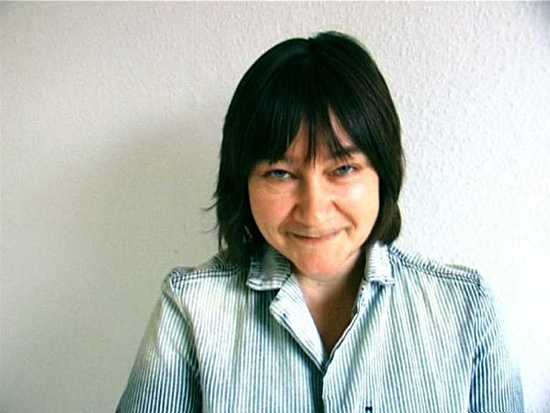 Ali Smith
These lessons invariably combine storytelling with performance. Daniel demonstrates the human capacity for blindness with the aid of a magic trick, and teaches Elisabeth to think of language as organic, cross-pollinating, and adaptable: 'Language is like poppies. It just takes something to churn the earth around them up, and when it does up come the sleeping words, bright red, fresh, blowing about. Then the seedheads rattle, the seeds fall out. Then there's even more language waiting to come up.' He also dramatises the importance of true dialogue, which involves listening carefully to those who have opposing views and allowing time and space for reflection and reconsideration, instead of cornering people with accusations or threats. After listening to a political argument on the radio, Elisabeth thinks: 'It has become a time of people saying stuff to each other and none of it actually ever becoming dialogue ... It is the end of dialogue.' And so it seems.
According to Elisabeth, Pauline Boty made art 'look like a blast', but she notes that 'you can't write that in a dissertation ... You can't write, she looked like she'd be really good fun, like she was full of energy, or energy comes off her in waves.' I can write that about Ali Smith. Autumn is an urgent and committed novel that grapples with serious and looming social horrors, but it is also a work of joyful intelligence.