Fiction
Dodge Rose
by Jack Cox
The circumstances around the publication of Dodge Rose, Jack Cox's début novel, have attracted considerable attention in Australian literary circles. A choice publicity tale as to how the novel was rescued from the slush pile by American publisher Dalkey Archive Press has contributed to this. So have claims advanced by Dalkey Archive that Dodge Rose is 'the most astonishing début of the decade', comparable with Samuel Beckett, William Gaddis, and Henry Green. Unusual too is the fact this high modernist 'anti-novel' by a young Australian author found a US publisher before an Australian one. Catriona Menzies-Pike, in the Sydney Review of Books, wrote a fascinating editorial on the pre-release buzz earlier this year.
But what of the book itself? Is it the most astonishing début of the decade? This depends on how much pleasure one derives from puzzling over difficult sentences, from marvelling at the beauty of certain arrangements of words, from the occasional startling image, and from the atmosphere all this creates. Ultimately, it rests on how much these features compensate for the loss in clarity and characterisation they entail.
There is certainly much fun to be had. Here is Maxine, the narrator of the first half of the novel, describing the phone ringing: 'The phone was ringing out the cankered traces of its own preterite neglect, its fast ablating corrugations as it were wavering over the derelict living room like the fading echo of an apocalypse that had not come to everybody after all.'
It is 1982. Dodge Rose has died, and Maxine remains in the flat in Potts Point, which she has shared with Dodge her whole life, as far as she can remember. Dodge's niece, Eliza, has arrived from her remote farm to execute her estate. The two of them, who know little of the reality of Dodge's affairs, embark on a concerted, unsentimental effort to sell everything they can. In what at times resembles a bureaucratic farce, they consult various government departments and lawyers to ascertain who in fact owns the flat, and haul a possibly valuable antique bookshelf across Sydney Harbour. This narrative thread, as relatively realistic as it may sound, is disrupted and undermined through various means. You are on shifting sands here: tense, register, and perspective are apt to change at any moment. One lawyer's litany on the subject of property law in the New South Wales since the establishment of the colony runs for fourteen pages. It is one unpunctuated paragraph of largely unintelligible legalese.
This lawyer's diatribe is a good example of both the experimental nature of this novel and the trouble it gets itself into as a result. Through an extended, increasingly incoherent tangle of legalese Cox effectively uses form to mirror content. But by giving language games precedence over making sense he also undermines what might have been a very interesting exploration of the convoluted history of property law in Australia. Being uninterested in narrative clarity is fine if what you replace it with is just as fascinating as your putative subject, but what is lost in Cox's enthusiasm for experimenting with language and form doesn't always feel worth it.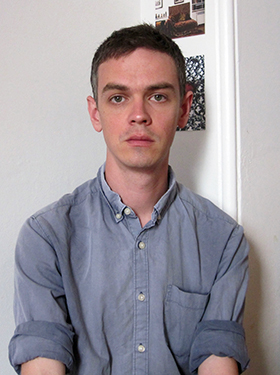 Jack CoxThe second half of the novel brings a happy change, a stream-of-consciousness narrative written from the perspective of Dodge as a young woman in the interwar years. We follow her as she explores Sydney's department stores, the glittering palaces of consumption that they were then. These sections of fairly stable first-person narrative are full of rich sensual detail. Again Cox isn't interested in keeping it up. This time the narrative slips into incoherence gradually but much more radically. At first the occasional misplaced preposition or conjunction appears in otherwise coherent sentences before language dissolves completely into seemingly random arrangements of letters. What we are left with is four pages of constructions like this: 'osjlddp pmlms lj oooqoq.'
Fragmented prose, unreliable narrators, metafictional jokes, page-long lists, information dumps in specialist terminologies, the wedding of high and low registers, the use of photographs, the shedding of punctuation, paragraphs that run for several pages – all of these are familiar tropes of experimental fiction. Not that this matters, if we are being told a story we haven't heard before. In Dodge Rose, the story we haven't been told before is sacrificed to make room for the word play.
What you will remember of this novel is not the characters – there is not enough of Dodge, Max, or Eliza to make them memorable – but the language, the playfulness, the fourteen-page, single-paragraph litany on property law that is impossible to follow. There is fun to be had with this, but Dodge Rose is a flawed novel. The threads that are so promising – the story of these people, the themes of ownership, memory, and nationhood that it raises – are left undeveloped. They are buried under a mountain of verbiage.