Biography
Ted Hughes: The Unauthorised Life
by Jonathan Bate
I can readily see that I am not the intended reader for The Unauthorised Life of Ted Hughes. Born in the year his first book of poems came out (The Hawk in the Rain, 1957); made to read Hughes at school (I preferred Sylvia Plath); a graduate of the same university (Cambridge); my books published by the same publisher (Faber), and sharing (if at all) the same bookstore shelves (between Heaney and Hughes, not necessarily a fate I'd wish on anyone); the co-editor with my friend James Lasdun of a book (After Ovid: New Metamorphoses, 1994) that restored Hughes to public confidence, admiration, and good odour, and paved the way for his own Tales from Ovid (1997) and, I believe, also Birthday Letters the following year; a minor attendee at his commemorative service in Westminster Abbey in 1999; a reader of Elaine Feinstein's earlier biography (2001), and a reviewer of the Collected Poems (2003), I can see my life and work as having been spent pretty exactly – almost studiedly – in his shadow. But if not me, then who? And even if its perceived or intended readership, determined as much or more by the publisher and agent as by the author, are people who need to be told what Roget's Thesaurus is, so that they don't misunderstand Plath's wicked early self-characterisation as a 'Roget's trollop' – shouldn't it have something for me as well?
Distracted, a little bit, by the publicity attending the book, first in fair weather, then in foul – the youngish Oxford scholar (Shakespeare and John Clare), Jonathan Bate, smilingly anointed official biographer, then abruptly cast out, demoted, desdichado, disbiographated by the Hughes estate when it emerged that he was proposing to make his book less of a 'literary biography' and more of a plain old 'life' – I still read it in three or four days, but with little sense of gain, of respect, of light, of inwardness. The book, like Bate's main man, Shakespeare, runs on two tracks, high and low, academic court-speak and groundling address. It has its clever literary-historical insights (many of them involving Hughes in relation to other writers, Shakespeare, Wordsworth, Coleridge, Lawrence), but also has recurring redtop moments of tabloid sleuthery whose function, if not purpose, is entirely prurient:
He waved goodbye and watched the plane take off: 'Dropping skirts – motor-boat, nose up, nearly horizontally, before climb grips.' Then he ate some foul food at the airport's Lyons café and took a bus to Clapham, where Assia now had a flat near the common. They made love.
'Where pen first pressed paper with real fervour' (Joseph Brodsky) it ain't.
It is 'a great pity and wrong to translate an artist's work into their life', Bate says, paraphrasing and I think endorsing Hughes's view, but such 'translating' is pretty much what he does. In his defiantly sophistical, word-chopping preface and defence ('His was an unauthorised life and so is this'), he even takes the bizarrely reductive view that an author's archive is 'the place where he is "un-authored", turned back from "Famous Poet" (the title of another of his early poems) to mortal being'. It is hard to imagine this as having been Hughes's purpose when he sold 108,000 items in eighty-six boxes weighing 2 ½ tons to Emory University, Atlanta. Where Elizabeth Bishop wondered whether a breach of trust could ever be justified – 'art just isn't worth that much,' she wrote to Robert Lowell over his use of his wife's private letters in his poems – you have to wonder still more about biography. I don't think Diane Middlebrook is wrong when she argues in her intelligent and persuasive book Her Husband (2003): 'Hughes held the view that commentators on literature had an obligation to serve as stewards of the achieved human voice to be found in poetry. He thought that the aim of biographers was exactly the opposite: they were levellers and spoilers.' I am sure the Hughes estate – the poet's widow, Carol, and his sister and long-time agent, Olwyn – regret their approach to a candidate who proved at one and the same time over- or mis-qualified, an outsider, and professionally, even gloryingly, indiscreet. Bate tells the story of Hughes during his last months leaving behind copies of various poets' biographies at his sister's flat when he visited her; that it need not have been anything as simple as flagging 'Where's mine?' or 'I want one' seems not to have occurred to the biographer, who elsewhere claims to detect 'Ted's taste for mischief, for the wind-up and the tall story.'
'I am sure the Hughes estate ... regret their approach to a candidate who proved at one and the same time over- or mis-qualified, an outsider, and professionally, even gloryingly, indiscreet'
But this sort of inconsistency is exactly what you get in a book where the overall quality of thought – if it even deserves the word – is too crude, and the narrative detail often stifling. (Is it too much to hope that a biographer, like the spouse in Rilke, be a guardian of his subject's privacy?) Bate has two related theses, which he harps on throughout the book: that in his life, Hughes showed a kind of loyalty to Plath that resulted in his being unwilling 'to be in any one woman's power again' (the quote is from Elaine Feinstein's perfectly adequate, and much handier biography); and that it unfortunately took him an unconscionably long time to move on from the 'mythic' style of his poetry of the 1960s and 1970s and 1980s to the 'confessional' style that released him for Birthday Letters. Both of these have their problems: it was after all Hughes's initial disloyalty to Plath (he had started an affair with Assia Gutmann) that prompted their separation and her eventual suicide in February 1963; and the breakthrough of Birthday Letters was not from any whole-hearted aesthetic conversion as from a possibly circumstantial relenting, a concession to popular taste and demand, the gradual and provisional abandonment of a position he (my italics) did not think wrong. A phrase Diane Middlebrook quotes (I don't know from where), a 'diabolical fear of subjectivity', for me still rings wonderfully true of Hughes, even as he was writing the 'Nobody else remembers, but I remember' poems of Birthday Letters (many of which are of course perfectly 'mythic'). Feinstein writes – and again, I prefer her calm sense to Bate's fluster bluster: 'Hughes was a naturally private man, even a shy one in his earlier days.'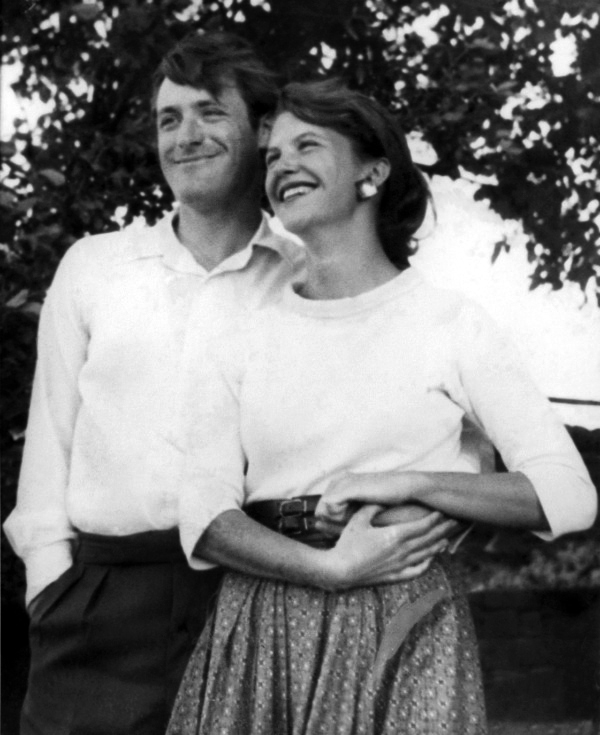 Ted Hughes and Sylvia Plath (photograph by Harry Ogden)
What Bate delivers is a roughed-up Hughes: the 'chaos on an epic scale' (a quote from a fishing friend) of his life, and a little of the genesis of the late poems on the tragedies of Plath and Gutmann, the events of 1963 and 1969, that to Hughes had been like 'giant steel doors shutting down over great parts of myself'. Neither of Bate's revelations is exactly unexpected or unknown; even in my review of the Collected Poems a dozen years ago, I noted that Hughes 'was regularly in London, and lived not quite like Aung San Suu Kyi'. Olwyn's view is simple, and surely right, 'that Ted's problem, when it came to women, was that he didn't want to hurt anybody and ended up hurting everybody'. 'Entanglements' was Hughes's word, and as he observed, they tended to grow 'two heads whenever I lop one'. At one stage, there were women A, B, and C (conveniently their actual initials). Still, Hughes seems to me like a man as much caught out by, as profiting from, his own attractiveness, as well as by the sexual liberation of the 1960s. As for the poems, no one will seriously have imagined they were either written on Plath's birthday over many years, or else that they – and no more and no less – tumbled out in a spontaneous and unprepared way. So, yes, there are others and more, and boxes full of notes and drafts, but what's the story there?
Ted Hughes is hampered by Bate's legally circumscribed inability to quote. 'Pike' appears in a sort of fish-finger paraphrase version: 'The pond is as deep as England, deep as memory.' If you have the words of the Birthday Letters poem, 'A Pink Wool Knitted Dress' present to hand or head, about the wedding to Plath:
My tie – sole, drab, veteran RAF black –
Was the used-up symbol of a tie.
My cord jacket – thrice-dyed black, exhausted,
Just hanging on to itself.
then you won't be much impressed by this sad, bald little prose summary: 'Ted wore his RAF tie and the corduroy jacket that he had three times dyed black.' Isn't it nature's way of telling you not to write a biography?
'What Bate delivers is a roughed-up Hughes'
Nor has Bate – perhaps oppressed by the scale of the archive where he is re-mortalising Hughes – managed to enlist interesting or trenchant or well-expressed views from contemporaries, which is surprising. His narrative is over-emphatic and untrustworthy. Hughes is forever thinking or feeling 'deeply' about this or that, which is biographers' cant. And then is it 'Ted did most of the talking' or is he 'the brooding silent presence, content to let others make the conversational running'? Bate's views on the poetry are hit-and-miss: the Moortown diary poems of 1989 are not 'easy pieces'; they are among the best things he wrote. And as for stories, there isn't much. Apparently, Hughes claimed to get an erection each time he entered the library; I prefer the friend of mine who feels like shitting when he walks into a bookshop. But one did stand out for me. Someone came running up to him in 1952 in Cambridge, 'Ted, Ted!' shook his hand, and thanked him for saving England. He had been mistaken for the thin, beaky, and equally handsome cricketer Ted Dexter.