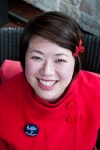 Eileen Chong
Eileen Chong is a Sydney poet who was born in Singapore of Chinese descent. She speaks English, Singlish, Mandarin, and Hokkien, but only writes in English. Chong took a Master of Letters at the University of Sydney and was a recipient of an Australian Postgraduate Award for a Doctorate in Creative Arts at Western Sydney University. She eventually left her academic studies to write poetry full-time. Her poetry collections are Burning Rice (2012), Peony (2014), and Painting Red Orchids (2016), all from Pitt Street Poetry, Sydney.
Individual poems of Chong's have been recognised in major poetry prizes, shortlisting for the Newcastle Poetry Prize, shortlisting twice for the Peter Porter Poetry Prize, and longlisting three times for the University of Canberra's Vice-Chancellor's Prize, among others. Chong's books have been shortlisted for the Anne Elder Award, the Australian Arts in Asia Award, the Victorian Premier's Literary Award, and twice for the Prime Minister's Literary Award.
Chong is the first Asian-Australian poet to have a book published in the Braziller Series of Australian Poets by George Braziller in New York: this was Another Language (2017). Her latest book is The Uncommon Feast (2018), a collection of essays, poems, and recipes, published by Recent Work Press, Canberra.
A new collection of poems, Rainforest, is forthcoming in April 2018 with Pitt Street Poetry, Sydney.