'Temptation' a new poem by Ellen van Neerven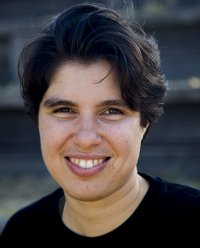 Ellen van Neerven is a young Yugambeh woman from South-East Queensland. Her first book, Heat and Light (UQP, 2014), was awarded the 2015 Dobbie Award and the 2013 David Unaipon Award, and was also shortlisted for the Stella Prize and the NSW Premier's Literary Awards. Her next book, a poetry collection, Comfort Food, is a highly anticipated 2016 release. She lives and works in Brisbane, as managing editor of the black&write! Indigenous Writing and Editing Project.
Leave a comment
Please note that all comments must be approved by ABR and comply with our Terms & Conditions.
NB: If you are an ABR Online subscriber or contributor, you will need to login to ABR Online in order to post a comment. If you have forgotten your login details, or if you receive an error message when trying to submit your comment, please email your comment (and the name of the article to which it relates) to comments@australianbookreview.com.au. We will review your comment and, subject to approval, we will post it under your name.