Children's and Young Adult Fiction
Ruth Starke reviews 'Pieces of Sky' by Trinity Doyle, 'The Pause' by John Larkin, 'Frankie and Joely' by Nova Weetman, and 'Talk Under Water' by Kathryn Lomer
In Trinity Doyle's Pieces of Sky (Allen & Unwin, $16.99 pb, 290 pp, 9781760112486), it has been eight weeks since Lucy's older brother Cam drowned while surfing. Images of his death fill her head and prevent Lucy, a backstroke champion, from returning to the pool. She suffers a panic attack and flees from a training session, unable or unwilling to explain why: 'I know I'm not going to drown – I know it. But my face going under, my breath going away – it would come back – I can't do it.'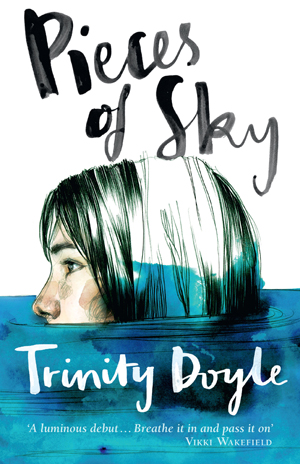 Lucy's mother, Norah, an artist, has decorated her son's coffin and then hacked off her hair. She is a shadow of her former self, 'shut down, turned off, collapsed', as Lucy puts it. Lucy is floored when she learns that her mother has a history of depression and wonders whether she passed on 'that silent fight' to Cam. Unable to come to terms with her brother's death, and half-fearing it might not have been an accident, Lucy starts questioning Cam's friends and tries to discover which of them is texting poems to Cam's mobile phone. She finds herself strongly attracted to Evan, a newcomer to their small coastal community, while still harbouring feelings for Ryan, her brother's best friend.
There has been quite a buzz about this début novel, but perhaps because I have read too many recent Young Adult novels that use the death of a young person as a shortcut to emotion, I found myself largely unmoved by Pieces of Sky. While I admire the deft way Doyle intersperses details of hang-gliding in the story to justify her title, the piece of melodrama that gets Lucy back in the water and ends the book is absurd.
Continue reading for only $2.50 per week. Subscribe and gain full access to Australian Book Review. Already a subscriber? Sign in. If you need assistance, feel free to contact us.