Memoir
Second Half First: A Memoir
by Drusilla Modjeska
Twenty-five years ago, Drusilla Modjeska's Poppy reimagined boldly the possibilities for Australian memoir. Modjeska recounts in her new memoir, Second Half First, how in her inaugural appearance at a writers' festival she was on a panel discussing autobiography with two established British writers, Victoria Glendinning and Andrew Motion. Poppy was written but not yet released. Feeling at a disadvantage following on from such accomplished performers, she rose with conviction to announce that 'here in Australia we were thinking about what biography might mean if we took as our subjects those who are not usually considered "worthy" of "A Life"'. She wondered how the inclusion of something of the biographer's own story might contribute to a deeper understanding of how 'a life became a narrative'. Glendinning patronisingly found the idea 'extraordinary'. 'We're not thinking about that in England,' she said.
In Second Half First, Modjeska likens those assured of their perspective, often men, but also in this instance the 'English English', to 'Greenwich Mean Time'. She is grateful to have found her voice writing from the 'periphery' of Australia. In her late sixties, she remains energised by trying to 'give shape to feelings and confusions', to understand 'emotional cross-currents', to find new ways of seeing her past and present. For Modjeska, ambivalence is always preferable to certainty.
Modjeska has spent decades thinking about, and experimenting with, the ethics of memoir. She worries about finding a way to write of the important people who have shaped her life without exposing what is not hers to expose. She succeeds beautifully. With an amazing lightness of touch, she takes her reader on a journey across continents and centuries, discussing, among other things, lovers, parents, family, friends, literature, visual art, depression, death, and the post-colonial realities of Papua New Guinea. Modjeska is not entirely sure that this new book is a memoir. 'Maybe', she writes, it is 'simply a reflection on the arc of life thirty years after [my mother's] death.'
The book opens dramatically. On the eve of her fortieth birthday in October 1986, Modjeska sends her unfaithful lover Ross, the man with whom she hoped to have a child, packing. There is much heartache and pain. With the wisdom of hindsight, however, she realises that she fell into Ross's arms because she was grieving for her mother. And so, we are returned to Poppy's life and death. It is a most welcome and rich return.
There are now other deaths to mourn: Modjeska's father, Patrick, her dear friend Hazel Rowley, her friend and colleague David Baker, and her partner for the decade of her fifties, Jeremy. In the eighteen months it takes for Patrick to die, Modjeska makes the journey back to England three times. Despite the tensions in the house, she and Patrick share many quiet, healing hours. They speak of the past, of writing, of the difficulties of love and sacrifice. Patrick is 'a lawyer born of a line of lawyers and clergymen'. For a long while he is not prepared to acknowledge that he is dying. An 'erudite Catholic friend' says it is hard 'for men who've lived in logos to die' because death 'calls forth the feminine'. Modjeska recounts an intensely moving afternoon when Patrick asks her and her niece Amy to read him Tennyson's 'Ulysses'.
'Modjeska has spent decades thinking about, and experimenting with, the ethics of memoir'
The memoir is divided into four main sections. The first, titled 'The House on the Corner', relates the 'restorative' years lived in the Enmore house where friends gathered for meals and parties. Helen Garner is one housemate; Alison Clark lives nearby; Hilary McPhee and Hazel Rowley are frequent guests. The women wrestle with the need to achieve both love and security in their sexual relationships while maintaining their 'independence and freedom of mind'. Modjeska is interested in architecture. She wonders about how our lived environment affects us creatively. She refers back to her contribution in Inner Cities (1989), where she used the idea of living on a corner as 'a metaphor for living with a certain ambivalence'. That sense of ambivalence, which has informed all her work, continues to thread through Second Half First:
No easy pattern this, words inadequate to express the shifting moods and feelings that came with the dilemma of knowing the value – the essential value – of those rooms of our own, and yet being ambushed, despite everything, by the dream of the shared bedroom, or mourning for the baby's cot.
As Modjeska's arc sweeps backwards and forwards over thirty years, she relates her encounters with Dorothy Green and Christina Stead, she explores the ongoing legacy of the world wars, particularly for her British relatives, and she muses about women's experience of psychiatric asylums from Virginia Woolf, through Poppy to her own psychotherapy in Sydney. Repeatedly she insists this book is not a history, but it is a history of her writing and reading. Woolf, Stead, Lessing, Beauvoir, Vera Brittain, George Eliot, and the fifteenth-century writer Christine de Pizan illuminate her concerns. Always anxious about the appropriateness of the memoir genre, she reads Knausgaard. After Patrick's death, she turns to Gosse, Raine, Amis, Swift, Eggers, and Obama. She wonders if Walter White from Breaking Bad qualifies as a good father.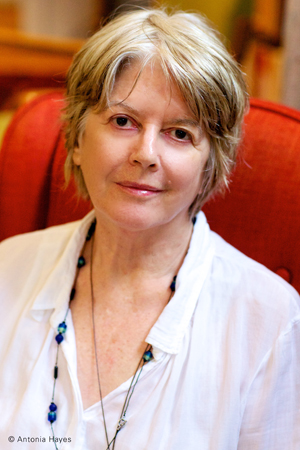 Drusilla Modjeska
Modjeska's connection with 'that beautiful and heartbreaking country', Papua New Guinea, is well known. She first travelled there with her anthropologist husband Nick when she was only twenty. In 2004 she returns with David Baker to the Ömie villages, up the mountain. So begins her commitment to the Ömie people and their art.
In the third section, 'A Dangerous Road', she recounts the challenges and success of gaining worldwide recognition for the barkcloth art, bringing literacy to Ömie and forming meaningful relationships with the women. It is a huge story and benefits from being read in conjunction with her recent Meanjin piece, 'The Informed Imagination', and of course, her towering novel The Mountain (2012).
In the wake of David's sudden death, Modjeska, recovering from breast cancer treatment, assumes responsibility for his vision and for meeting the school fees for more than forty children in Ömie and the fjord villages. She travels back and forth between Australia and Papua New Guinea, accompanied by numerous friends and family, including some from the Enmore days, Hilary, Sophie, Martha, and now Jeremy. She establishes a charitable foundation, SEAM (Sustain Education Art Melanesia), with the hope of building a 'book house' to support all forms of literacy. Unfortunately, geography makes building financially unviable. And then architect Stephen Collier reads The Mountain, contacts Modjeska, and applies his creative brilliance to come up with a workable solution.
Fittingly, there is much Modjeska does not share, particularly regarding her relationship with Jeremy. He is too recently deceased, and their final years were somewhat fraught. Jeremy's depression and demands on Modjeska meant she faced, at this late stage of her life, the same old conundrum about love, independence, and room to write. She is brutally honest about her refusal to compromise. When she tells Robert Dessaix about her stance, her remorse and her confusion about relationships and the limits of memoir, he replies that there are no answers, and directs her to Rilke: 'Live the questions now.' The many rhetorical questions she poses offer readers a similar challenge.
'With an amazing lightness of touch, she takes her reader on a journey across continents and centuries'
Second Half First is a deeply crafted narrative, not only in its weave and structure, but also in the ways in which Modjeska invokes the visual arts to articulate her concerns. The 'veil of tears' she sheds over the loss of Ross facilitates a discussion of how Janet Laurence's large veiled glass works provoke us to think about clarity and perspective. Modjeska fantasises about being able to create something like Louise Bourgeois's sculptured Personages: 'I'd move them around ... so they faced each other in different combinations: lovers, parents, friends, enemies – categories that were not fixed.' She wonders if such an arrangement would be 'better than words with their relentless march onwards', for giving shape to shifting emotions. As she steps around the bowls made by her artist friend Helen, she accepts that her true medium is language, but she aspires for her book 'when it is finished to transform itself into an object', something solid, corporeal. The sheer scope of this memoir, coupled with the invitation to live its questions, achieves that ambition.
In the Postscript, Modjeska writes of attending an exhibition, at London's Tate Modern in 2013, of Saloua Raouda Choucair's sculpted forms. These works are composed of various shapes, stacked vertically together. Choucair calls them poem sculptures, each shape becoming a stanza. Accompanying the exhibition was a note from Choucair's daughter: 'Her soul expresses itself in form.' Modjeska has chosen one of Choucair's five stanza poems for her cover. She concludes:
You can't see the grain of the wood, but it is there, with its tiny, necessary blemishes. If this book had a soul that could express itself in form, in an object I could place on the table for you to walk around, that is what it would look like.
Second Half First has a soul. It is both solid and expansive. Modjeska assembles her stanzas masterfully to create a poem of great insight, intelligence, and beauty.