Climate Change
Atmosphere of Hope: Searching for solutions to the climate crisis
by Tim Flannery
This is an important and timely book – another gift to public understanding by Australian scientist and author Tim Flannery. Ten years ago he wrote The Weather Makers (2005), one of a handful of books which, together with Al Gore's film An Inconvenient Truth (2006), brought the climate crisis to a world audience. Now in Atmosphere of Hope, Flannery assesses what we have learned in the decade since 2005 about climate science and the policy options for action. On the eve of the Paris summit, it is refreshing to read such intelligent and lucid words about an issue that vested interests spend so much money trying to obfuscate. Australians especially need this book, for the Coalition government has manipulated a huge and disturbing gap between politics and reality.
Hope is an essential part of Flannery's philosophy of life and action. In 2010 he wrote Here on Earth: An Argument for Hope, which drew on the long evolutionary and historical experience of our species to argue why belief in the future of human civilisation is rational despite the peril we now face. Atmosphere of Hope can be seen as a companion book, and it derives its hope from the great leaps forward humanity has achieved in the last ten years in dealing with climate change.
But before the hope comes the grim news. The science continues to report frightening and forbidding trends. We are already living the climate-change future. In the last ten years, scientists' predictions about climate change have been shown to be mostly accurate, if erring on the conservative side. Familiar, alarming trends have solidified. The current rate of CO2 increase is the fastest in Earth's recorded history, faster even than that following the asteroid impact of sixty-five million years ago, which caused the extinction of the dinosaurs. The associated rate of temperature rise is also the greatest ever recorded. The link between extreme weather and climate change is real; heatwaves, bushfires, and storms are already more energetic and continue to intensify.
The last ten years have delivered some dire surprises. The amount of methane being released from the permafrost in Siberia is five times greater than previously estimated. The Antarctic ice sheet is less stable than we hoped and, as a result, sea-level rises could be as great as a metre by the end of this century. There are now much greater concerns about ocean acidification. We are experiencing a rate of species extinction that is far higher than average for Earth. The Great Barrier Reef is imperilled by increasing heat and acid; its fate is already probably sealed. Its champion, marine scientist, Dr Charlie Veron, believes that catastrophic global warming has already arrived in the Reef. Half of the coral garden that was there a century ago has already been killed. Flannery writes: 'It fills me with despair to admit it, but my beloved Great Barrier Reef is doomed.'
This book explores how climate change will define the lives of generations. The accounting firm PricewaterhouseCoopers notes that the world's economies are increasingly failing to do what's needed to limit global warming to 2°C above pre-industrial levels. More than eighty per cent of the world's known coal reserves must now stay in the ground if we are to meet that goal. Flannery hopes that the Paris summit will put the world on a carbon budget.
'We are already living the climate-change future'
Australia is showing particular delinquency. We are the largest emitter per capita in the world, and our current federal government is adopting policies to entrench the nation's coal dependency. Flannery quotes the Global Green Economy Index which, in October 2014, listed Australia in bottom place – behind Ethiopia and Rwanda – out of the sixty nations rated on their improvement in quality of life and reductions in environmental impact. Australia, the report noted, demonstrates 'unconstructive behaviour in international forums'. Although climate denialism is now shrinking, it retains dismaying influence over the Coalition government. Its warriors peddle misinformation systematically in the Murdoch media, especially through The Australian. In Australia and Canada, Flannery states, 'the pursuit of money and crackbrained ideas continue to dominate the political response to climate change'.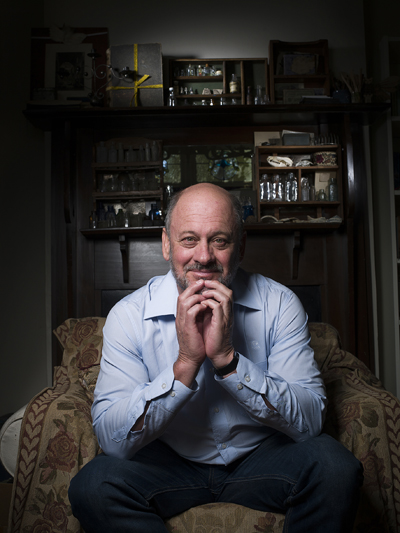 Tim Flannery (photograph by Damien Pleming)
One of the first acts of the Abbott government was to sack Tim Flannery as Chair of the Climate Commission, abolish the Commission, and remove its website. The purpose of the Commission was public education and advice on an issue about which most Australians are very concerned. Impressively, crowd funding reinstated the Commission as the Climate Council within five days. The federal government, like the late Newman government in Queensland, goes into extraordinarily silly contortions to avoid using the term 'climate change' (and to prevent staff from using it), and wages war on climate-change action as well as science generally, including Antarctic science, where Australia has a long and noble international record. The only ice Abbott was concerned about is sold on the black market.
There is not the slightest evidence of resentment of the federal government in this book, just sadness about its irrelevance and delusion. Flannery maintains his focus on the big, long-term issues that face our species in its battle for adaptation and survival in a warming world. The tone of his writing is always reasonable, attuned to the evidence, and wonderfully open to new ideas, however lateral. He believes in debate, research, and education. He aims to 'cut through the dense and complex debates about climate that leave many feeling lost and paralysed'. This intelligent, cheerful attitude itself generates hope – and so do the ideas discussed.
What, then, are the grounds for hope? In the last ten years we have seen the decoupling of economic growth and carbon emissions, of prosperity and pollution. New links are being created between wealth and clean power. Australia's carbon price, in the brief time it was allowed to operate, worked effectively in reducing emissions. Individuals, businesses, and communities have been empowered in their clean energy and investment choices. Australia leads the world in household solar installation – twenty per cent of Australians now have the benefit of solar power. Sunlight and wind are winning the race over coal, oil, gas, and nuclear. In places as diverse as Texas and Denmark, wind energy is now cost effective against coal in an open market. There has been an astounding pace of innovation in the development of electric cars. The United States has reduced its emissions back to 1990 levels, and China is investing heavily in renewables and is well advanced with plans for a nationwide emissions-trading scheme. The most popular dowry gift in India today is a solar-powered lighting kit, and Indonesia is soon to start building the world's largest geothermal plant. In 2014 Africa added more renewables – mostly wind and solar – than it had built in the preceding fourteen years. 'The pace at which wind and solar have penetrated developing markets has surprised everyone.'
'In the last ten years we have seen the decoupling of economic growth and carbon emissions, of prosperity and pollution'
Flannery also advocates the development of what he calls 'third way' technologies. By 'third way' he means in addition to reducing the burning of fossil fuels and geoengineering (such as the controversial injection of sulphur into the stratosphere). Third-way technologies deal not with the carbon in fossil fuels, but with the living carbon cycle – the carbon stored in soils, trees, and other vegetation. Previously, those two categories have been conflated in international negotiations and policy, allowing Australia, under the Kyoto Protocol, to reduce land clearing but to do little to curb the burning of fossil fuels. The Coalition government's 'Direct Action' policy is based on a similar conflation. Flannery argues that, as well as dramatically curbing fossil-fuel emissions, natural systems might be stimulated to store more carbon. Two of the examples he outlines are seaweed farming, which could absorb CO2 very efficiently and at a large scale, and CO2 storage in deep water marine sediments. To deliver these third-way methods and technologies, 'research, experimentation, funding and political agreement' are required right now.
The eloquent clarity of this book is a delight. It makes a grim subject exciting. It does fill me with practical hope as well as an enabling sense of urgency. I am also moved by what can be achieved – what is already being achieved – by brilliant, creative thinking and practical, entrepreneurial innovation. Flannery defines the challenge before us: 'We clearly have the tools needed to avoid more than 2°C of warming. But will we use them?'