Pennsylvania Avenue is billed by the Melbourne Theatre Company as a world première, with the expectation that singer Bernadette Robinson's new one-woman show will travel the world, like her previous one, Songs for Nobodies (MTC, 2010). In that show, Robinson inhabited several 'nobodies' and the famous singers they encounter. When, in November 2012, I interviewed Robinson in the run-up to the final Melbourne season, she let me in on a secret. She had plans for a new production that would showcase divas who have appeared at Carnegie Hall.
Two years later, here she is at the Sumner Theatre, Southbank, realising that dream, if in a slightly unexpected form. This new piece of musical theatre recreates the highlights of forty years of US presidential concerts at the White House. Although it reprises the theme of 'nobodies' meeting legendary singers, it is more ambitious in its scope and is staged in a large 500-seat venue.
The team that created Songs for Nobodies – Robinson, writer Joanna Murray-Smith, director Simon Phillips, and musical director Ian McDonald – has again collaborated on Pennsylvania Avenue, with former Artistic DirectorPhillips returning to the MTC especially. With broader brushstrokes, they have sacrificed the intimacy of the earlier cabaret-style show for a play with one character as narrator.
Robinson plays the fictitious Harper Clements, a girl from Thunderbolt, Georgia, who lands a job in the lower echelons of the entertainment division of the White House. Managing innumerable celebrities over forty years from 1962, she is particularly affected by meeting her musical heroines, among them her favourite, Barbra Streisand. Robinson exhibits her vast musical range of jazz, pop, opera, country, R&B and soul, and performs songs by Ella Fitzgerald, Barbra Streisand, Eartha Kitt, Tammy Wynette, Sara Vaughan, Aretha Franklin, Diana Ross, and Peggy Lee.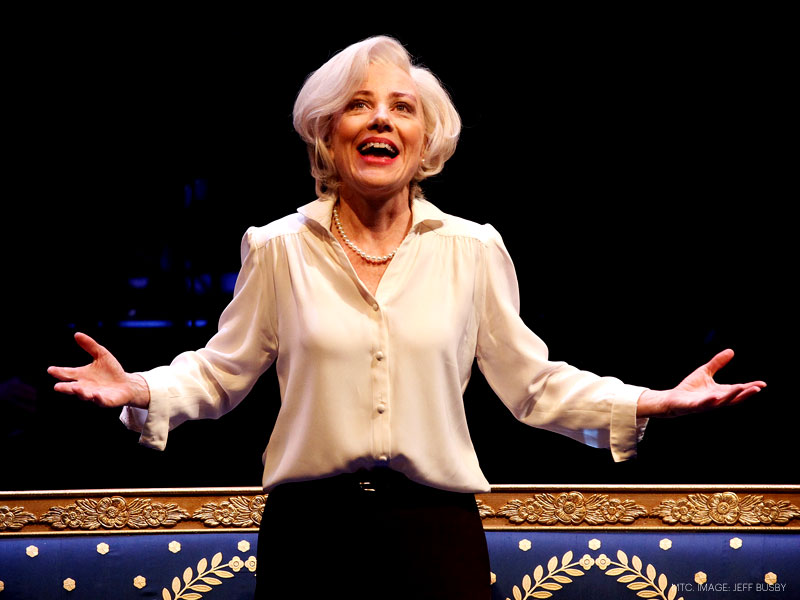 Bernadette Robinson in Pennsylvania Avenue (photograph by Jeff Busby)
On a brightly lit set by designer Shaun Gurton that replicates the Blue Room in the East Wing of the White House, Robinson embarks on her marathon monologue, segueing between her role as Harper and fleeting impersonations of presidents, first ladies, social secretaries and guests galore. With her talent for mimicry, Robinson switches accents, vocal range, and body language with alacrity. The mannerisms and vocal tics of long-gone presidents return to haunt us, and here is Hillary Clinton, captured in a freeze-frame. Then there are the songs, which are part caricature, part homage and, at times, electrifying.
It is a virtuoso performance, full of fun and warmth. Murray-Smith has written a monologue that gives full rein to her own satire and wit and to Robinson's huge talent as a singer and mimic. But the focus this time is on the play, rather than the music. Unlike Songs for Nobodies, which allowed for a spotlit focus on complete songs, Pennsylvania Avenue is punctuated by musical vignettes, often just one verse of a song made famous by the White House entertainers.
'It is a virtuoso performance, full of fun and warmth'
This challenges Robinson as an actor. She has to pace across the wide stage, sometimes with a box in her arms, to indicate the busy nature of Harper's job. Harper's inner life, which is as the heart of the drama, is too slowly revealed for the emotional connection between Harper and the songs to have an impact on the audience. And cutting off the songs, when Robinson is in full vocal flight, is a crime. It is her power not just to imitate the singer, but to inhabit the song, that is Robinson's greatest gift.
The most serious fault is in the costuming. Robinson has a platinum blonde wig and is dressed in wide-legged pants and loose shirt, in neutral shades. Her slight body is swamped, and the expressiveness of her arms and shoulders, as she interprets the divas, lost. A little black dress would have been perfect.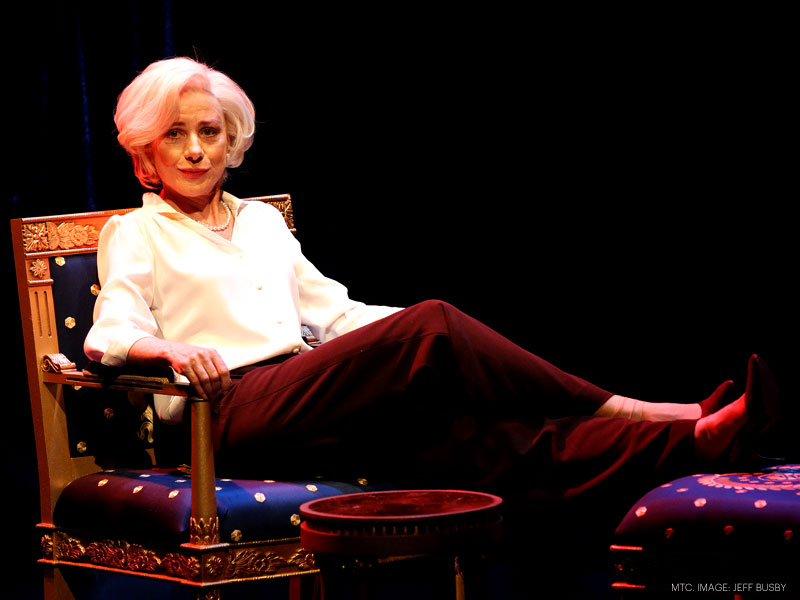 Bernadette Robinson in Pennsylvania Avenue (photograph by Jeff Busby)
In our interview, Robinson revealed that it was after seeing Bombshells, starring Caroline O'Connor, written by Murray-Smith, and directed by Phillips, that she asked Murray-Smith to write something for her. The result was Songs for Nobodies, a perfect vehicle for Robinson's talents. Pennsylvania Avenue's dramatic structure not only makes more demands on the actor, but depends on secrets and revelations, at odds with the naïve, honest, and open character of Harper Clements. The ensuing touch of melodrama detracts from the emotional impact of the songs and the intimate moments between Harper and the divas.
'It is her power not just to imitate the singer, but to inhabit the song, that is Robinson's greatest gift'
Ian McDonald's four-piece band, with keyboards, reeds, drums, and guitar, provides a fine textural accompaniment to Robinson's divine voice. It is worth the ticket just to see her perform Sarah Vaughan's 'Cry Me a River' or Eartha Kitt's 'If You Go Away'. Other highlights are an aria from Carmen by Maria Callas and an odd cameo of Bob Dylan singing Barry McGuire's song 'The Eve of Destruction.'
Pennsylvania Avenue is a witty, satirical look at American history. Despite its shortcomings, it gives Robinson's marvellous talents as a mimic, singer, and entertainer yet another stage. The standing ovation on opening night was a tribute to her brilliance.
Pennsylvania Avenue, by Joanna Murray-Smith, directed by Simon Phillips for Melbourne Theatre Company, and performed by Bernadette Robinson at Southbank Theatre, The Sumner until 20 December 2014. Performance attended 13 November.