Adapted and directed by Peter Brook in conjunction with Hélène Estienne and Franck Krawczyk, The Suit was first staged in a French-language version (Le Costume) in 1999. In English, fifteen years on, and with significant changes having been made (including the replacement of recorded music with a live trio), The Suit remains vitally alive, showing none of the signs of the lethal malaise Brook described in his seminal book of theatre theory, The Empty Space (1968), as the Deadly Theatre.
The Suit is based on a short story of the same name by Can Themba, a South African-born writer and journalist whose life was cut short by alcoholism in 1968. Set in the culturally and politically pulsating Johannesburg township of Sophiatown in the 1950s, Themba's story, its background the brutal divisiveness of the apartheid régime, is a clear allegory about unchecked revenge. In it, Philemon (William Nadylam), a lawyer, discovers his wife, Matilda (Nonhlanhla Kheswa), in bed with another man. The illicit lover (Ery Nzaramba) flees in his underwear, leaving behind a suit on a coat hanger that Philemon, as a punishment, insists his wife treat as though it were a house guest. 'The point is, Tilly,' he tells her icily in both Themba's story and this production, 'that you will meticulously look after him. If he vanishes or anything else happens to him … Matilda, I will kill you.' By the time Philemon comprehends that his humiliation of Matilda has gone on for too long, it is too late to prevent a mysterious though unmistakably tragic outcome.
'''The Suit'' remains vitally alive, showing none of the signs of the lethal malaise Brook described ... as the Deadly Theatre'
This adaptation, which draws on a previous stage version from the 1990s by Mothobi Mutloatse and Barney Simon in addition to Themba's story, is true to the ideals of the Rough Theatre, which Brook set out in The Empty Space: 'a bucket,' he wrote, 'will be banged for a battle, flour used to show faces white with fear.' Here, a clothes rack is a door, a wardrobe, a crowded bus; the arrangements of wooden, multicoloured chairs summon church congregations and house parties, and a dive bar when turned onto their sides. Apart from a large, rectangular mat that demarcates the centre of the playing area, there is little else on stage, apart, that is, from the band – pianist Danny Wallington, trumpeter Mark Kavuma, and guitarist Arthur Astier. As well as recreating period standards such as Feeling Good and Strange Fruit, the trio's eclectic score takes in Schubert, Bach, Miriam Makeba, and Frank Krawczyk's original, Township Jive-inflected compositions. Wallington, Kavuma, and Astier, all players with exemplary expressiveness and control, are also routinely called upon to fill out the small ensemble, as at a party when they drolly assume the roles of various guests of both genders.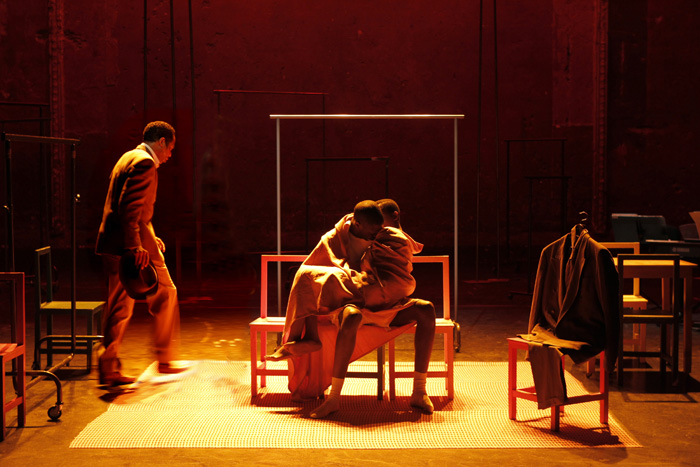 William Nadylam as Philemon and Nonhlanhla Kheswa as Matilda (photograph by Pascal Victor)
There is no question that the 590-seat Dunstan Playhouse is not the ideal space for Brook's famously ascetic method, but the ensemble's dynamism, as well as its delightful, unthreatening interaction with the front rows, does much to create the required sense of intimacy. Nadylam's Philemon, charismatic and loose-limbed but with a perturbing undercurrent of fierce pride, is a captivatingly polygonal creation. Kheswa, as Matilda, has much less to do, but is an equally beguiling stage presence, especially during her maximally soulful renditions of Feeling Good and the gorgeous Swahili love song Malaika. The effervescent Nzaramba, who plays, among other characters, Matilda's lover, completes the cast. He provides the play's most arresting reminder of the workaday barbarousness of the apartheid era when he sings, aided only by Astier on spectral guitar, the civil rights anthem Strange Fruit as a tribute to a black guitarist who has been tortured and killed by the authorities.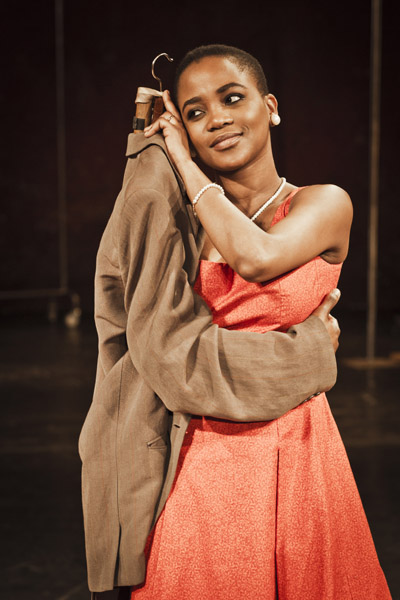 Nonhlanhla Kheswa as Matilda (photograph by Johan Persson)
This is not the only moment in the play that haunts in its evocation of a profoundly scarred and scarring place and time, but if The Suit can be said to have an overarching mood then it is an ebullient, rather than a hopeless, one. Matilda is able to find pleasure in the cracks in Philemon's harsh régime, such as when, left alone at home one day, she threads an arm through one of the suit's sleeves and sensuously dances with it – just as the inhabitants of the impoverished Sophiatown can amid the strictures of state-sanctioned racism. The text is often humorous and irreverent, sharply flavoured with Themba's gonzo-ish, observational feeling for the rhythms and springy musicality of township street life and talk. It is an open and constant invitation to the audience to enter into the abiding playfulness of the piece (a playfulness that reaches a giddy apotheosis when several audience members are brought up onstage to participate in the party given to celebrate Matilda's work for a black women's education group).
'There are pillars of affirmation,' Brook wrote in The Empty Space. The Suit is one such pillar, a powerful reminder of how the living theatre Brook has for so long championed can produce, between actor and audience, a binding and joyful moment in time. Apartheid means, literally, 'apart-hood', the state of being apart. The Suit achieves precisely the opposite effect: a togetherness that affirms the theatre as a place of shared experience, celebration, and catharsis.
The Suit, direction, adaptation and musical direction by Peter Brook, Marie-Hélène Estienne, and Franck Krawczyk. Presented by State Theatre Company SA. Performances continue at the Dunstan Playhouse until 12 October 2014. Performance attended 3 October.