Dallas Buyers Club is the latest and largest in a growing number of period and documentary films about Aids in America. It envisages a time in the 1980s when people living with HIV/Aids existed in a socio-political combat zone in addition to the battles being waged in their own immune systems. Dallas Buyers Club is allegedly a different kind of Aids film: a gritty 'true' story of a working class, faggot-hating cowboy with Aids. But with its straight, white male protagonist's arc from bigotry to tolerance, it has the same liberal humanist formula as Philadelphia did in 1993, is far less bold and just as didactic.
Oscar-nominated Matthew McConaughey plays Ron Woodroof, a real-life Texas rodeo cowboy and electrician, who, on being diagnosed with full-blown Aids and given thirty days to live, begins aggressively self-medicating with AZT, a drug still being trialled then and for access to which he has to bribe a hospital orderly. Woodroof then starts the eponymous Buyers Club, through which other desperate people can obtain black and grey market medications, most of which he imports illegally from overseas, smuggles across the Mexican border, or sneaks past the American Food and Drug Administration (FDA).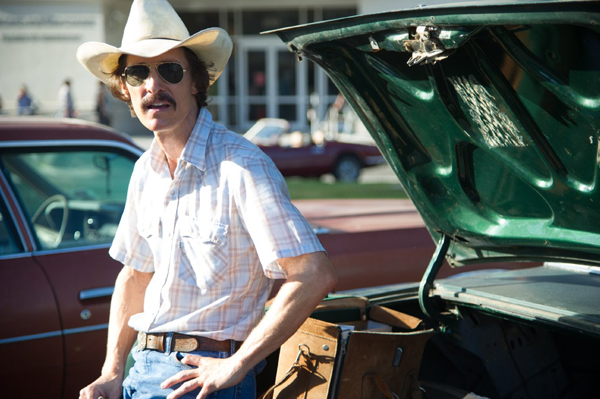 Matthew McConaughey in Dallas Buyers Club
It's a pacey, satisfyingly arched, expertly performed film. Critics are lauding McConaughey's portrayal of the cocky, loveable Woodroof, and he is indeed explosive in the role.
As Rayon, a sassy transgender woman enlisted by Woodroof to entice the buyers club's predominantly queer clientèle, Jared Leto is excellent too. However, Rayon's role as supporting agent to Woodroof is dubious on at least two fronts. First, her chief task in the film's moral universe is to provide Woodroof with a challenge to his prejudices. She is a dramatic instrument for his evolution from homophobic pussy-lover to compassionate advocate for Aids victims. She continues to inject drugs long after her HIV diagnosis, suffering operatically and self-destructively.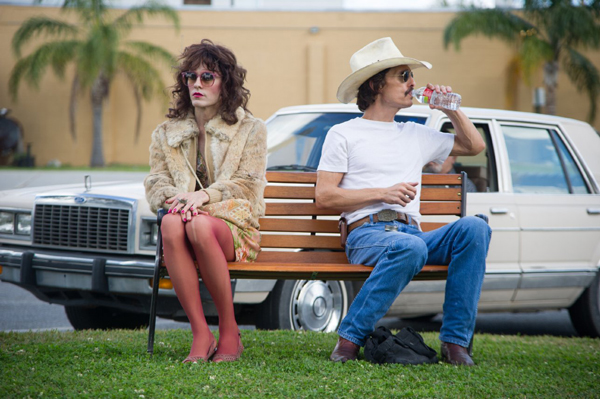 Jared Leto and Matthew McConaughey in Dallas Buyers Club
Not only does the gender deviant seem like an updated Stella Dallas-style sacrificial martyr, but the film's writers, Melisa Wallick and Craig Borten, invented her character to serve the narrative and moral trajectories of the script. It might have been different had Rayon evolved from someone that had actually existed. Dallas Buyers Club is nonetheless presented to audiences as biographical drama, based on someone's real life. Its writers and the director, Jean-Marc Vallée, have also been reluctant to address public assertions from Woodroof's real-life friends suggesting that not only was he not the homophobe the film depicts but that he might indeed have been bisexual.
'The film's biggest weakness is that its depiction of a single man versus the FDA and Big Pharma all but erases the history of pharmaceutical activism that was pioneered by Aids activists'
The film's biggest weakness is that its depiction of a single man versus the FDA and Big Pharma all but erases the history of pharmaceutical activism that was pioneered by Aids activists and that helped bring into being the drugs that keep people alive today. Vallée has said that the documentary How to Survive a Plague (2012) was an inspiration for scenes where Woodroof takes on the FDA, the FBI and other government agencies. Plague documents the game-changing activism of ACT UP (the Aids Coalition to Unleash Power) and the Treatment Action Group who took on American bureaucrats, government leaders and drug companies in order to get Aids into the public dialogue. Vallée's citation of it as a source of inspiration is ironic, for Dallas Buyers Club has barely a whiff of these broader social movements. People living and dying from HIV/Aids are depicted as hapless victims of unethical drug trials and then waiting in long lines outside the Dallas Buyers Club, unrepresented and desperate. That these poor souls might have been part of a coordinated movement of political and administrative change that accelerated drug trials is ignored in favour of a single man's heroic resistance and personal transformation.
The elisions in the film, however crowd-pleasing it is, make it tendentious history at best, so that the film's sentimental message of tolerance seems extremely cynical. The schematic way it valorises the Buyers Club and vilifies the FDA and Big Pharma suggests rigid, war-like adversaries in which Texan entrepreneurship, individualism, and survival instinct join forces with the power of good. It's a classic liberal myth in which a rabidly heterosexual buccaneer capitalist and unrepentant larrikin save a bunch of helpless junkies and queers. Drug access is a huge issue in the US for people living with HIV today, but Dallas Buyers Club sheds as little light on the contemporary scene of American HIV/Aids as on its history. Entertaining though it is, the film invites the question: can Hollywood make any other sort of Aids movie?
Dallas Buyers Club, directed by Jean-Marc Vallée. 117 minutes. Released in Australia on 13 February 2014.