Capturing the essence of Robyn Davidson's journey across 2700 kilometres of Australian desert was a visual challenge for National Geographic photographer Rick Smolan. Convinced the magazine would misrepresent her, Davidson knew that the challenge was coming to terms with her decision to 'sell out' (her words) in agreeing to let an American photographer intrude on her personal quest. Following the successful article she penned for National Geographic, and the tidal wave of attention it created, Davidson then chronicled her experiences in Tracks, two years after she reached the Indian Ocean. The book has never been out of print since its publication in 1980 and, despite warming to Smolan during her travels, Davidson still sees his images as beautiful, glossy lies. Now the tale of the famed 'Camel Lady' is once again refocused for the rapacious eye of the tourist, only this time in moving images.
Opening with Davidson's own words, voiced here by Mia Wasikowska, the film establishes a reliable narrator. The condensed chapters of Davidson's months of hard work taming camels and fighting self-doubt build a stable foundation for understanding why she wanted to leave everything behind. As the story moves from her stint in Alice Springs to dusty desert tracks, however, the footprints of Davidson's introspection are swept away. Instead of journeying with Davidson, her dog Diggity, and the four camels she trained to carry her swag, the camera watches her from a careful distance; one that makes voyeurs of the film's viewers.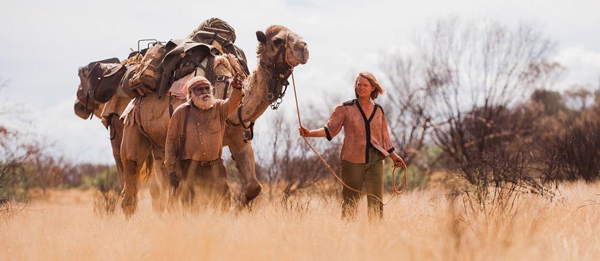 Roly Mintuma and Mia Wasikowska in Tracks
The positioning is uncomfortable. We are as estranged from Davidson as she is from the landscape. Director John Curran (We Don't Live Here Anymore, 2004; The Painted Veil, 2006) lets a backdrop of breathtaking vistas stand idly by. It is the motion-picture equivalent of a glossy magazine spread. Still, Curran's lens, though distancing, never feels intentionally misguiding. It meanders. This, coupledwith Wasikowska's restraint in the main role, means that the experience for the viewer never quite reaches the heights of Davidson's ardour and actualisation. The gusto that made a bestseller of the novel is missing.
Davidson's personal challenge was to shake up a lingering malaise typical of her race, class, and gender, but Curran lightens the tone, the effect occasionally rather whimsical. Odd stylistic choices often work against the natural elements in the film. The sort of music you might expect to find in a children's adventure story stifles the film's ability to communicate what it might actually be like to walk alone across thousands of miles of silent desert. Then there is Adam Driver's enjoyable but almost caricatured depiction of Rick Smolan. Perhaps Curran didn't have enough confidence in his camera to let the landscape speak for itself.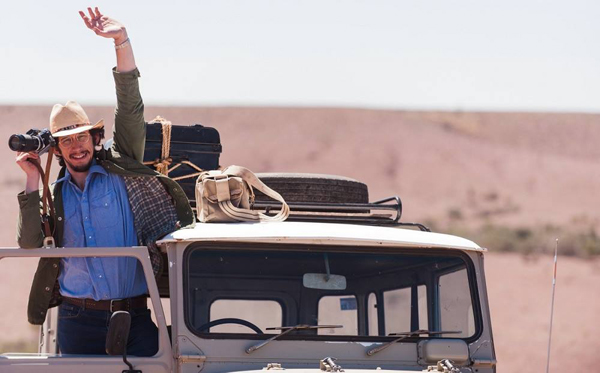 Adam Driver in Tracks
Despite these shortcomings, Tracks is an enjoyable film. Curran's version of events focuses on the humanist aspects of Davidson's account. We see a woman whose determination is admirable but who finds it difficult to interact with her peers. She relates more easily to animals than to humans. This is true of both the book and the film. In Curran's adaptation, the only exception is Davidson's immediate fondness for the Aborigines she encounters. A combination of white guilt and earnestness fuel her need for their acceptance. She is ashamed when Smolan takes photographs of their 'sacred business', and feels validated when an elder agrees to accompany her through sacred land. Still, this humanist perspective comes at the cost of depoliticising Davidson's emotions. Curran's interpretation tries to toe a line between furthering white Australian wonder at 'native mystics' and being respectful without bringing politics to the screen.
To be fair to Curran, it is difficult to achieve incisive social commentary in a narrative film. It might be that he couldn't make it work, or maybe it was not his intention to depict the erudite annotations that pepper Davidson's otherwise personal account. Either way, having lost many of the keen observations that elevated the book to more than just a good story, the film leaves the viewer wanting more. Easing off the polemic allows Curran to present an accessible and endearing account of Davidson's adventure, but as a journey it is less memorable and meaningful.
Curran allows the harsher aspects of the natural world and of solitude to soften Davidson. She warms to Smolan and begins to understand that indulging in human affection isn't necessarily a weakness. Accepting the price of her freedom, Davidson acknowledges thatNational Geographic is not the enemy. Sharing a personal journey with the world, through any medium, will be subject to limitation. As a version of her adventures, Tracks navigates its way to the big screen safely enough; its bearings are only slightly off compass.
Tracks, directed by John Curran. 110 minutes. Released 6 March 2014.