Politics
Fire and Ashes: Success and Failure in Politics
by Michael Ignatieff
Knowledge gained through academic life is no preparation for political practice. So found Michael Ignatieff, the distinguished Canadian historian and public intellectual. In October 2004 he was teaching at Harvard University when approached by 'three men in black'. These Liberal Party power brokers suggested Ignatieff leave the classroom and run for office. Fire and Ashes tells what happened next. By January 2006 Ignatieff found himself in the House of Commons in Ottawa. Less than three years later he was leader of the Opposition.
As an academic, Michael Ignatieff published widely on international affairs and political philosophy. His biography of Isaiah Berlin (1998) was much admired, as were subsequent books on social welfare and human rights. His novel Scar Tissue (1993) was shortlisted for the Booker Prize. Born into a Canadian family with a tradition of public service, a young campaign worker for Pierre Trudeau, educated at the University of Toronto and then at Harvard, Ignatieff seemed an ideal prospect for national leadership.
Yet his political career proved short and disastrous. Ignatieff led the Liberals, long Canada's natural party of government, to the election of 2 May 2011. That evening, he sat 'with stunned staff, watching the returns on television as the centre of our politics, the place where my party had positioned itself for a century, collapsed in one night. By late in the evening, it was apparent that I would even lose my own seat.' The 2011 election remains the worst poll result ever recorded by the Liberals.
Fire and Ashes is a bracing political memoir because the main theme is failure. Across the cover a biplane spirals out of control. Surveying his five years in the Canadian parliament, Ignatieff concludes that political science proved poor preparation for political practice. The attributes of a good scholar – candour, rigour, originality, and a willingness to follow ideas wherever they lead – are 'virtues in theoretical pursuits but active liabilities in politics, where discretion and dissimulation are essential for success'.
Successful politicians must be cunning, quick to adapt to changed circumstances, able to lead or charm as required. Machiavelli said something similar, and while at Harvard Ignatieff delighted in introducing The Prince to his classes. In retrospect, he realised, 'I had taught Machiavelli, but I had not understood him.'
Stalking Fire and Ashes is a figure who exhibits all the traits of a successful prince. Conservative leader and Prime Minister Stephen Harper proved a wily politician who outplayed Ignatieff on key issues. Ignatieff is appalled but fascinated by Harper's political skills. He hoped to return to Canada as a prodigal son, but Harper portrayed him as an élite carpetbagger. Whenever Ignatieff secured national attention for an issue, Harper seized the agenda and made himself the hero of the moment. Forced by economic circumstance to work with the Opposition, Harper used the legitimacy of cooperation to regain control and then resumed normal hostilities.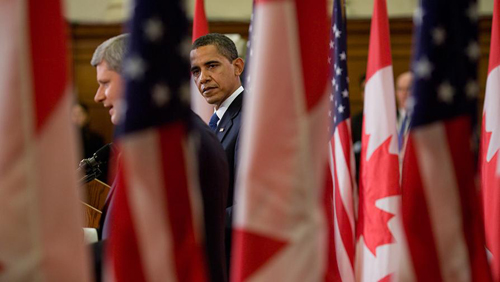 Stephen Harper and Barack Obama, 2009
(photograph by Pete Souza)
Above all, Harper denied Ignatieff 'standing' – the right to speak to, and for, his fellow citizens. Harper moved quickly to define Ignatieff before most Canadians could get to know a man who had lived abroad for much of the previous thirty years. 'Michael Ignatieff. Just Visiting' said Conservative advertisements, as the Prime Minister characterised his opponent as privileged, out of touch, and remote from the concerns of Canadians. 'The longer you leave an attack unanswered,' notes a rueful Ignatieff, 'the more damage it does.' The media stopped listening, and Ignatieff found himself without a way to communicate. He hired a bus, called it the Liberal Express, and toured the country. He made lots of friends on the road, but the polls did not move 'an inch'.
Prime Minister Harper understood the 'permanent campaign' of contemporary politics, and began attacking his opponent long before the 2011 election. Ignatieff is incensed by Harper's 'rare gift' of combining 'the impression of conviction with total opportunism'. Ignatieff acknowledges his 'disbelief, mixed with reluctant admiration', as the Conservative leader swerved with each change in fortune, constantly repositioning without concern for consistency.
Machiavelli would not be surprised, but neophyte politician Ignatieff believed in rules, in discussion and in agreement around shared national goals. His opponent worked from a more realistic understanding of the political process. Ignatieff favoured thoughtful speeches about the role of the state, the nature of Canadian identity, and the moral and policy challenges facing the electorate. Some are quoted in Fire and Ashes. He believed in democratic politics as an ideal, in compromise as a necessary feature of an effective polity. The Conservatives, in contrast, 'borrowed the entire playbook of negative attack from their American republican counterparts'. They played on resentment and envy, and attacked concession as weakness, until the centre could not hold.
Following defeat, Michael Ignatieff returned to teaching, and Fire and Ashes is his reflection on the hard lessons learned through harsh experience. He notes a number of significant political theorists – among them Edmund Burke, James Madison, Alexis de Tocqueville, John Stuart Mill, and Max Weber – who wrote eloquently about politics but failed as politicians. Ignatieff concludes that the analytical skills essential to scholarship sit uncomfortably with the flattery and partisan discipline required for success in political life.
Although the book avoids self-pity, the explanation is not complete. Ignatieff concedes his naïveté about aspects of partisan politics, and acknowledges but does not dwell on costly mistakes as Opposition Leader. For carefully considered reasons, he declined a New Democratic Party (NDP) offer of coalition that would have made him prime minister, then launched an ill-judged and unsuccessful no-confidence motion against the government just months later. Harper may be a Machiavellian figure for Ignatieff, but he is also a skilled debater who won the leadership clashes during the 2011 campaign. Harper read the situation better, and acted more decisively. Ignatieff and the Liberals found themselves isolated as the electorate divided between the social democratic policies offered by popular NDP leader Jack Layton and promises of stability under the Conservatives.
In more reflective passages, Ignatieff accepts that success in politics is a mix of personal skill and fate. Self-command, judgement, and inner toughness are necessary but not sufficient: 'Fortuna largely determines political careers, so you have no reason to rail at fate if she turns against you. Don't make the mistake of supposing you control your fate. That's called hubris.' Chastened by time, the author presents himself as older and wiser, disappointed at failure but grateful nonetheless for the authority of lived experience.
Bitterness is hard to resist, since ambition drives people into politics and does not vanish with defeat. To enter the arena is to endure significant personal cost. When the power brokers appear at Harvard, Ignatieff knows he is being tempted. His brother urges him not to run. Yet the lure of office seems impossible to resist. The price quickly mounts. A first attempt at the Liberal leadership costs him a lifelong friendship. The constant media attention proves oppressive, as do the personal attacks. Ignatieff finds his confidence undermined by the daily referendum that is political life, and constantly searches for affirmation from strangers.
'Ignatieff discovers there is 'nothing so ex as an ex-politician.'
When the ballroom closes on election night 2011, Ignatieff discovers there is 'nothing so ex as an ex-politician'. He must move out of Stornoway, the official residence for the Leader of the Opposition, and find a new job, because five years in parliament is insufficient to secure a pension. People might shrug and say 'it's politics', but a rout means you, your friends, and colleagues lose livelihoods and a voice in the national conversation.
Experience convinces Ignatieff that no science of politics is possible. The academic is interested in ideas, but politics as practised is 'the ceaseless attempt of wily humans to adapt to what Fortuna throws in their paths. Its basic skills can be learned but they cannot be taught.' Instead, Ignatieff argues, we should think of politics as a calling, an arena where the naturally gifted, those with skills of persuasion, oratory, and bloody-minded perseverance might succeed for a brief while.
If politics cannot be taught, why write the book? Ignatieff justifies the volume as an encouragement to those who will follow. But equally he is keen to comprehend: to trace how he was outmanoeuvred, to ponder mistakes, to reflect on the role of the media in national politics. He wants to report, too, on aspects of political life rarely discussed. After serving as a member of parliament, Ignatieff understands the role of politicians in identifying what people have in common and expressing this in ways that hold society together. 'Politics at the doorstep,' he argues, give a politician the 'measure of the divided worlds that it is a politician's job to reach across.'
Clive James once observed that 'we learn nothing from success, only from failure'. Fire and Ashes has been attacked by Ignatieff's political opponents as a 'barely sufferable journey of self-absolution', but this is unfair to a moving work of contemplation. Few aspiring politicians have risen so quickly, nor nose-dived so spectacularly, as Michael Ignatieff. Fewer still offer lessons from the experience. Should three men in black appear at your door with an enticing offer, think carefully.