Michelle MichauCrawford
Francesca Sasnaitis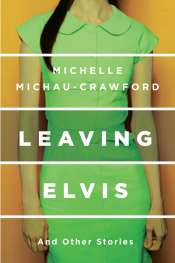 Michau-Crawford's accomplished début collection bears comparison to Tim Winton's impressionistic The Turning (2005) and Elizabeth Strout's Olive Kitteridge (2008), though Leaving Elvis is properly neither the portrait of place nor of a single character. The place might be any dilapidated small town in the wheat-belt region of Western Australia. Th ... More
WHAT DREW YOU TO WRITING?
Some of my earliest memories involve sitting alone or even amongst people, making up stories and reimagining the world around me. I've never stopped doing that, so I guess it was a natural progression.
DID YOU STUDY WRITING? IF SO, WAS IT WORTH IT?
Yes, informally, then at ... More
Michelle Michau-Crawford
I walk in the door and Gran tells me that a month ago Leslie Mulligan was taken by a shark while trying to save a stranger. Imagine, a national hero. She actually says that. As though dying in a world of pain in an ocean filled with his own blood was a heroic choice.
Awake for thirty hours, I'm beyond tired and probably in shock. ... More