With aching feet, bursting bladders, and the odd carrot for sustenance, Samuel Beckett's famous pair of tramps have shuffled on to the stage of the Sydney Theatre for an extended run, though run is hardly the apposite word for this stationary duo. Perhaps one could call it an extended slump.
Waiting for Godot (first performed in 1953, as En attendant Godot) has a unique place in Beckett's work. It is his best-known and most performed play, but he had ambivalent feelings about it. He repeatedly called it a 'bad play' and a 'mess', but held onto the manuscript long after he had sold or given away the others. That his negative appraisal is misplaced and can be attributed to the natural reaction of an artist who feels that his other works are being overshadowed now seems clear. It may not have the concision of Krapp's Last Tape (1958) or the power of Endgame (1957), but in the decades since it was first presented to a mostly bewildered public it has firmly cemented its place as one of the seminal works of twentieth-century theatre.
In the Hungarian Tamás Ascher, it seemed that the Sydney Theatre Company had found the ideal director. His brilliant production of Uncle Vanya (STC, 2010) moved so fluidly from humour to pain that he had his audience laughing as their hearts were breaking. Who better to elicit the combination of despair and comedy that is at the heart of Beckett's play? But, as has been well reported, a pinched nerve kept him in Hungary, so Andrew Upton stepped into the breech. How much of the finished production stems from Ascher's original concept, if one can even have such a thing as a concept for this slippery work, and how much is the work of Upton and the cast only they know.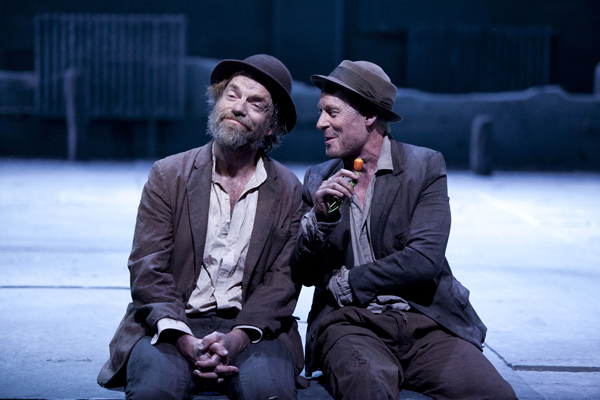 Hugo Weaving and Richard Roxburgh in Sydney Theatre Company's Waiting For Godot (photograph by Lisa Tomasetti)
At the end of the first act, it seemed that we were in for an evening of Beckett lite. In his review of the original London production, Kenneth Tynan wrote: 'Waiting for Godot frankly jettisons everything by which we recognize theatre … A play, it asserts and proves, is basically a means of spending two hours in the dark without being bored.' It seemed that the director and cast had taken this to heart. Aided and abetted by an audience primed for comedy and seemingly willing to laugh at everything, the admittedly very funny act sped by giving short shrift to the shafts of pain and despair that puncture the humour. By the second and darker act, the cast had obviously got the measure of the audience and had complete control of the house. The bleaker moments came through full force, and the ending was, as it should be, deeply moving.
Ascher had jettisoned Beckett's stage setting ('a country road, a tree, evening') in favour of a ruined theatre with a tree growing through the rubble. With its hints of a dystopian world, a ruined civilisation in which survivors act out old but now meaningless roles, it worked particularly well for the scenes involving the landowner Pozzo and his slave Lucky, who pass through in both acts supposedly on their way to and from a fair.
With his fob watch and picnic hamper, there is something Edwardian about Pozzo, Beckett's answer to Kenneth Grahame's Mr Toad perhaps, if one could imagine Mr Toad riven by existential despair. Actors always play Pozzo at full bore, and Philip Quast's operatic performance is no exception to the rule. Quast's sonorous voice and imposing presence work well for the outwardly pompous, self-satisfied landowner, and in the first act he is very funny as he reveals the actual fragility of this supposedly powerful man. As the blinded, broken Pozzo of the second act, he is both ridiculous and moving. It is a splendid performance, but one day I would like to see an underplayed Pozzo.
As his battered and abused servant Lucky, Luke Mullins is nothing short of magnificent. A shuffling, wheezing wreck all arms and legs, he staggers around the stage overloaded with hamper and bags like an ancient packhorse. His dance is both absurd and oddly elegant, and he delivers his weirdly abstruse monologue with such panache that the audience gave him a well-deserved ovation at its end.
Hugo Weaving, Luke Mullins, and Richard Roxburgh in Sydney Theatre Company's Waiting For Godot (photograph by Lisa Tomasetti)
In the hands of Hugo Weaving and Richard Roxburgh, Vladimir and Estragon come over as a cross between Stiffy and Mo and Edward Albee's George and Martha. Resenting their interdependence but terrified of loneliness, they bicker and make up and attempt to find ways to pass the long daylight hours.
Weaving's Vladimir is the more optimistic of the two. He still has some hope that things will get better and that Godot will arrive, but his glazed smile and anxious eyes betray the immense effort needed to remain positive, and his final outburst when the boy tells him that once again Godot will not come is shattering.
Roxburgh is an unusually active Estragon. Despite his sore feet, he buzzes around the stage like a fly trapped in a bottle. Less bright than Vladimir but more realistic, he sees his situation as hopeless. And Roxburgh brilliantly shifts gears from comedy to despair and back again.
This is already a splendid production. I have a feeling that after it has run in a bit more it will be a magnificent one.
Sydney Theatre Company's production of Waiting for Godot, directed by Andrew Upton, runs until 21 December at the Sydney Theatre. Performance attended 16 November.