Nevil Shute's apocalyptic 1957 novel On The Beach and Stanley Kramer's 1959 movie adaptation hold a continued fascination, particularly for Melburnians – even if we have grown weary of the famous quip, attributed to Ava Gardner, about the city being the ideal place to film the end of the world. Largely setting aside such parochial concerns, Lawrence Johnston's documentary Fallout offers a valuable new account of both book and film, placing both in the context of a historical moment when nuclear annihilation seemed a more than plausible threat.
Johnston, like so many talents in Australian cinema, has scarcely had the chance to realise his potential (his best film remains his sole fiction feature, the 1994 prison drama Life). Fallout is the most conventional of his documentaries, a straightforward blend of 'talking head' testimony with photographs and film clips. Still, it has the nocturnal, moody quality of all his work, with an appropriately mournful score (by Antony Partos) and a few shots that appear to be borrowed from his 2007 essay film Night.
The most impressive of the interviewees is the Australian journalist and author Gideon Haigh, who published a fine essay on Shute some years ago, and speaks as clearly and incisively as he writes. The most outrageous is Kramer's simpering widow, Karen Sharpe, who retells the Ava Gardner story as if it were gospel and suggests, not quite accurately, that her husband was one of the first directors to shoot a feature in Australia. Other notable presences are Shute's daughter Heather Mayfield, the actress Donna Anderson (the last surviving star of the movie), and the anti-nuclear campaigner Helen Caldicott, who seems to have interpreted the novel as a call to arms.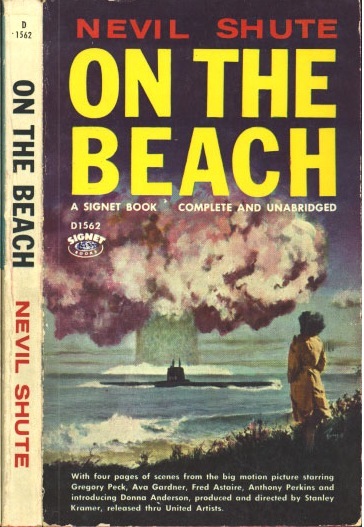 Haigh boldly identifies On The Beach as 'the most important Australian novel of all', which may be true in some sense, if not a literary one. Mayfield says that her father considered himself an engineer first and foremost. Reading the book today it is hard to disagree. The characters are cardboard, the most sympathetically portrayed relationships those between man and machine: the American naval officer Towers and his nuclear sub; the scientist John Osborne and his red Ferrari. At best, the drab prose suggests the inadequacy of any possible response to the prospect of human extinction: Shute doggedly refuses to raise his voice, though he sometimes seems to relish the understated horror.
As Fallout makes clear, Shute was a physically ailing man when he wrote the book, which he ostensibly conceived not only as a comment on the world situation, but as an effort to come to terms with his own mortality. His characters accept their doom without fuss, heroically pretending – to themselves and each other – that life will continue as normal. Viewing this fatalism as wholly admirable, On The Beach is not even really a protest novel: as Haigh has pointed out, Shute supported nuclear containment rather than disarmament. (The film reflects Kramer's more progressive outlook, with the originally youthful Osborne changed to an older, guilt-stricken man – played by Fred Astaire, of all people – who rails against the stupidity of the arms race.)
Gregory Peck and Ava Gardner on the set of On the Beach (1959).
To the last, the priggish Towers remains a stickler for navy rules and regulations, refusing to allow Moira, the woman who loves him, to join him on his final suicidal voyage into Bass Strait. Likewise, his loyalty to his dead wife prevents him from sleeping with Moira, a choice presented as the book's central moral victory. Kramer, to his credit, threw all this out the window, rightly believing that audiences would lose faith in a hero who chose principle over sex with Ava Gardner. Shute was duly appalled, and, coincidentally or not, died of a stroke a month after the film's premiere.
This was 'fallout' in another sense. Johnston chronicles all this, without acknowledging that to some degree both sides lost the battle: Kramer, like Shute, suffered a swift decline in critical reputation, which has never been reversed. Yet the commonly held view of him as a prosaic 'message' film-maker is belied in On the Beach by a handful of magnificent images, originating in the book but realised most vividly on screen. Few will forget Astaire competing in the world's last grand prix at Phillip Island, tearing obsessively round the track as cars crash and burn behind him; the mysterious Morse code message caused by a Coke bottle caught in a blind; or the closing shots of empty streets, prefiguring the ending of Michelangelo Antonioni's L'Eclisse (1962). To appreciate all this, it is not even necessary to be from Melbourne – though I admit to getting a special kind of chill every time I see Gardner turn away from Gregory Peck and rush towards the clocks of Flinders Street Station, disappearing into the crowd.
Fallout (M), written and directed by Lawrence Johnston. 86 minutes. Exclusive to Cinema Nova in Melbourne from 31 October.