Film-wise, 2013 has been the year of adapting dangerously. Dangerously, that is, in the sense of daring to affront devoted readers of the original novels or plays, valuing enterprise over fidelity. Now, just after admirable versions of Much Ado about Nothing and What Maisie Knew have finished their runs, we have director–screenwriter Andrew Adamson's inspired rendering of Lloyd Jones's equally inspired novel Mister Pip (2006). In the process of honouring the original, it makes something new and beautiful and, with Jones's memoir, A History of Silence, now in the bookshops, its arrival is timely.
Adamson's film can be seen as an adaptation of an extrapolation. Its forebears are Jones and Dickens. As the title of both works suggests, Great Expectations (1860–61) makes itself powerfully felt in each. Has any other English novel made such ubiquitous appearances across the arts? It has attracted the frequent attention of film-makers for screens large and small, of playwrights, of radio broadcasts, and of at least five novelists, of whom, for my money, Jones is the most fascinating.
So what has this book going for it that we keep returning to it? Mr Watts, the solitary white man left on a tropical island, describes it as 'the greatest novel by the greatest English writer of the nineteenth century'. Fundamentally, it is about drastic, arbitrary changes in life, changes that can lead to 'immigration' – from place to place, from class to class – as they do for Pip, and in her own way as they do for Jones's, and the film's, Matilda. Neither Jones nor Adamson is aiming at inspirational feelgoodism; what happens to black Matilda is more important than that, as it was for white Pip.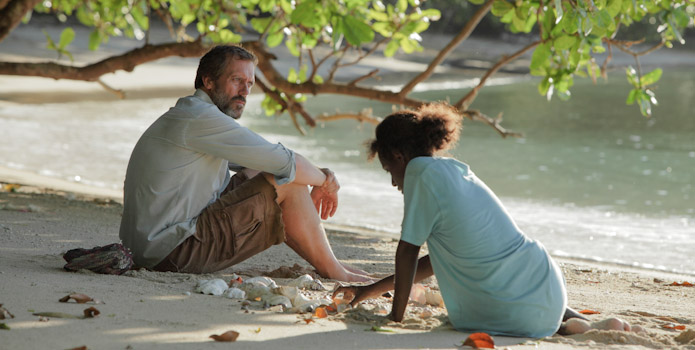 Mr Watts (Hugh Laurie) and Matilda (Xzannjah) in Mr. Pip
Adamson's film is visually striking but only at the service of the serious matters at its heart, and is never allowed to lapse into indulgent pictorialism. The island setting is of course beautiful, but its tropical splendours of sand, sea, and palm are made to contrast in dramatic terms with both the fragile huts the islanders live in now that their livelihoods have been destroyed by the closure of the mine that once made them more prosperous. And there is further contrast with the essentially interior nature of the film's drama. Mr Watts (Hugh Laurie) takes on the task of teaching the island's children, his only text being Great Expectations. Matilda's father was working in Queensland when the Bougainville mine closed, and her mother, Dolores (Healesville Joel), given to religion, offers her book, The Bible, distrusting what Matilda (Xzannjah) may be taking from Watts's. In the end, after the depredations of outside forces, 'redskin soldiers', Matilda will migrate to other worlds, as Pip had done when lawyer Jaggers had brought news of his expectations.
The texture of the film is so rich that it is difficult to do it justice in a short space. Adamson has taken on board the novel's key conflicts and its idiosyncratic protagonist and his influence on the girl Matilda. He renders these conflicts – between for instance the beauty of the place and the horror of its invasion by the soldiers sent to hunt down rebels, between the actuality of the isolated island setting of the late twentieth-century and the imagined world of mid-nineteenth-century England in which Matilda pictures Pip and her meetings with him – in wholly cinematic terms.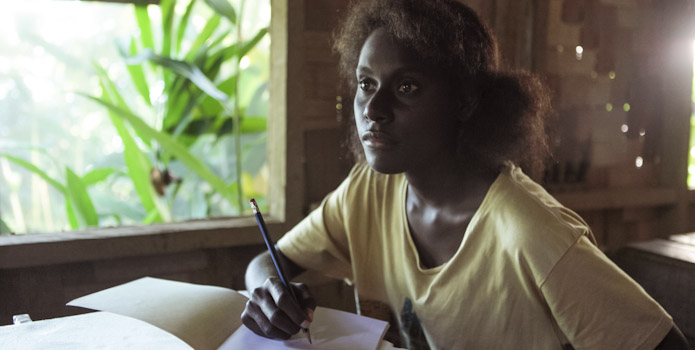 Matilda (Xzannjah) in Mr. Pip
Merely mentioning these conflicts in this way makes the film sound schematic, which it emphatically is not. It moves fluidly between here and now, then and there, the outer and inner worlds. It does what film can do, which is to show where a novel will tell, and this is where the film's daring comes in. The novel is told in Matilda's first-person voice – and voice matters very much – as she succumbs to some of the crucial aspects of Pip's story of physical and moral dislocation. The film makes intelligent use of voice-over: 'What if home was a bad dream?' it early asks: but it is the visual placement of Matilda in Mr Watts's classroom, or in the interpolations in which she both identifies with and observes Pip, that makes us privy to how she deals with the complexities of living. These sequences recall the memory flashes Mike Newell used in his recent film of Great Expectations, visually summarising long verbal passages of description and explanation.
The figure of Mr Watts, who fatally assumes the identity of 'Mr Pip', is played with quiet charisma by Hugh Laurie. In his shabby white suit, he seems at first a hangover from the days of colonial patronage, but Laurie, working from a screenplay of delicacy and precision, gradually imbues him with frailty as well as insight.
Like the novel, but through different means and shapings, Mr Pip equally resists sentimentality at the end, and is both affirmative and heartbreaking.
Mr Pip (CTC), written and directed by Andrew Adamson, based on the novel by Lloyd Jones. 116 minutes. In cinemas from November 7.