Anthology films are expected to be uneven; in a way, the unevenness is the point. With no less than eighteen directors on board, this adaptation of Tim Winton's short story collection The Turning (2004) resembles an epic round of the surrealist game Exquisite Corpse, in which players separately draw parts of a human figure on a sheet of paper which is then unfolded to reveal the bizarre whole.
In some ways it is an off-puttingly grandiose project – a publicist's dream, three hours long (plus an interval) and explicitly designed to showcase the range of Australia's film-making talent. The mastermind here is producer Robert Connelly, whose own films range from the thoughtful docudrama Balibo (2009) to the entertainingly silly telemovie Underground: The Julian Assange Story (2012). Of the other up-and-comers he has recruited, some have recently made a splash with first features, most notably Justin Kurzel with Snowtown (2011) and Warwick Thornton with Samson & Delilah (2009). Others, like David Wenham and Mia Wasikowska, are well-known actors who have never directed before; others again are known for achievements in fields outside cinema, from theatre to dance to video art.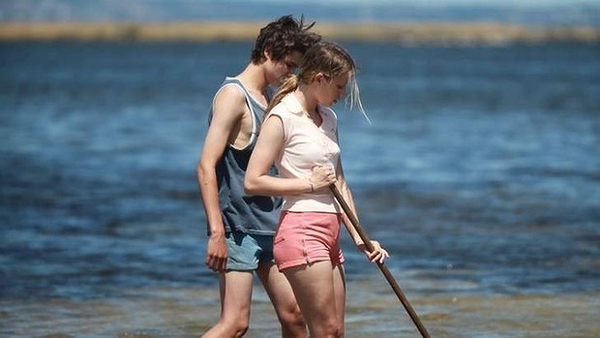 Still from Tony Ayres's Cockleshell
It must be said that Winton is not an obvious candidate for this kaleidoscopic treatment. His usual mode is a rueful, blokey realism with Christian overtones, reliant on a nostalgic brand of Australian iconography: beach trips, awkward sexual encounters, Kombi vans clattering down country roads. The stories in The Turning are linked to a degree that brings the book close to being a unified work of art: most take place in the fictional West Australian coastal town of Angelus, and many centre on the character of Vic Lang, a child of the 1960s whose youthful struggle for self-knowledge seems to have stalled in middle age.
Very little of this unity survives in the film. Vic is played by a different actor each time he appears, and details character and milieu shift accordingly: Jub Clerc's Abbreviation, for instance, is shot on a beach in Broome with an all-Indigenous cast. While the film has plainly been conceived as a celebration of Winton, it ends up deconstructing or surrealising its source material in a manner that seems only partly intended.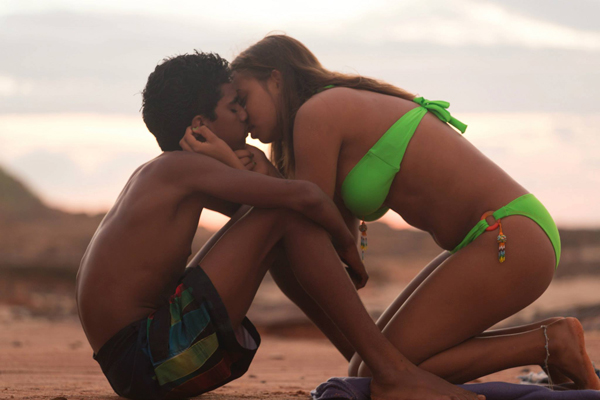 Still from Jub Clerc's Abbreviation
Still, more than half the contributors stick with the lyrical, observational style that remains the default setting of Australian cinema (frankly, this makes it hard to see the film overall as a harbinger of anything new). Among those who treat the material 'straight', the most successful is newcomer Ashlee Page with On Her Knees, a mother–son vignette that seems tailor-made for cinema – unfolding over the course of an afternoon, with just two characters and a single location.
Other contributors aren't so lucky. Thornton's Big World is essentially a voice-over reading of Winton's text with spare illustrations: a major disappointment, considering that Thornton is responsible for some of the best short films ever made in Australia (his 2005 Green Bush is a masterpiece). Claire McCarthy's adaptation of the title story suffers from the miscasting of Rose Byrne as a chain-smoking 'bogan', a role she is unable to resist playing for laughs. Rhys Graham's Small Mercies – in which the bereaved hero (Oscar Redding) survives a reunion with a drug-addicted old flame (Mirrah Foulkes) – is true to the letter of the original while losing its interestingly nasty edge.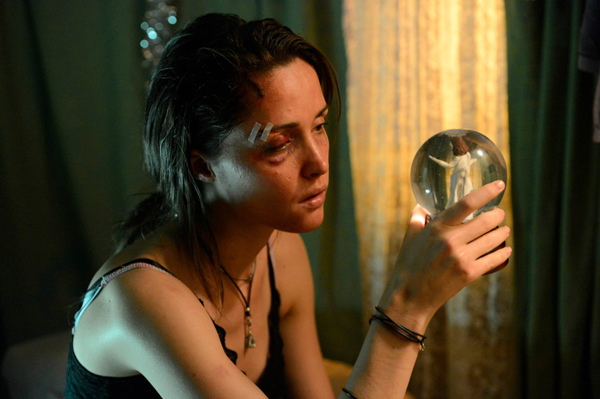 Rose Byrne in Claire McCarthy's The Turning
A couple of directors experiment with form to suggest how Winton's characters are haunted by memory (in literature, of course, the trick is easier – a temporal gap opens up whenever a narrator uses the past tense). Anthony Lucas's Damaged Goods cleverly uses a split-screen technique to combine multiple perspectives that span decades; Connelly's own Aquifer relies on more conventional flashbacks to less effect.
There are also directors for whom Winton serves as a jumping-off point and little more. Yaron Lifschitz's Immunity is a modern dance piece with only the faintest suggestion of narrative; it was bold of Connelly and his team to take this risk, but it does leave you wondering why they failed to commission a miniature opera or an adventure set in outer space. Unexpectedly, the highlight of the entire three hours comes from Wasikowska, who clearly has her sights on a career behind the camera: her Long Clear View tabulates Vic's eccentric habits as a small boy (Matthew Shanley) with a deadpan wit that owes far less to Winton than it does to the early work of Jane Campion.
The final segment, Ian Meadows' Defender, returns to a key image from Long Clear View; but Vic, played by Dan Wyllie, is now an agonised older man, whose woes are depicted with no hint of humour. The film thus ends on a note of maximum incongruity – which, depending on your viewpoint, may or not seem apt.
The Turning, based on the book by Tim Winton, directed by Robert Connelly et al. 186 minutes. Released in Australia on 26 September.