There's no ASIO file on me, not even a mention in someone else's file, according to my keyword search. It's almost insulting, given that I spent several years in the Soviet Union in the late 1960s and later, as a Soviet historian in the United States in the Cold War 1970s, was suspected of being soft on communism. My father, the radical Australian historian Brian Fitzpatrick, had an ASIO file, of course. They even trailed him in the 1950s – or at least trailed someone they thought was him, a man of 'repulsive appearance' wearing a hat and an overcoat, neither of which he possessed. He would have been tickled both by the surveillance and the blunder. They had a file on my mother, Dorothy Fitzpatrick, too, although they got her middle name wrong. It wasn't from her days of real left-wing activity in the 1930s, but from the 1950s, years that were among her most miserable and least political, when she was doing a teachers' training course at Mercer House and then teaching at the Melbourne Church of England Girls' Grammar School. To ASIO she was an also-ran to suspected communists of more dominant personality like Gwenda Lloyd; probably they included her mainly because of her marriage to Brian. 'Same views as her husband', one informant reported, which hardly does justice to a natural contrarian.
As a rebellious adolescent, no doubt inheriting the maternal contrarian streak, I did not have the same views as my father. Who knows what my political views really were, but I liked to needle him, including about the Soviet Union, of which he tended to think well. I became a Soviet historian partly to show him where he got off, but at the same time I went to Oxford to do it, which was what he wanted. The college I ended up in, St Antony's, was known for its Sovietologists, including the literary scholar Max Hayward, who became my supervisor. It was reputed in those days to be a 'spy college'. That meant there were quite a few ex-spies around, some no doubt still plugged into the British intelligence network; and the Sovietologists also had close connections with the anti-communist (and, as it turned out, CIA-financed) Congress for Cultural Freedom. Perhaps surprisingly, my father had no objections to my entering this milieu or to the plans I quickly hatched to get myself to the Soviet Union for my doctoral research. Probably he thought it would be fun to see what came out of it, but he never did, dying suddenly in 1965, the year after I went to Oxford. Judging by my father's file, ASIO was unaware that he had a daughter trying to get to the Soviet Union.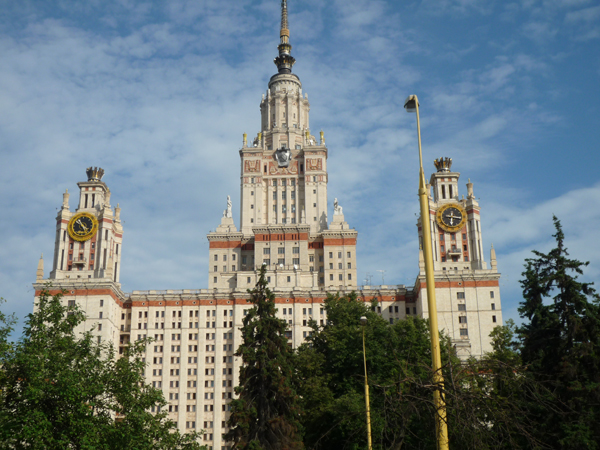 Moscow University, where Sheila Fitzpatrick was a British exchange student from 1966 until 1970. Photo by Sheila Fitzpatrick.
These were the great days of Cold War espionage as spectator sport. A fascinated press and public followed the ongoing saga of the 'Cambridge Five', culminating in the flights to Moscow of Guy Burgess and Donald Maclean, and later of Kim Philby, one of the top men in Britain's MI6. All contacts with the Soviet Union from the other side of the Iron Curtain were closely monitored by Western as well as Soviet intelligence agencies, and the only way you could go to Moscow to do scholarly research was as a participant in the official British–Soviet student exchange. I finally got on that exchange, despite being Australian and not British, and arrived in Moscow in September 1966. We took it for granted that there were a couple of British spies in our group, just as there were Soviet spies in the student group going the other way. The Soviets made the same assumption, paying us all flattering attention, but every now and then turning round and biting someone. In the first lonely months in Moscow, the KGB improved my social life by sending a series of student informers to get to know me and report. Of course, like all the other exchange students, I preferred to think that my new Russian acquaintances liked me for myself, even as I assumed that everyone else's new acquaintances were sent by the KGB. Actually those two propositions were not exclusive. I've seen lifelong friendships grow out of such inauspicious beginnings, not to mention marriages (not usually lifelong). One of my British friends was met on arrival by a guide (read: informer) who subsequently became his girlfriend and never left his side for the whole year. He initially worried about the possibility that she was a spy and then stopped thinking about it; she, for her part, fell in love with him, or at least developed the aspiration to marry him and live in England. This annoyed the KGB, who tried to discourage her by reading her affectionate passages from the letters to an English girlfriend they had intercepted.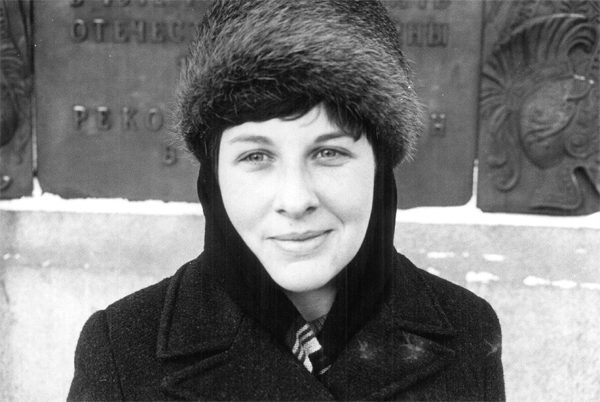 Sheila Fitzpatrick, Moscow, 1968.When I returned to England at the end of that year, the first question I was asked at St Antony's was whether I had happened to meet Philby. I hadn't, which was the way I wanted it. Unlike my father, who enjoyed a cordial exchange about the weather with Colonel Spry, the ASIO head, when he ran into him on the street, I preferred to be invisible as far as intelligence people were concerned. This, of course, wasn't completely possible in England, given my St Antony's connection. In any case, the worlds of scholarly and intelligence research on the Soviet Union were so intertwined at that point that you could scarcely have combined complete invisibility with a successful career as a Soviet historian.From the standpoint of an exchange student in Moscow who didn't want to be thrown out,life was full of pitfalls. After I'd been in Moscow for a few months, I withdrew a scholarly article due to be published in a Congress for Cultural Freedom journal, partly because I had lost confidence in its argument and partly out of caution. That was one of two articles accepted for publication before I left England. I was happier with the second article, as well as less apprehensive about Soviet reactions, since it was a mainstream scholarly journal with no particular political profile, so I left it in. In the months before publication, the new editor, who happened to be both a friend of mine from St Antony's and a member of an émigré spying organisation particularly disliked by the Soviets, alarmed me by writing to me in Moscow through the open post, but I hoped that would not be held against me. The article duly came out later in the year, with the author identified in reticent British fashion as 'S. Fitzpatrick, St Antony's College, Oxford'.
'We exchange students were all afraid of being outed as 'spies', a concept with a rather flexible meaning in the Soviet Union.'
In Moscow, too, I was less invisible than I would have liked, by virtue of my connection with a famous and controversial journal, Novy mir (New World). This came about by lucky accident in my fourth month in Moscow, when I went to see a man who, back in the 1920s, had been close to the Old Bolshevik on whom I was writing my dissertation. The man turned out to be one of Novy mir's editors, we became friendly, and I ended up learning as much from him about the journal and its travails as I did about my dissertation. The Novy mir editors were communists with a reform agenda who were trying to be a loyal opposition, a difficult feat given the Stalinist tradition of treating all opposition as treason. In a daring stroke at the beginning of the 1960s, they had published Solzhenitsyn's ground-breaking Gulag novella, One Day in the Life of Ivan Denisovich (1962); and all the time I was in Moscow they were waging an epic, though ultimately unsuccessful, struggle to get his novels Cancer Ward (1968) and The First Circle (1968) into print. Novy mir's battles with the censor were closely followed not only by an attentive Soviet public but also by an equally attentive audience of Western admirers, who – to the annoyance and embarrassment of the journal's editors – treated them as anti-régime dissidents, communists only in name. Among the most prominent of these admirers was my Oxford supervisor, regularly vilified in the Soviet press as the 'not unknown Max Hayward' (that must have meant 'not unknown' to the KGB, since the Soviet public, protected by careful censorship, had never heard of him).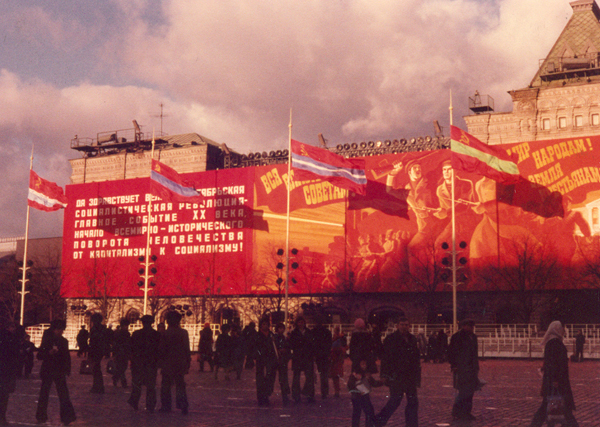 Revolution Day, Moscow, 1980s. Photo by Sheila Fitzpatrick.
We exchange students were all afraid of being outed as 'spies', a concept with a rather flexible meaning in the Soviet Union. On the one hand, it could mean real professional spies, on the payroll of some Western intelligence agency, who, if caught, were arrested and punished. On the other hand, it also covered foreigners accused of trying to find out Soviet secrets or spreading 'anti-Soviet propaganda' (Bibles, for example), who were typically not arrested but denounced and/or expelled from the country. This happened fairly regularly, and exchange students were among the victims; the Soviet press would carry lurid stories about their nefarious anti-Soviet activities, generally combining black-market activity and sexual promiscuity with an interest in the hidden aspects of Soviet life. We hoped that the Soviets understood the distinction between these two groups, and only arrested the first, but we weren't sure. I always thought that, if I got outed as a spy, the sensational story that would appear in Soviet newspapers would feature a sinister foreign woman sent from her English spy college to worm her way into the Novy mir circle, with the not unknown Max Hayward as her spymaster. (This was close to a real exposé story run while I was in Moscow on an American woman, a friend of Hayward's, who made friends with a circle of young Soviet poets.)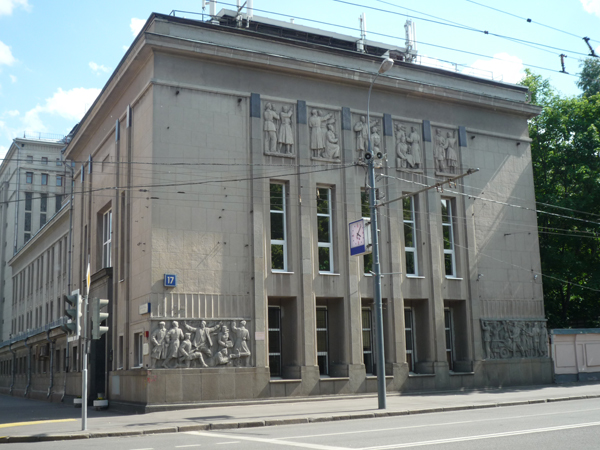 State Archives, Moscow. Photo by Sheila Fitzpatrick.It turned out otherwise. During my second exchange stint in Moscow in 1968, I was indeed outed in a national Soviet newspaper, not for the Novy mir connection, but for that harmless, as I thought, scholarly article published the year before, which was said to be the kind of 'anti-Soviet' scholarship that was indistinguishable from spying. Whether it was my St Antony's affiliation that got me on the list, or the new editor's émigré spying connections, I never knew. In fact, I knew nothing about the article until I got back from Moscow to Oxford and one of the St Antony's intelligence-related people told me about it. It wasn't a big deal at St Antony's to be accused of spying: that year, even the British press was doing it, let alone the Soviet.
As it turned out, it wasn't a big deal even for me, though I was deeply disconcerted at the time, partly by my own lack of a sense of innocence (after all, it was part of my job description as a historian to try to ferret out secrets of the Soviet past). The reason the whole thing fizzled was that the Soviets evidently didn't know that the author of the offending article was me. Russian verbs automatically identify gender, and S. Fitzpatrick, the author, got masculine endings. On top of that, since the British, to my annoyance, insisted on identifying me by my married name, I was not S. Fitzpatrick as an exchange student in the Soviet Union but Sh. Bruce. So it was another intelligence screw-up: the KGB might be more diligent than ASIO, but they still didn't know that the foreigner denounced as the next thing to a spy was actually sitting in their archives in Moscow. Doesn't anyone have a decent file on me? Doesn't anyone care? Perhaps that's why I turned to writing memoirs: if the spies can't write proper reports on me, I might as well write them myself.
Sheila Fitzpatrick's Cold War Moscow memoir, A Spy in the Archives, is to be published by Melbourne University Press in September.