Golden Sigi: An Advertisement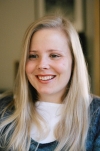 Maria Takolander is an Associate Professor in Literary Studies and Professional and Creative Writing at Deakin University in Geelong, Victoria. She is the author of a book of short fiction, The Double (Text 2013); three books of poetry, The End of the World (Giramondo 2014), Ghostly Subjects (Salt 2009), and Narcissism (Whitmore Press 2005); and a book of literary criticism, Catching Butterflies: Bringing Magical Realism to Ground (Peter Lang 2009). Her poetry and fiction have been widely published and anthologised. She is the recipient of a 2014-2015 $40,000 Australia Council grant and is currently working on a novel for Text Publishing.


By this contributor
Leave a comment
Please note that all comments must be approved by ABR and comply with our Terms & Conditions.
NB: If you are an ABR Online subscriber or contributor, you will need to login to ABR Online in order to post a comment. If you have forgotten your login details, or if you receive an error message when trying to submit your comment, please email your comment (and the name of the article to which it relates) to comments@australianbookreview.com.au. We will review your comment and, subject to approval, we will post it under your name.