Features
'Patrick White to the Rescue' by David Carter
With the centenary of Patrick White's birth being celebrated this year, it seems appropriate to highlight the great legacy that White left Australian writers in the form of the Patrick White Literary Award. On 16 November, the 2012 Award was presented to novelist, short story writer, and essayist Amanda Lohrey, the thirty-ninth winner since the Award was first presented, to Christina Stead, in 1974.
The Patrick White Literary Award is unique in the now-crowded field of Australian literary prizes. Unlike the Miles Franklin Literary Award and most state and regional prizes, it is not for 'best book of the year' but is something closer to a 'lifetime achievement' award – yet not quite that either, due to the terms under which it was established. White created the Award with the money he received as winner of the Nobel Prize for Literature in 1973, but its precise nature is not widely understood. White was no friend to literary prizes and, in some ways, no friend to Australian literature, but he proved himself a friend to Australian writers. The 'Patrick White' is in many ways a writer's award, created by a writer for other writers, and highly valued by them even if it hits the headlines less than the Miles Franklin.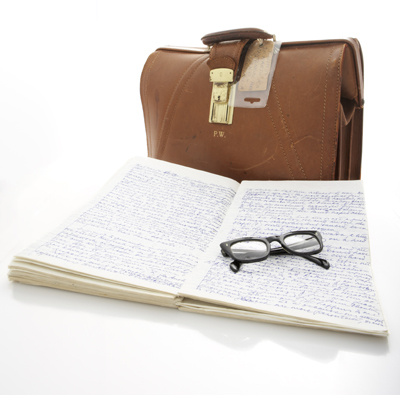 Patrick White's briefcase and reading glasses (National Library of Australia)White's conflicted feelings about the Nobel were altogether in character. As David Marr writes, 'For over a decade he had refused every award and decoration offered to him, but he wanted this prize.' When the Nobel finally came his way, White, in his own words, felt 'bewilderment, alarm and cynicism'. He made it clear that he would keep none of the money but instead establish a fund to support older Australian writers who lacked due recognition. 'It was,' Marr comments, 'the most generous gift ever made by an individual to Australian writers.' White wanted the Award announced each year in the week following the Melbourne Cup, to give literature a brief chance of ousting sport from the nation's mind.
The terms for the Award reflect the moment of its founding – before the current raft of prizes and fellowships, before the major impact of the Literature Board, when publishing and criticism of Australian literature were still relatively sparse – when there was indeed a deep pool of 'older' writers who had not received due recognition, beginning with Stead. In fact, the word 'older' never appears in the terms defining the Award.
The terms do state that the Award is for 'an author who has already made a contribution to Australian literature by the writing … of published novels, short stories, poetry and/or plays', with the purpose of encouraging the author 'to continue to write such works for publication'. Thus it becomes something other than a lifetime achievement award, usually given at the end of, or after, a career. The Award is more likely to go to mid-career authors, although in practice the terms have been interpreted liberally. There have been older and younger prize-winners, and one posthumous award, to Judah Waten in 1985, when White himself decided it should go ahead in order to assist Waten's widow. Older winners have included Marjorie Barnard in 1983, the choice that gave White most satisfaction, as Rodney Wetherell recalls. Younger winners have included Randolph Stow in 1979 and Robert Gray in 1990.
The main terms of the Award are repeated with minor variations in a number of places in the legal documents. In one place only is a further consideration added, the one present at the outset: preference shall be given to authors who have not 'received due recognition'. Again this was crucial in the Award's early years, enabling recognition of authors such as Gwen Harwood (1978) and Bruce Beaver (1981), but even in White's lifetime, when his own preferences ruled committee meetings, it was interpreted variously and the writer's contribution remained a determining factor.
All these considerations are still before the committee, although how we understand 'due recognition' has changed as the culture surrounding Australian literature has changed. Miles Franklin Award winners have been favoured: Thea Astley in 1989; David Foster in 2010. The Award is still unlikely to go to the most popular and commercially successful Australian writers, or even the most celebrated, but the remaining field is still wide and impressive.
I joined the Award Committee in 2008, much too late to experience the legendary years when White himself took an active role. Early members included Geoffrey Blainey, dismissed by White after Warrnambool, and librarian James Allison, while both Rodney Wetherell and Michael Costigan served on the committee for around a quarter of a century. Humphrey McQueen and Gerard Windsor served for short terms, Joy Hooton for more than twenty years from 1988. Debra Adelaide joined in 2008, Bernadette Brennan in 2011. Those appointed to the Committee have seen it as a privilege to be associated with one of Australia's most prestigious literary awards.