Rodopi
Elizabeth Webby
Thursday, 31 October 2019
In the last essay in this collection, Robert Macfarlane touches on the main reasons why Peter Carey's novels 'have proved so very attractive to academic exegetes', in their combination of the postmodern and the postcolonial. Just how attractive is demonstrated in the sixty-page bibliography, which is sure to be one of the most used parts of Fabulating Beauty, especially by overseas readers without access to the invaluable AustLit. Editor Andreas Gaile, a young German academic, notes in his introduction that Carey is now 'the most widely commented-on living Australian author'. While Patrick White is currently well ahead, with more than twice as many critical items published on his work, Carey is catching up fast. Visit any bookshop, whether in Melbourne, London, or New York, and you will of course find many more titles by Carey than by White. If, as Simon During has argued, White was the perfect novelist for those wishing to argue for the academic significance of Australian literature in the 1950s and 1960s, then Carey has just as obviously caught the dominant theoretical currents of the past thirty years. While Tim Winton may sell just as well and, if 'favourite book' polls are any guide, be more loved, no one has yet published a major critical study of his work.
...
(read more)
Joseph Wiesenfarth
Thursday, 21 April 2011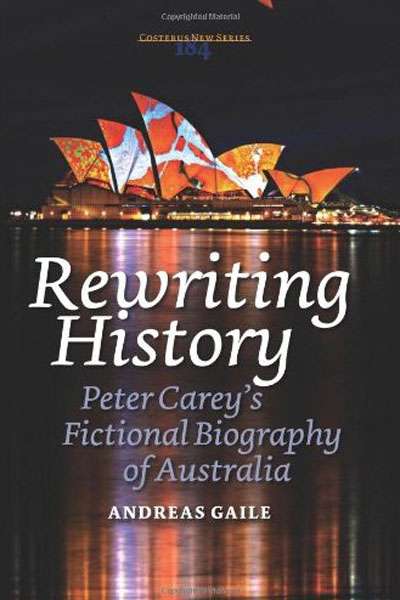 Andreas Gaile presents his Rewriting History as Peter Carey's biography of Australia. Before he gives us the facts of that biography, however, he suggests why Carey cannot write a biography of Australia: 'there is no "real" Australia waiting to be uncovered. A national identity is an invention ...
...
(read more)
Charles Lock
Wednesday, 23 March 2011
That Patrick White is thought of as an Australian writer is, though regrettable, undeniable. Two problems follow: the first being that he tends to be presented by his critical custodians in an almost comically restricted way, as though White's works needed to be measured and justified only by Australian standards and terms of comparison ...
...
(read more)