Osip Mandelstam and Rosemary Dobson: A translation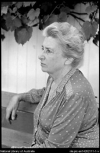 Rosemary Dobson AO is one of Australia's most prominent poets, and the author of fifteen poetry collections. She is the recipient of many awards including the Patrick White Award (1984), Australia Council Writer's Emeritus Award (1996), The Age Dinny O'Hearn Poetry Prize (2001), and the New South Wales Premier's Literary Award, Special Award(2006). Her Collected Poems was published in 1991.
Leave a comment
Please note that all comments must be approved by ABR and comply with our Terms & Conditions.
NB: If you are an ABR Online subscriber or contributor, you will need to login to ABR Online in order to post a comment. If you have forgotten your login details, or if you receive an error message when trying to submit your comment, please email your comment (and the name of the article to which it relates) to comments@australianbookreview.com.au. We will review your comment and, subject to approval, we will post it under your name.