'This Version of Love' a poem by Dorothy Hewett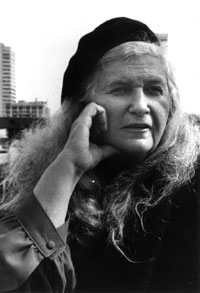 Dorothy Hewett (1923–2002) was an Australian poet, novelist, and playwright. She produced three novels – Bobbin Up (1959), Neap Tide (1999), and The Toucher (1993) – twelve poetry collections, thirteen plays, and the first volume of her autobiography, Wild Card (1990). Hewett's writing was strongly informed by her experiences in working-class Perth and Sydney. A long-term supporter of the Communist party, Hewett often challenged the sexual, religious, and political norms of her time.
Leave a comment
Please note that all comments must be approved by ABR and comply with our Terms & Conditions.
NB: If you are an ABR Online subscriber or contributor, you will need to login to ABR Online in order to post a comment. If you have forgotten your login details, or if you receive an error message when trying to submit your comment, please email your comment (and the name of the article to which it relates) to comments@australianbookreview.com.au. We will review your comment and, subject to approval, we will post it under your name.