Michael Farrell
I was riding a shark through Cork, just for the exercise of course
It might seem quaint but rather it was
Gorgeous, like an early morning courtyard
Imagine the dialogue. AC/DC confronts shark
shark repeats
shadow prime minister's
Gaffe
You guys are the white Australian Uluru. Fancy, say ...
Who are you? You hear the song, the
Good line along with the others in the
Hair salon. That place for standing in; for< ...
Strawberries: a mania of strawberries on a
Turntable
________
Like a teacup in a snowstorm I
Find you and break you. A sentry reptile, I advise you
To return quietly to the campfire. You mistakenly took
My interest in theology for a strategy
Michael Farrell was born in Bombala, NSW and has lived in Melbourne since 1990 (Fitzroy since 2008). His ...
Angels are made from banksia. They are grown in Prague, are
Exported in all directions, and turn grey in air. They
Only fly in places where the ground is hard. If
You try to count them they turn into numbers. If
You try to call them they turn into names. They
Are not decorative at parties but illustrative, of Guernica, for example
...
(read more)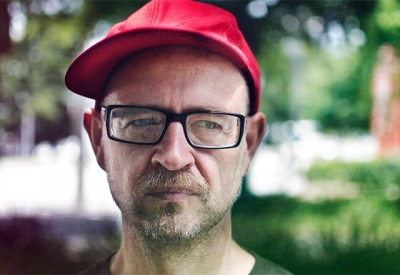 I'm inclined to say poems are triggered, or 'arrive', rather than they're the fruit of inspiration. The poem does have to be written, which is in itself craft. The best poems may need a little tinkering, but on the whole I'd rather not labour away at a sow's ear. (Though I should say I value a real sow's ear above a silk purse.)
...
(read more)
In their crucibles they attempt a new kind of tea
every day, usually through a combination of
Methods, such as the fox method, the hydrangea
method and the sunlight method this is a colour-
...
(read more)
'The Grandfather', a new poem by Michael Farrell. ...
(read more)