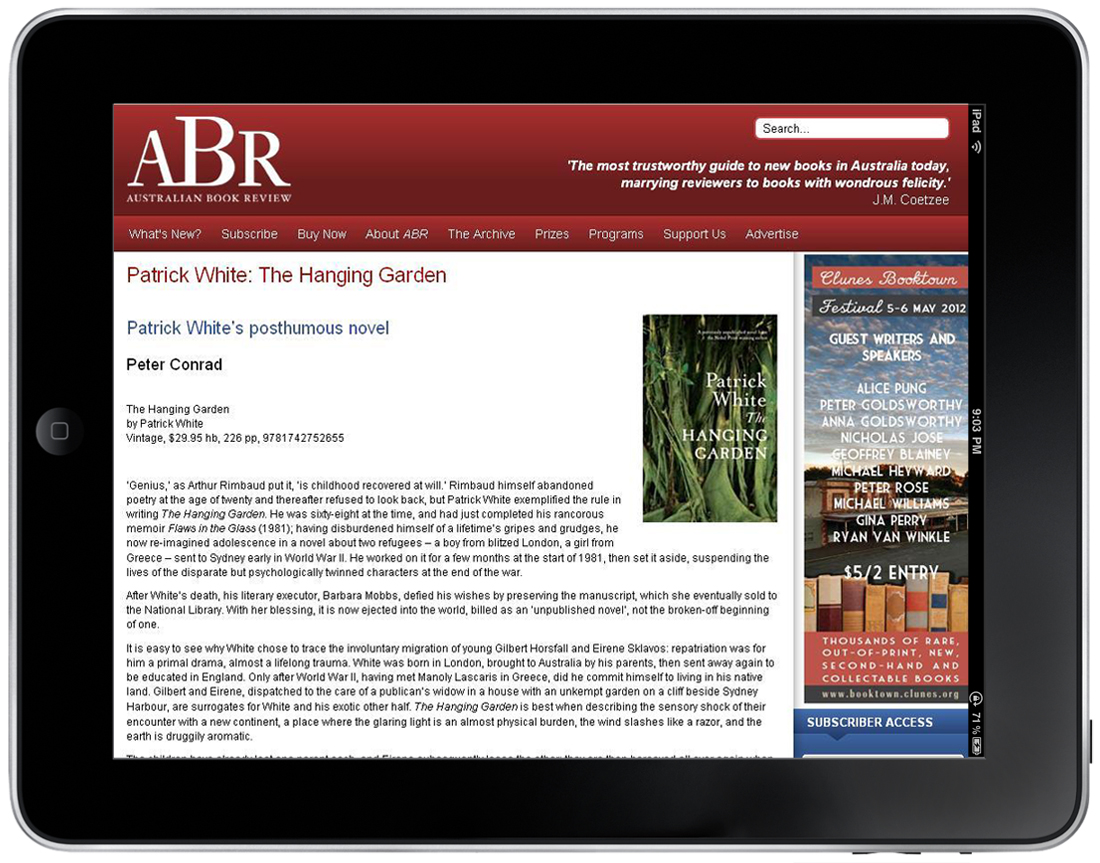 While the magazine (due tomorrow) is being printed, the May issue is now available to Australian Book Review Online Edition subscribers. After spending the past few days uploading this month's ABR (with highlights including David Marr on Patrick White in Adelaide, and a review of Susan Swingler's sensational family memoir on the Jolleys), I will be grateful to swap the pixels for ink and get back to some good old head-down reading. But I encourage all ABR readers to explore the Online Edition. Print subscribers can add-on a year's subscription for just $20. An online-only subscription costs $40.
Much consideration has gone into the best way to publish Australian Book Review online. The format of ABR Online Edition means that it can be read on anything connected to the Internet, whether it be a computer, tablet, smartphone, your fridge, augmented reality glasses, whatever. This way, access to the magazine is not limited by the need for certain software or an app that is only available on one operating system. Schools, public libraries, and universities can sign up, giving thousands of users simultaneous access.
ABR Online Edition has all of the content of the print magazine, including images, Advances, Letters to the Editor, and Open Page. It is searchable, enabled with comments, and links the reader to articles on similar subjects and those by the same author. One chief advantage of subscribing is gaining access to ABR's online backlist, which extends to November 2010. Adding to this backlist is one of our priorities, and along with this blog, the magazine is set to publish more content online than ever. Readers who are yet to subscribe can see an example of an article (Brian McFarlane's review of The Deep Blue Sea). The whole May issue is now online.
Milly Main
Australian Book Review Ian Potter Foundation Editorial Intern