Fiction
Love, longing and loneliness: The fiction of Elizabeth Jolley
Elizabeth Jolley has been around as a writer for some time. Her work dates back to the late 1950s (she came to Australia from England in 1959) and her stories began appearing in anthologies and journals in the mid­1960s, but it was not until 1976 that her first collection, Five Acre Virgin and other stories, was published by the Fremantle Arts Centre Press. Since then, her rate of publication has been phenomenal, and it is perhaps no accident that it coincided with the rise of an indigenous Western Australian Press: three of her first four books were published by the FACP, which, in its few years of existence, has been responsible for the discovery of a remarkable amount of talent.
Jolley has now published seven books (including three this year), with another one in press. From being an obscure writer who had won the admiration of the few readers in Australia who regularly keep pace with journals, one who had steadily accumulated prizes, Jolley has suddenly become recognisable as one of Australia's leading contemporary writers of fiction.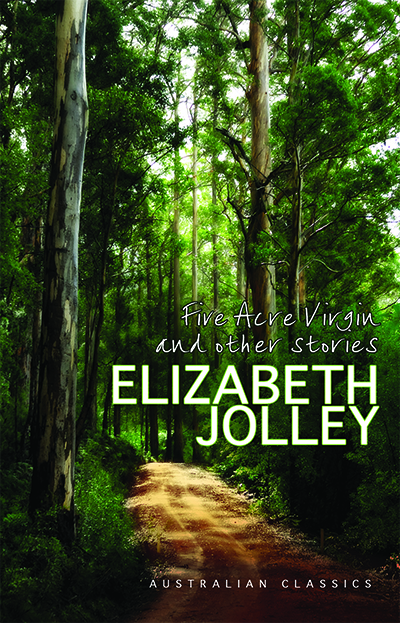 Five Acre Virgin and other stories

Fremantle Arts Centre Press, 1976, 91 pp, 0909144052The stories in Five Acre Virgin were written mostly in the sixteen years prior to the publication of that book; they show her peculiar combination of unsentimental realism and original humour. The title suggests the preoccupation in Elizabeth Jolley's work that has been most noted by reviewers. 'There's nothing like having a piece of land,' the central character in several of the stories says. 'It makes a man feel better to clear the scrub and have a good burning off.'
'Having a piece of land' is crucial to the characters in these books. Many of them are dispossessed or migrants, or both. They have come from Vienna, where the author's mother grew up, or the Black Country of England where she herself lived, or Holland, from which the recurring figure of Uncle Bernard migrated. They struggle all their lives to buy the talismanic five acres, only to find out that they can't live off them. They lie and blackmail in order to stay on other people's land. Adam, in 'Adam's Wife', one of the most powerful and sombre stories that Jolley has written, even marries a retarded woman in order to gain possession of her miserable shack and few acres. In an interview in The National Times (13–19 March 1983), Jolley spoke with feeling about the quality of the West Australian landscape: 'You cannot imagine how wonderful it felt to me to go round without shoes all the time, to feel the leaves and grass underfoot. A brand new sensation – quite remarkable. You could never experience it in England, too cold there to go barefoot.'
Continue reading for only $2.50 per week. Subscribe and gain full access to Australian Book Review. Already a subscriber? Sign in. If you need assistance, feel free to contact us.