Fusion is the fiction début from the author of the acclaimed Madness: A memoir (2013). It draws on Australian gothic and older gothic traditions. With the meditative possibilities of walking alpine ranges, it also portrays claustrophobia and compulsion. Its drama centres on a small and wounded cast, a reclusive household that suddenly encounters the outside world.
Conjoined twins Sea and Serene share a life that, although secluded, is vibrant with sensory information and memory. The past, a childhood of barbaric treatment at the hands of nuns and classmates at Hope Home, lingers in their minds. Cruelty has driven the twins to their quiet home on Blindeye Creek. One of the few intimate relationships they experience lies in the connection to their environment, which, in turn, links the twins to those who have walked these mountains before:
This land is a sentient being with an enormous elemental power, fierce spirit – holy and unholy both – above and below, all round and beyond us. The Jaithmathang people, Bidawal people, the Dhudhuroa people knew this well. Thousands and thousands and thousands of years before us. Their songlines still criss-cross the earth where the Lightning folk walked before they all became stars.
---

---
Otherwise, Sea and Serene's companion is their cousin, the self-pitying Wren. His own history of childhood abuse and professional disappointment brought him to the twins' doorstep some years previously. They welcomed him as a saviour who taught them to fish and preserve vegetables. Since then, the three have lived almost self-sufficiently. They touch community only through Wren's trips to the nearby town of Swiggin, where he sells home-produced cannabis and lemon liqueur, and where he drinks.
One evening Wren returns with company. There has been an accident on the road. The victim is a beautiful woman, seriously injured, who is at first feverish and subsequently suffers amnesia. The twins name her Christ. With her arrival they feel a new sense of purpose. While they rejoice in their opportunity to tend to the newcomer, it is clear that Christ, too, is running from something. Moreover, the spell she casts threatens to destabilise the strange family of Sea, Serene, and Wren. The harmonious dynamic changes as Christ's new perspectives cause the revision of long-held opinions and affection is contested.
As the patient recovers, she is torn between the soothing escapism offered in her new home and the wish to know herself. The others must decide between helping Christ and keeping her for themselves. The novel will uncover Christ's past and simultaneously delve into Wren's and the twins' suffering. Aspects of these histories remain frustratingly fragmentary rather than tantalisingly so; the characters tend to relive old episodes as emotional experience. The characters' main work is not to retell, but to struggle for self-acceptance and resolution. On this journey there are glimpses of ancient falls, humiliations, and punishments.
The focus remains on the twins. Much of the novel is narrated in their first-person plural, which comes apart, significantly, amid the upheaval brought by Christ. Their encyclopedia tells Sea and Serene that they are not 'viable'. Yet they live, provoking reflections on what such enforced codependence must entail. Fusion probes the psychological and practical implications of life as dicephalic parapagus twins, from who-controls-which shared limbs to whether or not Sea and Serene are of the same mind. To Wren, who wished to become an engineer, the twins' relationship is a form of 'quantum entanglement':
If you try to interact with one particle by itself, without the other, they both collapse into nothing ... Every single thing one of the particles does is relative to what the other is doing. Every infinitesimal flicker of breath and every muscle tensing and relaxing every nerve firing, every little thought.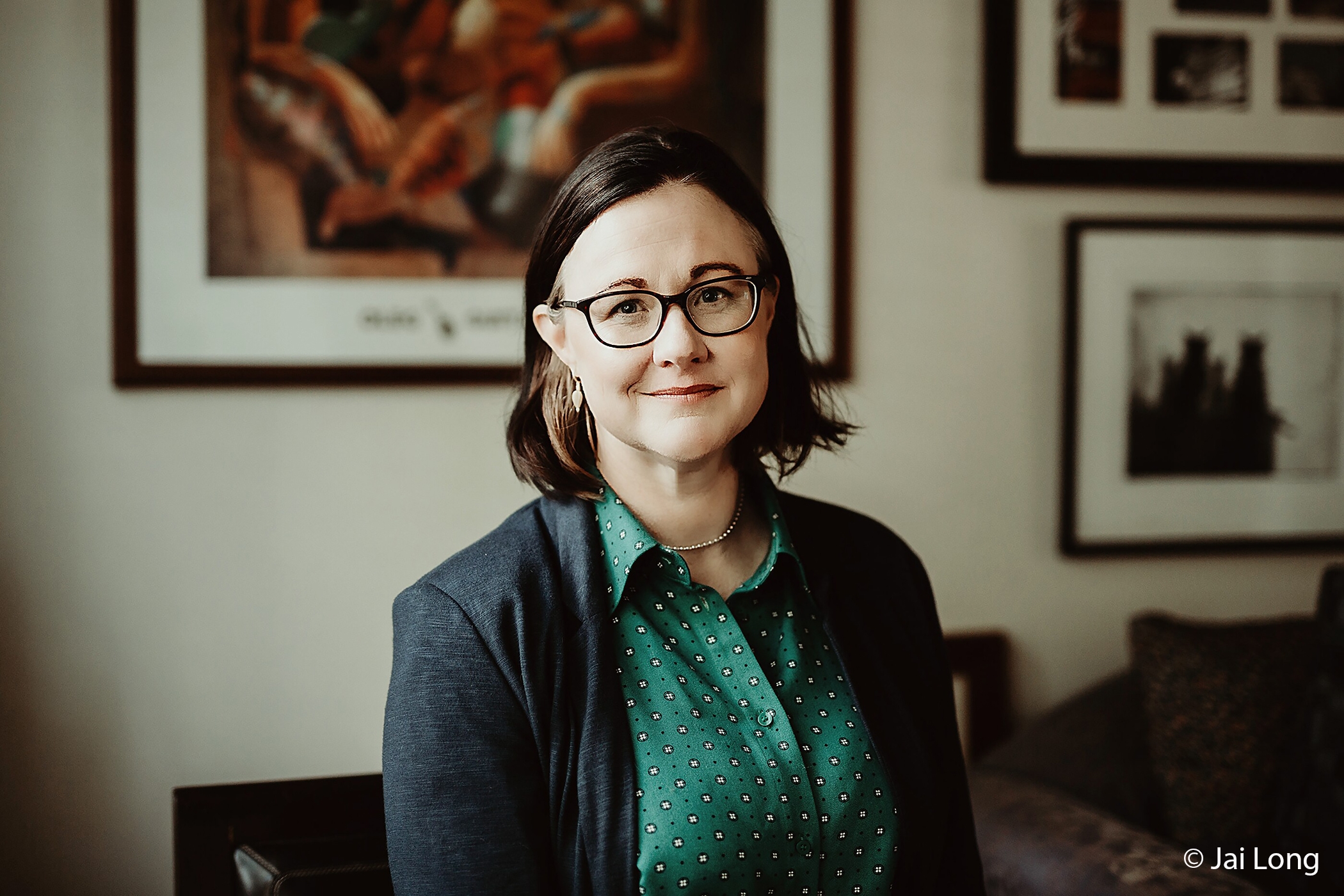 Kate Richards (photograph by Jai Long/Penguin)
Christ disagrees. In addition to the scientific evaluations they read, the twins contemplate a lifetime of judgments inflected with superstition and fear of the other. Sea and Serene have been called monsters and a monster. As in Frankenstein, we contemplate the inhumanity that underlies instinctive revulsion at the unfamiliar: 'Who decides which human form is good and right and which human form is not? Are we a whole divided wrongly, never to be made whole again? … Are we indeed a freak?'
From their friendship with Christ, Sea and Serene recognise the eye of the beholder for the first time. Yet Richards could have made more of the characters' personal demons in a book that is long for a fable. Given the straightforwardness of the plot, the novel would benefit from greater inner turmoil as opposed to dilemma. We are in a psychological genre. There's a great deal of psychology in Fusion, but both the inner and outer journeys move in rather obvious directions.
Above all, Fusion is a reflection on love and how the manifestations of it range from self-sacrifice to selfishness. As girls who share limbs, Sea and Serene devise a system to ensure that they reach the bathroom every morning. As adults, they wonder whether they are separate in ways that had never previously occurred to them. It may be that their long-standing habits of thought and movement must change. In the twins' routine is a potent allegory for any meaningful human bond, which must be cooperative in order to survive.
---