Though it begins with an elaborate disclaimer regarding its status as a work of fiction, Paolo Sorrentino's Loro (aka Them) is manifestly a portrait of Silvio Berlusconi, former prime minister of Italy, media tycoon, populist, authoritarian, and playboy. Befitting its subject, the film is showy and often crude, filled with extended party scenes evoking the debauchery that surrounded Berlusconi. The atmosphere will be familiar to viewers of Sorrentino's earlier film The Great Beauty (2013), which also centred on an ageing lech. Like that film, Loro stars Sorrentino's regular collaborator Toni Servillo in the primary role, rendered unrecognisable here by Berlusconi's trademark cosmetics.
---

---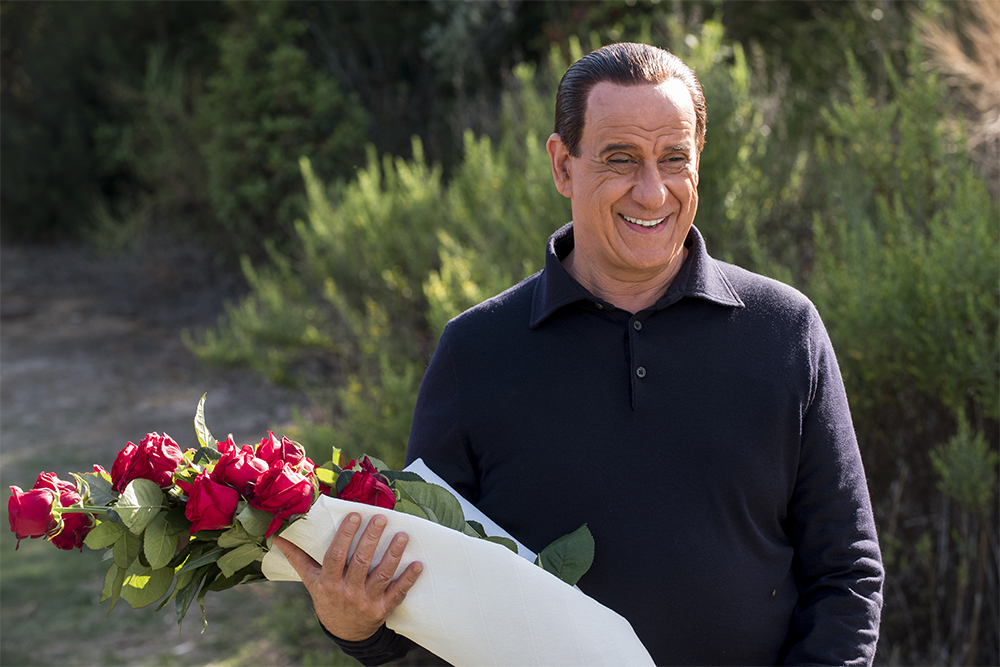 Toni Servillo as Silvio Berlusconi in Loro (photograph by Gianni Fiorito)
For a long while, the film circles around Berlusconi rather than showing him. He is a rumour, a shadow, and the object of other characters' obsessions. He is Lui, Him, never referred to by name, which, along with granting him a godlike status, allows Sorrentino to maintain a veneer of fictionality. Though it's not made especially clear, the film begins in 2006 during the interregnum between the real Berlusconi's second and third terms as prime minister. Meanwhile, his power remains considerable, and plenty wish to share in it.
Among the aspiring associates is Sergio (Riccardo Scamarcio), a minor property developer who mostly expends his energies running an escort ring with help from his lover, Tamara (Euridice Axen). Their grand plan is to rent a villa on the island of Sardinia, within sight of Berlusconi's summer residence, and to attract the great man's interest by filling the villa with escorts in their employ. This is a meagre plot line, and the considerable screen time devoted to it – the entire first act – isn't justified in terms of either character or narrative development. Instead, Sorrentino devotes his efforts to the atmospheric recreation of Berlusconi's notorious bunga bunga parties. Lots of nude and semi-nude young women are made to gyrate in front of the camera, ostensibly for satiric purpose, though the same point could have been with much more concision, and to greater effect. We already know that Berlusconi was a chauvinist, and worse; the sexual exploitation that characterised both his private life and his media companies degraded public discourse generally, and the status of women particularly, in modern Italy. So why render it all over again, especially when the whole scenario is left to fizzle out, and is never revived?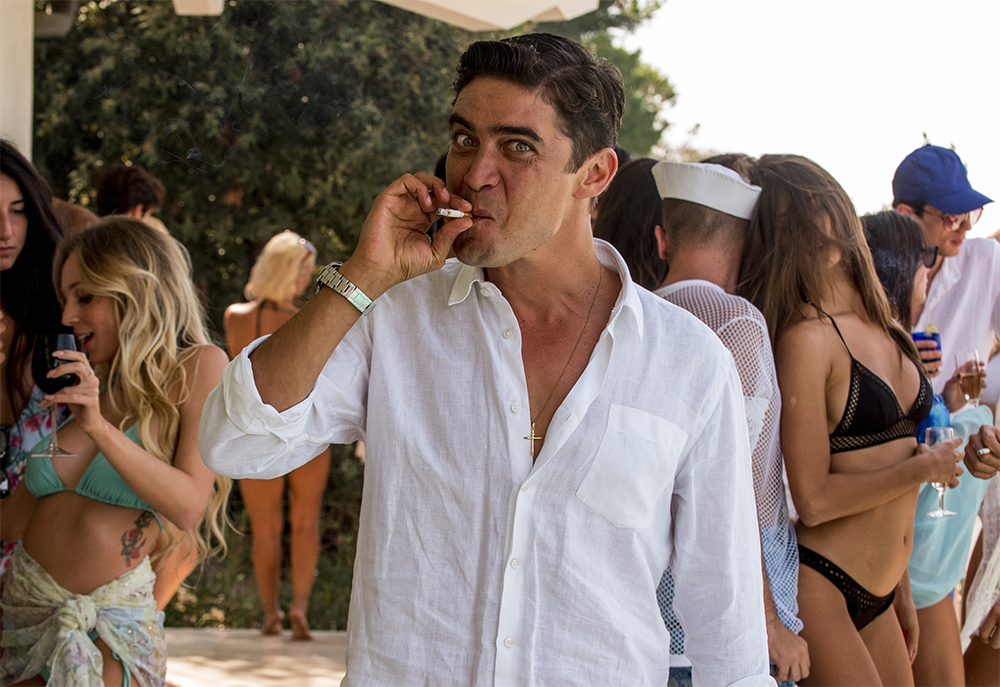 Riccardo Scamarcio as Sergio Morra in Loro (photograph by Gianni Fiorito)
When the focus of the action finally moves to Berlusconi at his own villa, two problems are chiefly bothering him. The first is the growing contempt of his wife, Veronica Lario (Elena Sofia Ricci), for his behaviour. The second is a shortfall in the political support that he requires in order to return to parliament. It is the latter obstacle that yields the film's most mordant dialogue. 'What is it we convince them of?' asks Berlusconi's billionaire confidant, Ennio Doris, as the two men conspire over lunch. 'We convince them of the virtue of our dreams.' But it is Lario that the film keeps returning to. She is serious-minded – even intellectual – but when she challenges her husband's philistinism and boorishness, he taunts her, reminding her that she, too, was once an actress and therefore a 'bimbo'. They argue, they reconcile, then argue again. (In real life, Lario filed for divorce in 2009.) There is a minor plot line involving an affair and some political double-crossing, but, again, the narrative thread is never properly resolved.
Part of the problem here may lie in Loro's conversion, as it were, for international audiences. The film was released in Italy last year in two parts, totalling nearly three-and-a-half hours. The cut that Australian audiences will see is a single film almost an hour shorter. Without having seen the missing footage, it's difficult to know if the structural problems that impair this version are resolved by a longer run time; given Sorrentino's penchant for spectacle, I have my doubts. The director has no difficulties in reinstating the tacky milieu that Berlusconi revelled in, but his deeper point remains elusive.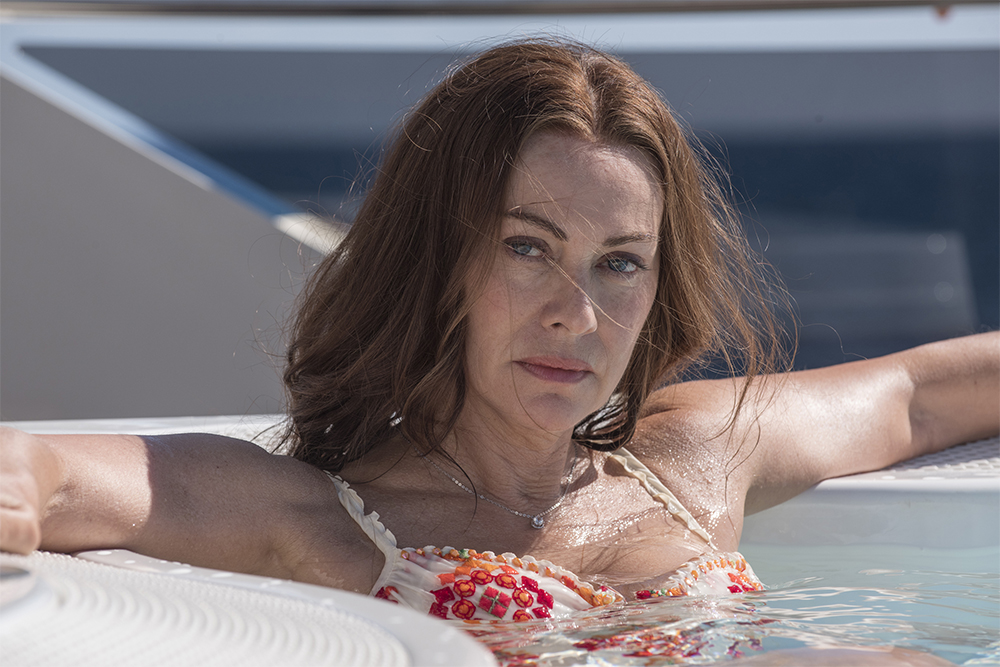 Elena Sofia Ricci as Veronica Lario in Loro (photograph by Gianni Fiorito)
In a press statement, Sorrentino has described the people represented in Loro as 'a contradiction: they are predictable but indecipherable'. The same goes, unfortunately, for the bulk of this film. Berlusconi, in his villa, is a bored and ultimately boring figure, and in concentrating so much on the superficial aspects of his habits, Sorrentino misses telling us anything worthwhile about his actual power. It is only in the film's concluding scene, set in the immediate aftermath of the 2009 L'Aquila earthquake in central Italy, that we get any real hint of the other 'them': the majority of Italians who had to live with the consequences of the corruption that enriched Berlusconi and his circle. A crucifix is carefully lowered to the ground from the ruins of a church, while the newly homeless gather to watch it being done. This, too, is a kind of spectacle – as if the citizenry had been left with nothing to console themselves but entertainment, or prayer.
---
Loro, 151 minutes, directed by Paolo Sorrentino, written by Paolo Sorrentino and Umberto Contarello (Palace Films). In cinemas January 17.