Some time ago I appeared on a morning radio program with a prominent guru of Australian culture who roundly declared that Andy Warhol was 'a one trick pony'. Neither remonstration nor persuasion could help the guru out of his imperturbable complacency. He had summed up Warhol in a sentence – what more need be said?
A pity the guru could not have waited to take in the Whitney Museum's massive retrospective – with its Duchampian title, Andy Warhol—From A to B and Back Again – to save him from his tomfoolery. Even for those familiar with Warhol, the exhibition is full of surprises (and a few disappointments). It leaves no doubt regarding Warhol's centrality to the American story, and not just its art history. Few artists have embraced the extremes of that experience, from the banal to the catastrophic, and have made such vivid art out of them. Paradox and contradiction abound in Warhol's art, personality, and career. He is the perpetual outlier, the prankster in American art, yet he defines the turbulent decades from the 1960s to his death in 1987 aged fifty-eight.
The early pop paintings and objects mark a decisive change in American art. When he showed the Brillo boxes in 1964, hundreds of them stacked and strewn across the floor of the Stable Gallery, he outraged and dumbfounded the New York art world – arguably the last serious artist to have such an effect. No matter how familiar and frequently exhibited these Campbell's Soup Cans and Coke bottles are, they retain the freshness of their assault on pictorial decorum. Collectively they parody the American Dream where noses can be straightened, dance steps taught, and everybody, high and low, can swig a coke.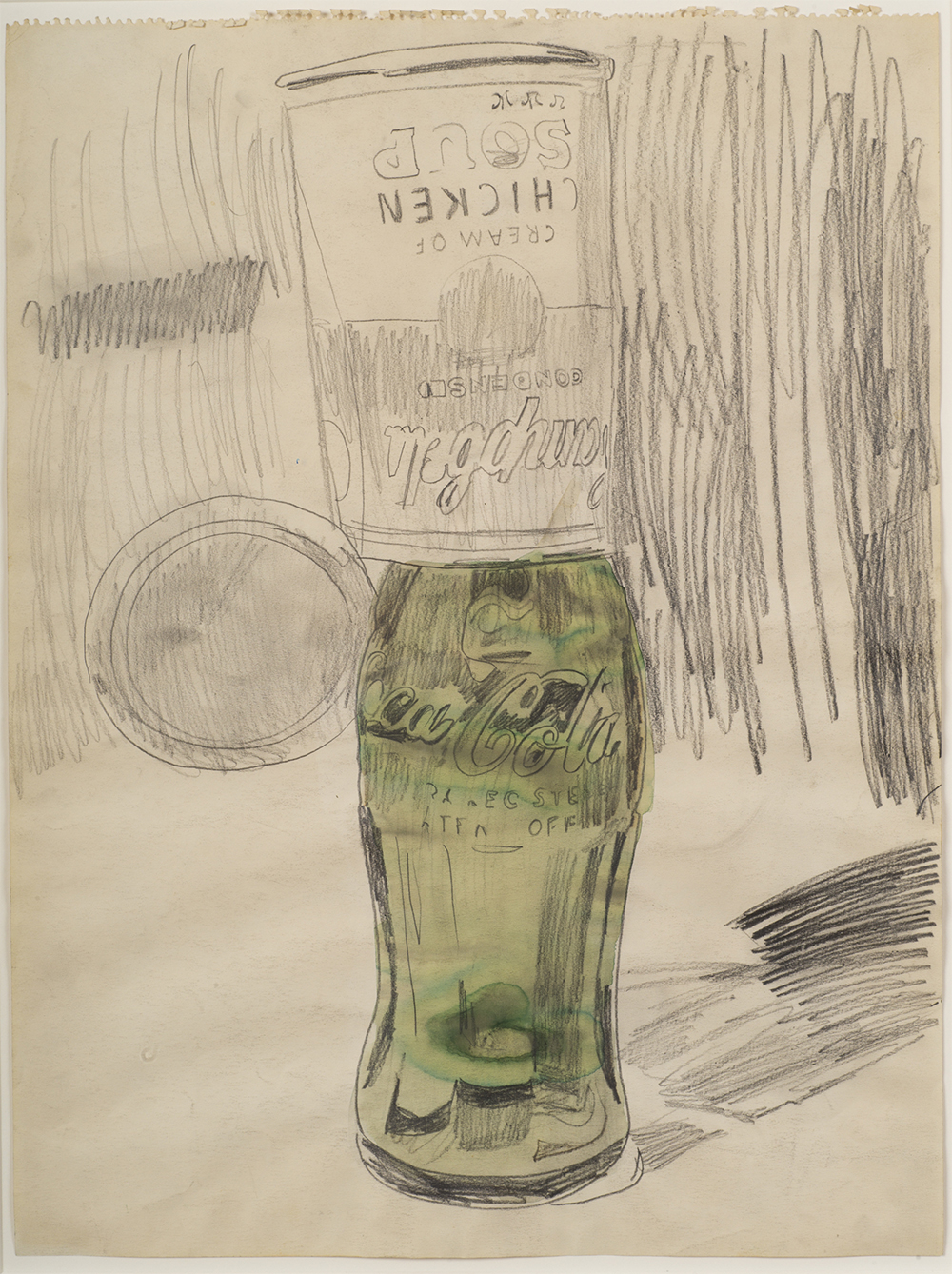 Andy Warhol (1928–1987), Campbell's Soup Can over Coke Bottle, 1962. Graphite and watercolor on paper, 23 1⁄2 × 17 3⁄4 in. (59.7 × 45.1 cm). The Brant Foundation, Greenwich, CT © The Andy Warhol Foundation for the Visual Arts, Inc. / Artists Rights Society (ARS) New York
'Everybody has their own America,' Warhol once claimed, 'and then they have pieces of a fantasy America that they think is out there but they can't see … you live in your dream America that you've customed-made from art and schmaltz and emotions just as much as you live in your real one.'
In Warhol's art there was less dreaming and more rude awakening. You don't have to go far in the Whitney's retrospective to encounter death and disaster. They start uneasily with the life-size Elvis Presley pictures pointing a revolver at you. In gun-ridden America, that's no joke. Then comes the shattering, black-and-white Saturday Night Disaster, where the corpses of two men have been vomited out of a crashed car. Warhol, the master of repetition, stacks the same image on top, death in duplex.
In 1963 Warhol told Art News, 'My first show in Paris is going to be called Death in America. I'll show the electric chair pictures and the dogs in Birmingham and car crashes and some suicide paintings.' They form a deeper tranche of experience in his work, none more so than the ambiguously titled Race Riot – ambiguous because the pictures show no sign of riot. Instead a snarling Alsatian attacks a neatly dressed, straw-hatted African-American man, ripping the legs off his trousers. Bull Connor, the infamous Commissioner of Public Safety in Birmingham, Alabama, provides the text: 'I want 'em to see the dogs work. Look at those niggers run.' Okwui Enwezor quotes it in his exceptionally fine catalogue essay 'Andy Warhol and the Painting of Catastrophe'. They are modern history paintings, as American art historian Anne Wagner pointed out over twenty years ago. In a newly racially divided America, they speak with intensity and urgency.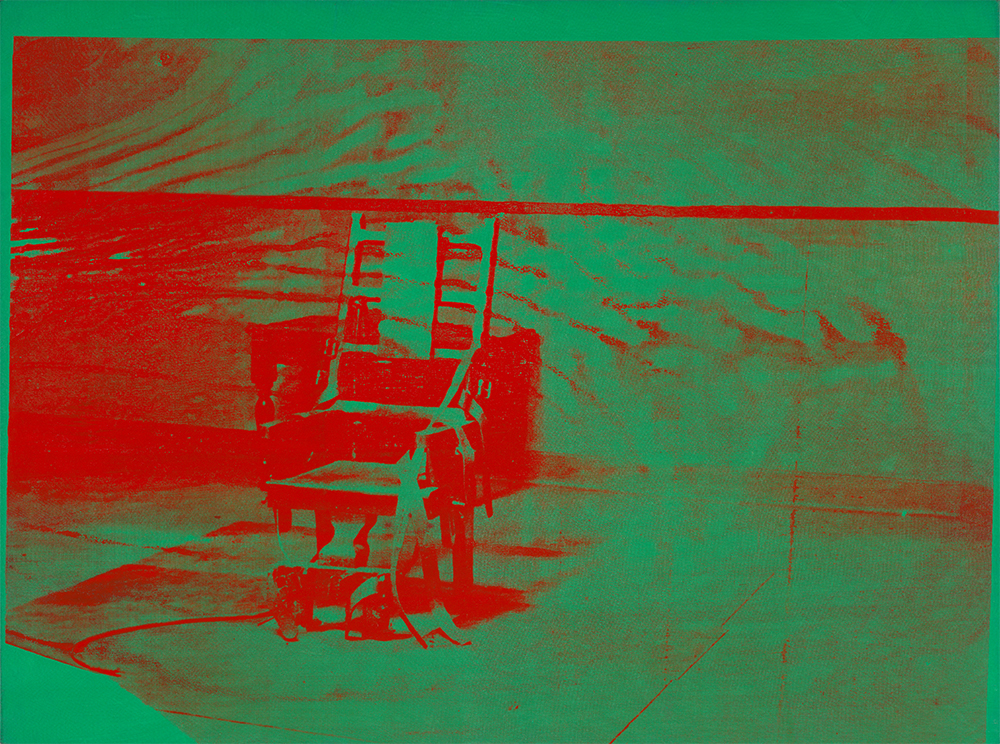 Andy Warhol (1928–1987), Big Electric Chair, 1967–68. Acrylic and silkscreen ink on linen, 54 1/8 x 73 1/4 in. (137.5 x 186.1 cm). The Art Institute of Chicago; gift of Edlis/Neeson Collection, 2015.128 © The Andy Warhol Foundation for the Visual Arts, Inc. / Artists Rights Society (ARS), New York
The most moving of Warhol's history paintings come in the Jackie Kennedy series, disappointingly only cursorily represented in the Whitney. The individual portraits of Jacqueline Kennedy in blue and red form the antechamber to the Dallas catastrophe. The source for these works is the official White House photograph. The enlarged, hesitant, half-smiling faces of a young woman have an eerie effect. Warhol painted them in early 1964, months after the assassination. You know as you look at them that an irreparable tragedy has befallen this woman. She will never look the same again. 'Changed, changed utterly …'
Warhol deploys his gift for repetition with force and effect in the larger Dallas istoria. He transforms the over-familiar newsreel images into the most painful moments of private grief. In 'the transition from First Lady to widowhood … Warhol is taken over by a special unaccustomed purpose to return narrative and temporality to his work', to quote Anne Wagner. The electric chair paintings are contiguous to the Jackies. Brilliantly selected, they are by turn luridly offensive in colour and steel gray in monochrome. Few other contemporary paintings register so bleakly the sense of death, the annihilation of being, the descent into nothingness. The Electric Chairs in particular and the exhibition as a whole resolve one of the vexed issues in the interpretation of Warhol. Hal Foster, a heavyweight of contemporary art history, peremptorily dismisses the darker reading of Warhol: 'An essay could be written on the desire of left critics to make Warhol a contemporary Brecht.' Tom Crow, no less renowned as critic and historian, has argued the contrary, that Warhol's 'images were carefully and consciously developed to maximize their impact on the viewer … to magnify the meaning of the subject.' The verdict favours Crow over Foster: you are riddled with consequence and content throughout the show.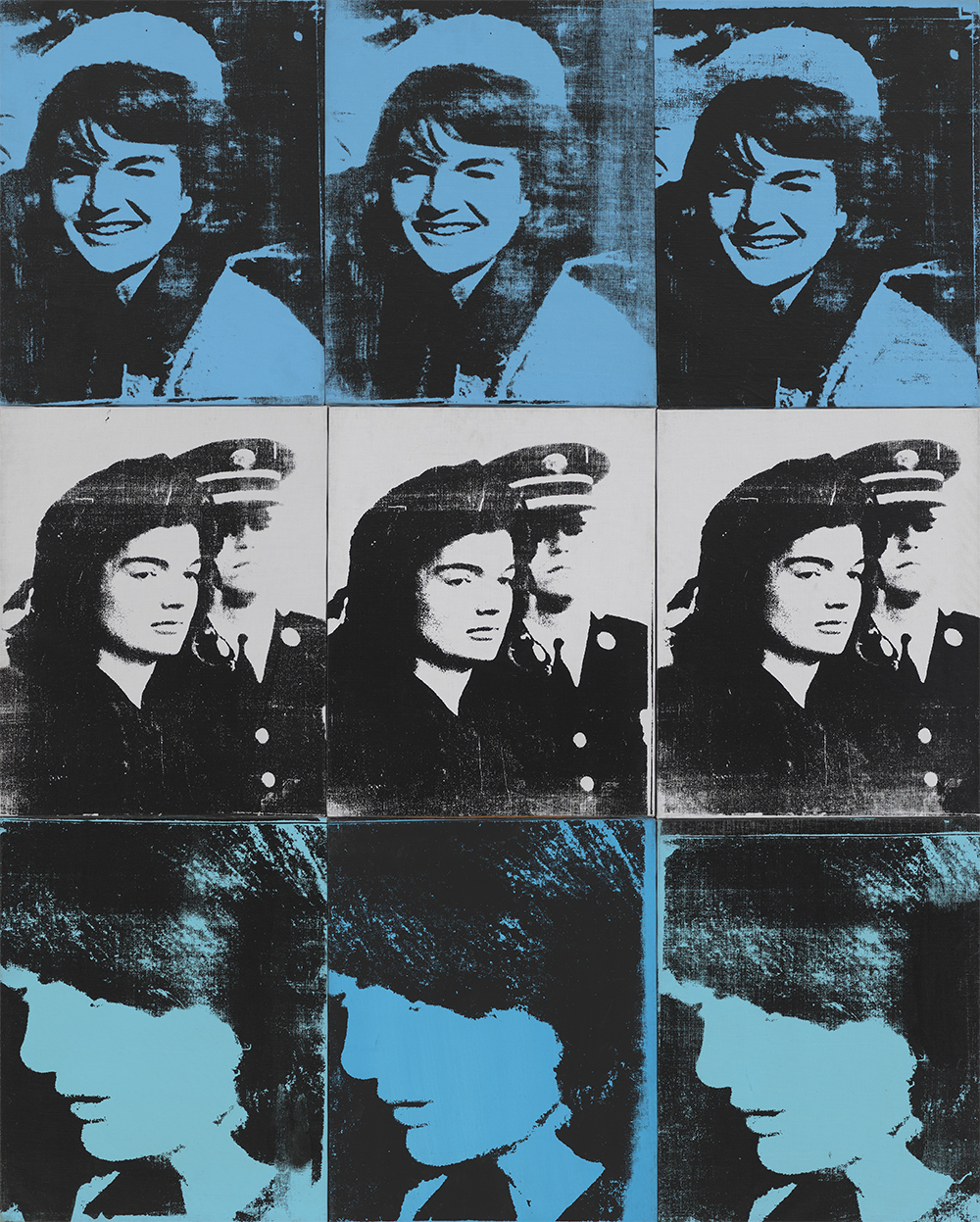 Andy Warhol (1928–1987), Nine Jackies, 1964. Acrylic and silkscreen ink on linen, nine panels: 60 3⁄8 × 48 1⁄4 in. (153.4 × 122.6 cm) overall. Whitney Museum of American Art, New York; gift of The American Contemporary Art Foundation, Inc. Leonard A. Lauder, President 2002.273 © The Andy Warhol Foundation for the Visual Arts, Inc. / Artists Rights Society (ARS) New York
During Warhol's lifetime, much of the controversy surrounding him stemmed from the antics of the Factory, his studio-cum-showroom, the weirdness of his camp followers, and the cryptic/comic awfulness of his films. Robert Hughes's disdain rose to high-pitched contempt for Warhol and focused as much on the ambiance as the work. He recorded Warhol 'entering a drawing room, pale eyes blinking in the pock marked bun of a face, surrounded by his Praetorian Guard of chitterling ingénues …' He derided the inmates of the Factory as a 'legendary shifting entourage of drag queens, raucous juvenile models and human parrot fish'.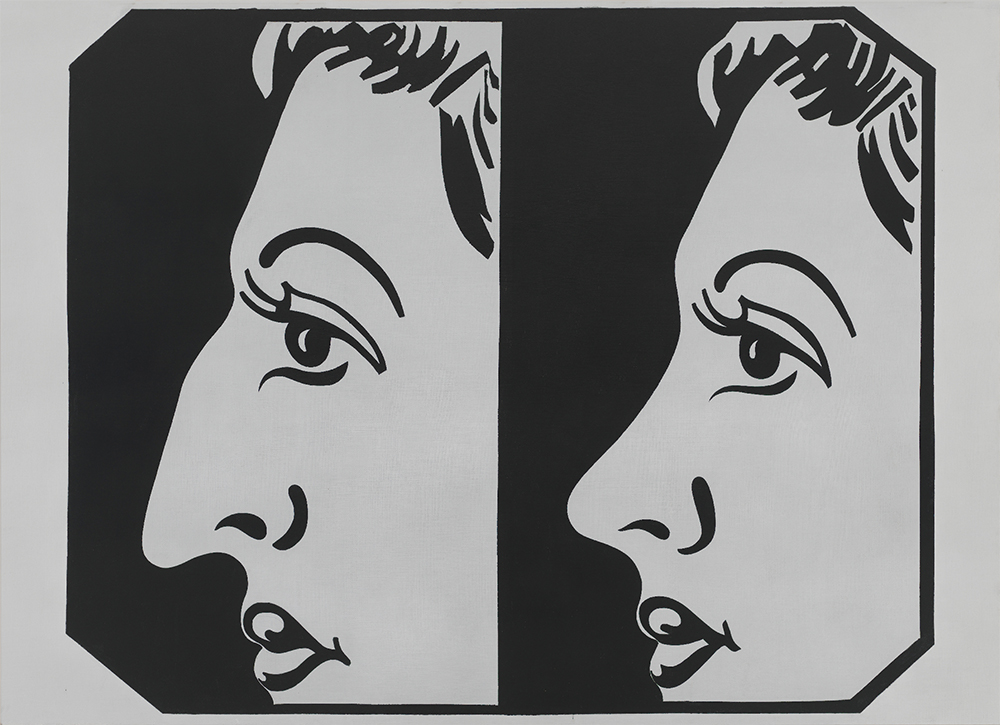 Andy Warhol (1928–1987), Before and After [4], 1962. Acrylic and graphite on linen, 72 1 ⁄8 x 99 3 ⁄4 in. (183.2 x 253.4 cm). Whitney Museum of American Art, New York; purchase with funds from Charles Simon, 71.226 © The Andy Warhol Foundation for the Visual Arts, Inc. / Artists Rights Society (ARS) New York
Trevor Fairbrother's essay in the catalogue is a shrewd analysis of the Warhol milieu: 'sowing confusion proved to be the best tactic for surviving on all fronts'. Warhol revelled in the media embrace. The strange world of the Factory spawned his films, his magazines, and his endless stream of money-making portraits of celebrities and stars and nonentities. It was a randy court of jostling favourites, a seamy world of drugs and hangers on. 'There was not much firm ground around Warhol.'
The unsettled ran deep within Warhol, forever keeping ahead of his audience. The final series of Self-Portraits painted in 1986, the year before his death, represent a distraught self. Fairbrother interestingly recounts their origin. Warhol made the series at the invitation of the London art dealer, Anthony d'Offay. But Warhol disliked the choice of the polaroid images he and d'Offay had made and produced a series on an entirely different shot. D'Offay was appalled with the result and insisted that Warhol re-make the series using their original choice. The finest of these come where Warhol camouflages his face as though hiding behind a Fool's motley – and this from an artist who craved fame and publicity. These compelled and camouflaged Self-Portraits are indeed the image of the unsettled self.
Warhol has been dead for more than thirty years. The raunchy fumes of the Factory have disappeared into the ether, leaving us with the residue of his art, a rich and complicated oeuvre. Only a donkey would call him 'a one trick pony'.
---
Contributor's Note
The NGV has an exceptionally fine Self-Portrait from that final series. It was one of the last works acquired during my time as Director and done at the perspicacious urging of Robert Lindsay, then Curator of Contemporary Art. It was bought from Anthony d'Offay, I think, and purchased late one week in February for a very reasonable price, from memory, $65,000. Warhol died the following Sunday February 22 1987.
---
Andy Warhol—From A to B and Back Again is exhibiting at the Whitney Museum of American Art from 12 November 2018 to 31 March 2019.