The Dutch printmaker M.C. Escher is one of the few twentieth-century artists who became almost universally known by the general public from the 1960s on. Constructed as visual paradoxes with impossible architectures, vaulting perspectives, and dramatic metamorphoses of form, his images startled. Once seen, they stamped themselves indelibly on the memory. I'll hazard a guess that most of us can recall the amazement of first seeing an Escher image: perhaps Other world (1947), a wood engraving of a pigeon perched beneath a colonnaded arch, seen from three divergent perspectives simultaneously; or the lithograph Drawing hands (1948), where a pair of convincingly rendered three-dimensional hands seemingly sprout from a page, each one drawing the shirt cuff of the other; or Day and night (1938), a flock of geese flying evenly in diametric directions over a Dutch landscape, half of them silhouetted against daylight while the other half transmute into white, set against a nocturnal view of the same scene.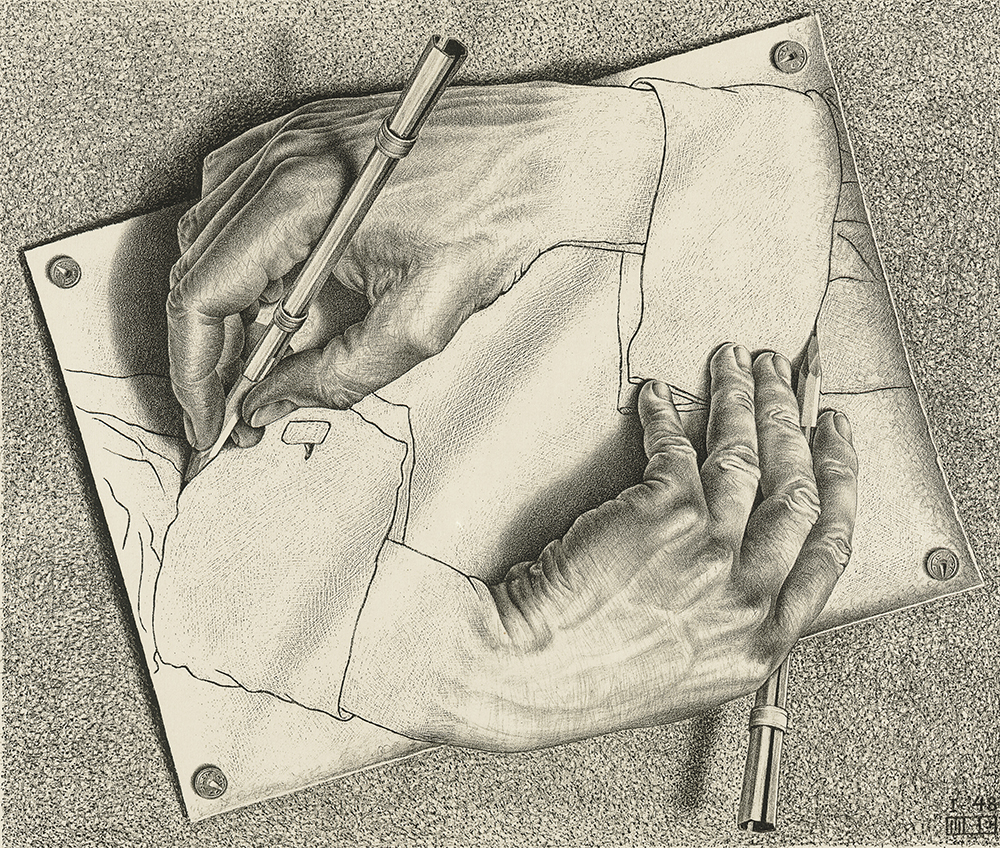 M. C. Escher, Drawing hands, January, 1948, lithograph. Escher Collection, Gemeentemuseum Den Haag, The Hague, the Netherlands © The M. C. Escher Company, the Netherlands. All rights reserved.
Reproductions of these works circulated widely in popular media in the late twentieth century, but Escher's acclaim remained largely outside the circles of fine art. His chosen media were prints and drawings – in modern art's biased gaze, far less heroic than painting – but his exclusion from the canon of modern art was primarily due to his renouncement of the successive waves of the avant-garde. While Escher trained himself to become an outstanding draughtsman, the direction of mid-century modernism moved away from technical skill and figuration; firstly, towards the looseness of Abstract Expressionism, and then into Conceptual Art and other progressively dematerialised modes of art making.
Only after 1998 – the centenary of his birth – has Escher's work gradually been awarded art-world recognition through a cluster of international survey exhibitions; a trend now advanced by the NGV's current retrospective, the first in Australia. The amassing of a range of Escher's most significant mature works, alongside his early woodcuts and drawings, is impressive in itself, but the exhibition is enhanced through the juxtaposition with another practice: the Japanese design studio nendo. Invited by the NGV to respond to Escher's oeuvre as part of the Gallery's curatorial impetus to create links between art and design, nendo was selected for its parallel plays with optical illusion and spatial inventiveness.
The commission takes the form of a series of interior architectural framings designed by nendo's founder and chief designer, Oki Sato, to house Escher's images. This is apt, as nendo uses the motif of the house as a design signature, stamping each of its furniture and object design commissions with this emblem, however subtly. For Escher X nendo / Between Two Worlds, six installation scenarios have been devised, each featuring a bespoke structure intended to complement a specific set of Escher's prints or drawings.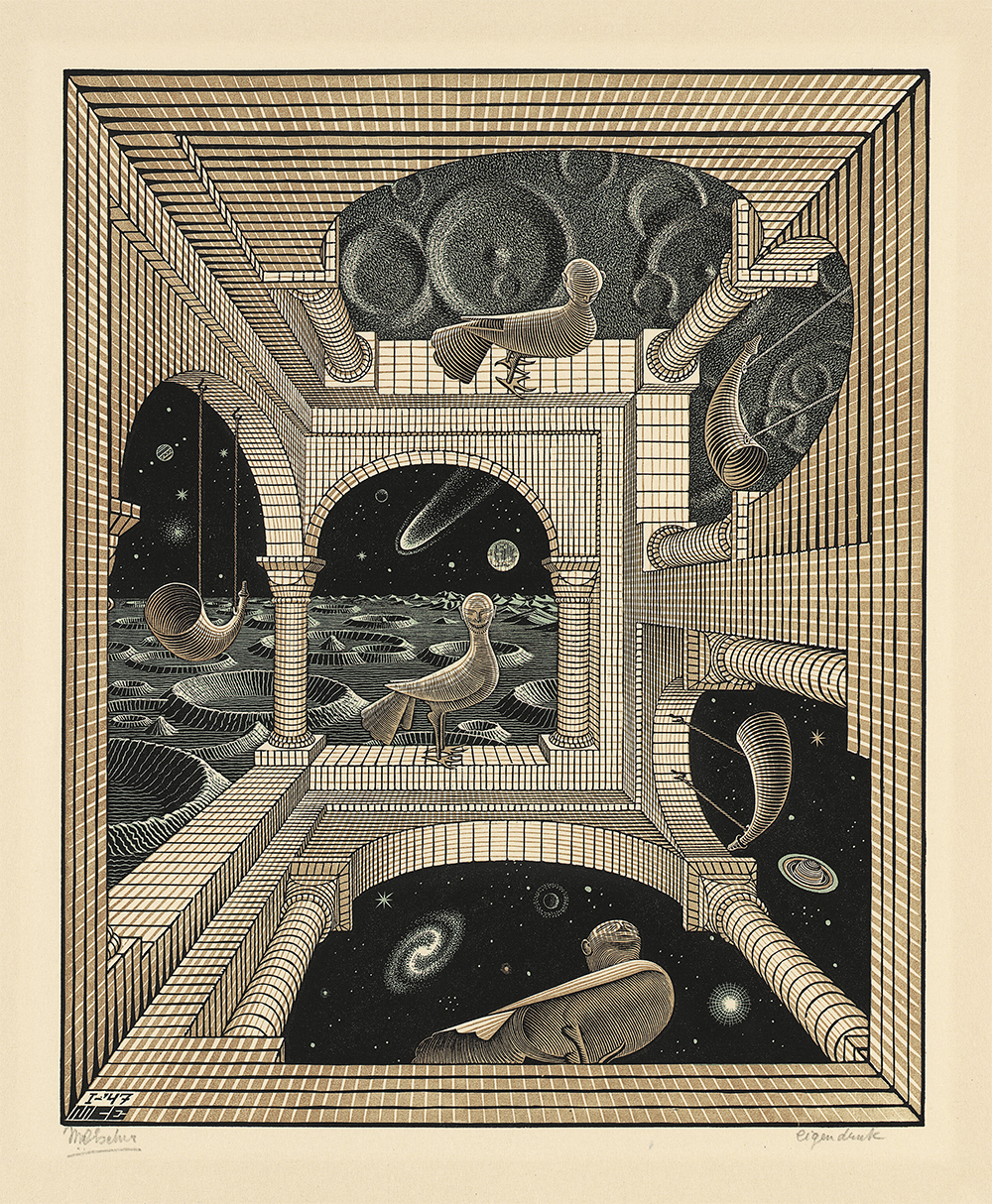 M. C. Escher, Other world, January, 1947, colour wood engraving and woodcut. Escher Collection, Gemeentemuseum Den Haag, The Hague, the Netherlands © The M. C. Escher Company, the Netherlands. All rights reserved.
The resulting collaboration is adroit. Not only has Sato approached the task with flair and a clear respect for the late printmaker, but the studio's minimalist Japanese aesthetic unearths the latent Japanese elements within Escher's own work. Escher's father was a collector of Japanese woodblock prints and decorative arts objects, and this aesthetic clearly influenced the young artist. In 1925 Escher moved to Italy, where he was based for the next decade, only compelled to leave in 1935 with the rise of Italian fascism. While settled in Rome, he made frequent sketching trips to remote villages in Corsica, Calabria, and Sicily, and his works from this era reveal a love of the cliffy, coastal towns of the Italian landscape – yet they also evidence a strong influence of Japanese woodblock prints. Works such as Pineta de Calvi, Corsica (1933) show a style of rendering foliage and landscape elements in a flattened, decorative manner that is distinctively Japanese.
Beyond this convergence of a Japanese aesthetic sensibility, the affinity between Escher and nendo lies in their mutual attraction to transfiguring geometries and the whimsical transpositions of flatness and three-dimensionality. While Escher applied himself to the meticulous construction of 3-D illusions in the two-dimensional realm, nendo delights in the creation of two-dimensional illusions within 3-D environments.
As part of his mature work, Escher developed a compositional method known as 'regular division of the plane', or tessellations, where simplified motifs such as lizards or beetles were designed to interlock and march across the page. Taking this method as its point of departure, nendo has devised a large-scale installation composed of a three-dimensional tessellation of mutating schematic structures. Four black houses set in a row recede in nine lines, their roof planes progressively tilting to invert into five white houses. The dramatic installation allows viewers to walk through the structures and chance upon the intermittent positioning of display cases featuring Escher's prints. More cleverly, the entire installation has been sited to be viewable from elevated platforms that compress the expansive installation into a neat two-dimensional image. Another room features an elegant wire-frame scaffolding displaying Escher's prints that aligns to reveal a house shape when viewed from a specific position.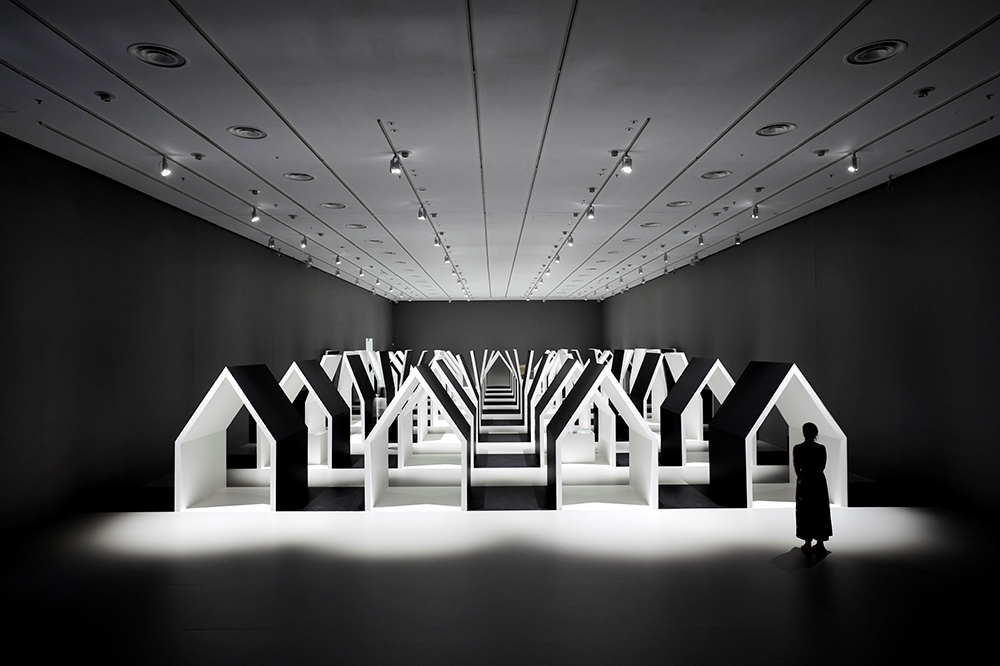 Installation view of Escher x nendo / Between Two Worlds exhibition space at NGV (photograph by Sean Fennessy)
In many ways, Escher's method of tesselation can be seen as a harbinger of the 3-D modelling techniques currently used by animators and game designers, and his obsession with infinity structures a template for virtual environments avant la lettre. Unwittingly, Escher's work marries a proto-digital sensibility with the kinds of radical experiments into perspectival rendering that characterised the most inventive figures of the early Italian Renaissance such as Masaccio and Paolo Uccello. A mercurial and brilliant outlier, Escher's idiosyncratic visions of impossible architectures and gleeful visual inversions have hummed away in the cultural background as genius caprices in graphic art. Only now – by virtue of the very correspondences that the NGV seeks to prompt – do their ingenuity and optical gambols unexpectedly cohere with the contemporary world.
---
Escher X nendo / Between Two Worlds is currently exhibiting at the National Gallery of Victoria from 2 December 2018 to 7 April 2019.
ABR Arts is generously supported by The Copyright Agency's Cultural Fund and the ABR Patrons.
Enjoy ABR? Follow us:
(A tick means you already do)
---