Géraud Corbiau's rather schlocky biopic, Farinelli (1994) covers an important phase in the career of this most celebrated singer of the early eighteenth century. The establishment of the Opera of the Nobility in the 1730s, with Niccolò Porpora as the main composer, was a direct challenge to Handel's (second) Royal Academy of Music, Farinelli, the celebrated castrato singer, was drafted as the main attraction to compete with the mighty Handel and his troupe. In Corbiau's film, most of the music is by Handel and Porpora, but there is the odd snippet by another giant of eighteenth-century opera, Johann Adolph Hasse (1699–1783).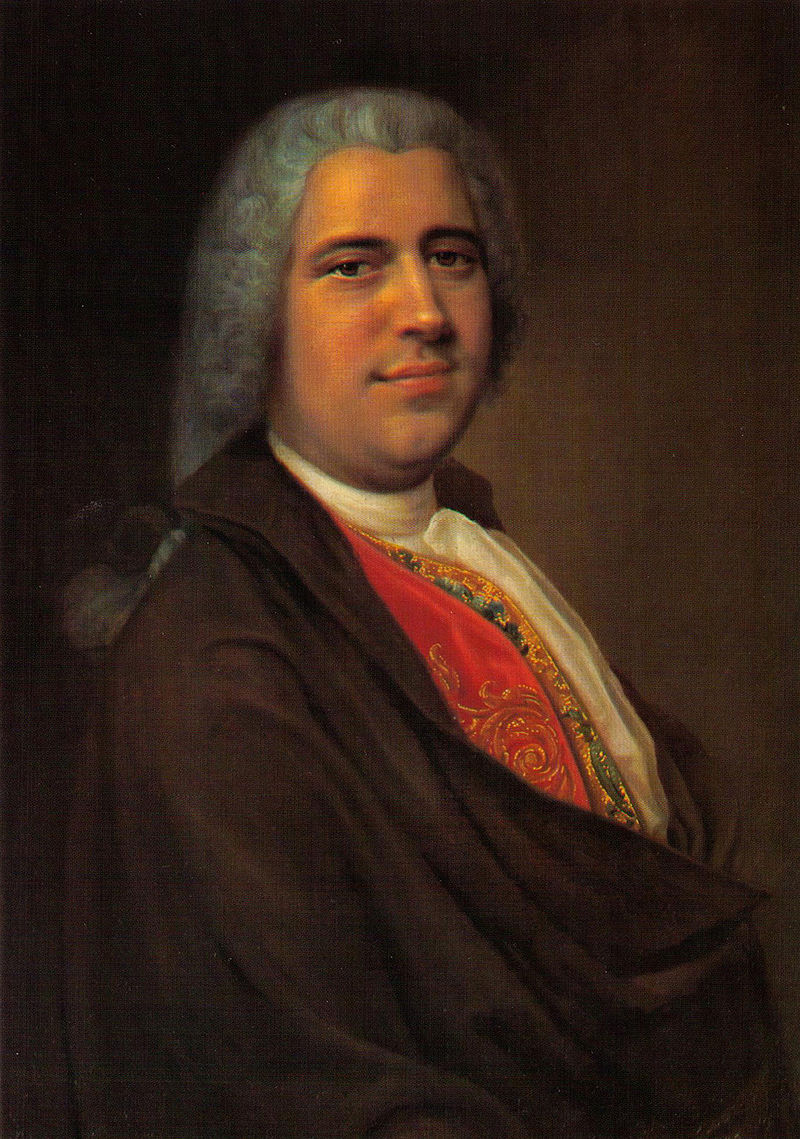 Johann Adolph Hasse in 1740, painted by Balthasar Denner (photograph via Wikimedia Commons)Nowadays, Handel reigns supreme in this operatic repertory, but beyond London he had several rivals, including Vivaldi, Vinci, and Scarlatti. In the end, the quality and scope of Handel's output obliterated most of their work. Revivals of their operas are still rare events.
Farinelli features prominently in the early part of the long and distinguished career of Hasse who was born in Bergedorf, now a suburb of Hamburg. His father was an organist in the Lutheran church but Johann's career path diverged when he studied voice for three years in Hamburg. Later, he joined the local opera company as a tenor and spent a few Wanderjahre in Italy, where he was to make his mark as an opera composer. In 1730 he married the famous soprano Faustina Bordoni; they became an operatic 'power couple' throughout Italy, Germany, and Austria. It was in Naples that Hasse first came to operatic prominence. One of his earliest works, Antonio e Cleopatra, featured both the castrato Carlo Broschi, aka Farinelli, and the soprano Vittoria Tesi. The move to Venice probably necessitated Hasse's conversion to Catholicism, both for his official position at the Venetian court as well as his marriage to Faustina. The concept of opera accessible to the general public had been pioneered in Venice one hundred years before. The city remained one of the great European operatic centers and a desirable destination for composers.
Venice in 1730 saw Hasse's first meeting with Pietro Metastasio, the most important Italian librettist of the eighteenth century, whose libretto Artaserse had just been set by Leonardo Vinci and staged in Rome. Two months later, Hasse's setting of the same libretto was performed in Venice (the text would be set more than fifty times in the next ten years). Hasse and Metastasio remained great friends and frequent collaborators. The première had Farinelli as Arbace and Francesca Cuzzoni (another celebrated singer) as Mandane. Hasse went on to write an extensive series of operas for Venice until 1758.
Artaserse made Hasse an international figure. This was largely due to the fact that Farinelli embraced Hasse's arias for Arbace. Farinelli performed these arias across Europe and in a 'pasticcio' version of Artaserse at his 1734 London début. They caused a sensation and Farinelli's, and Hasse's, fame was cemented. Hasse never made it to London, but Artaserse was performed in eight other cities within ten years, leading to Hasse's appointment in Dresden, which remained his principal place of employment for nearly three decades. When Hasse died in Venice in 1783, two years after Faustina, his reputation had already begun to fade; he rapidly became a footnote in the long history of opera.
So is Artaserse worth reviving? (Hasse's music began to be rediscovered in 1999, the tercentary of his birth.) Often there is a very good reason why once-popular works quickly disappear from public consciousness – they're just not very good; the operatic winnowing process is brutal. It is relatively seldom that a neglected work is revived and shown to be a hidden masterpiece.
Artaserse is no masterpiece, but it is a highly effective opera seria with all the strengths and weakness of that operatic genre: a relentless succession of often virtuosic solo da capo arias linked by recitative, with only one duet for Arbace and Mandane at the end, followed by a perfunctory final chorus. What makes the opera fascinating are the very distinctively drawn characters, all motivated by conflicting emotions and desires, couched in music of sometimes astonishing virtuosity, effectiveness, and beauty, with rhythmic variety and the expert exploitation of particular vocal ranges. Hasse uses specific keys to underline the psychological state of each character.
Pinchgut have used a version of the opera which was revived for Dresden in 1740. Hasse reworked elements to showcase his wife in the role of Mandane. This is the first performance of this version since the eighteenth century. Like many of these forgotten works, it only makes sense to revive it when the right singers are available, for this is a work calling for no less than three highly accomplished countertenors. And yes, the right singers are in this production. The cast is led by American mezzo Vivica Genaux (Mandane), highly acclaimed in both baroque and later opera, and brilliant Australian countertenor, David Hansen, in the Farinelli role, Arbace.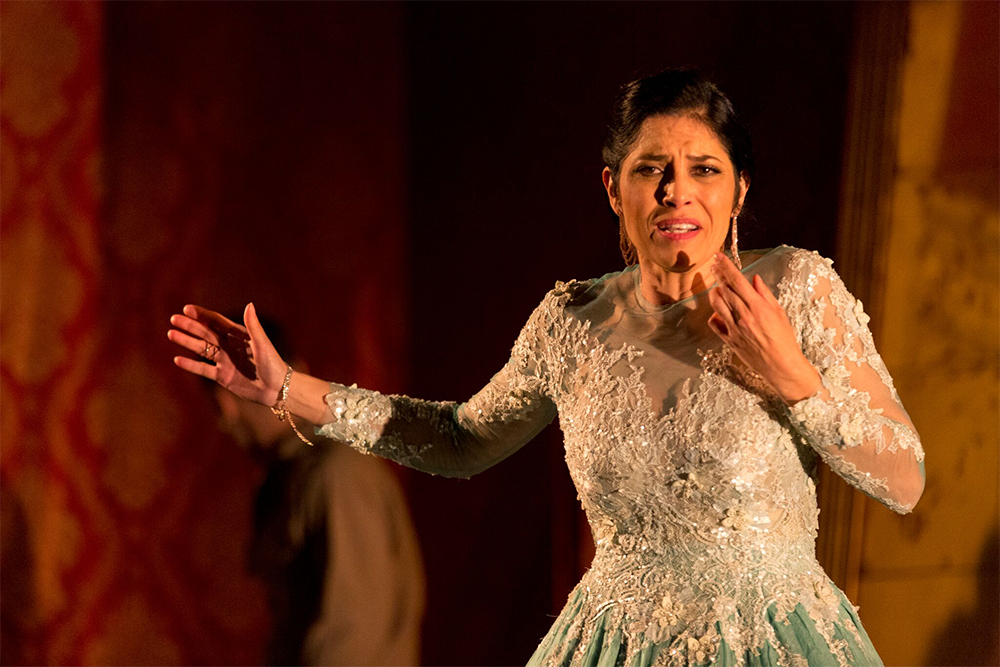 Vivica Genaux as Mandane (photograph by Brett Boardman)
The story has its basis in the works of the third-century Roman historian Marcus Junianus Justinus. Mandane, sister of King Artaxerxes, is in love with Arbace, who has been accused of murdering her father, while a second love interest concerns Semira, sister of Arbace and daughter of Artabanus, who is the beloved of Artaxerxes. Complicated – you bet!
Genaux, often seen in pants roles, plays a passionate woman caught up in a web of politics, intrigue, and betrayal Opera seria had arias allocated according to a strict hierarchy, so that Mandane, the prima donna, and Arbace, the primo uomo, both had five. Lower down the pecking order, the other characters have progressively fewer arias. Genaux is a force of nature as a performer, projecting enough vocal and emotional energy to light a small town. She has a multi-hued voice of power and tonal variety, with an astringent edge to the sound at times which thrillingly conveys the conflicting emotions of the character, all allied to an alluring stage presence.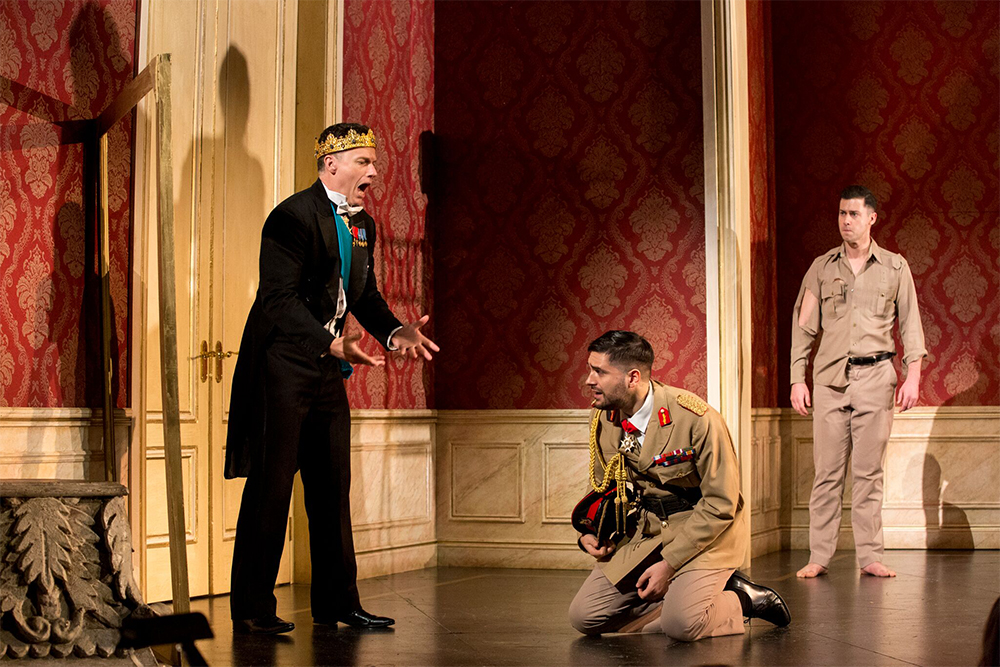 Andrew Goodwin, Carlo Vistoli, and David Hansen (photograph by Brett Boardman)
Hansen, as Arbace, has to channel Farinelli, who was described by Johann Quantz, the renowned flautist and composer, in 1726:
Farinelli had a penetrating, full, rich, bright, and even soprano voice … His intonation was pure, his trillo beautiful, his chest unusually strong in protracting tones. His throat was very flexible, so that he could produce the largest intervals quickly and with the greatest ease and certainty. Broken passages, as well as all the other runs, provided no difficulty for him, and he was very prolific in his use of the optional ornaments of an adagio.
Hansen admirably rose to these challenges with a seamless legato in the more sustained passages and formidable articulation in the fioritura that was written to showcase Farinelli's phenomenal virtuosity. Hansen has a commanding stage presence and excellent acting ability. This 'first couple' of the opera was outstanding by any measure; the final duet was one of the many highlights.
The performance offers a unique opportunity to hear three very different countertenor voices. Carlo Vistoli, as the manipulative Artabano, has power and projection that suits the character, and sufficient beauty of tone to convey poignancy when necessary. Russell Harcourt has a higher voice with an ethereal beauty of tone, but also the vocal power to command the scenes in which he appears. These two voices offer a fascinating contrast to the fireworks provided by Hansen.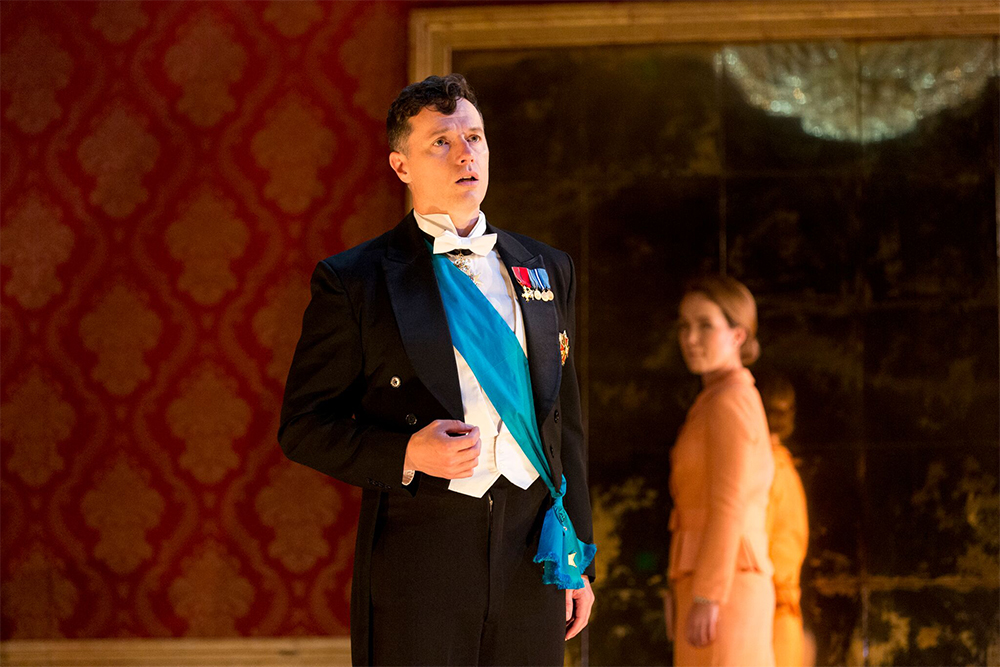 Andrew Goodwin as Artaserse and Emily Edmonds as Semira (photograph by Brett Boardman)
The 'second couple' are tenor Andrew Goodwin in the title role, and mezzo Emily Edmonds as Semira. Goodwin's arias – delivered with flexibility, beauty and evenness of tone, excellent articulation, and a noble stage presence – were highpoints of the evening. Edmonds's mezzo, softer grained than Genaux's, is suited to the role in which the character often observes rather than acts. Her stillness and expressive reactions were as impressive as her voice.
The City Recital Hall has its limitations as an opera space, but Charles Davis, designer, and Ross Graham, lighting designer, made the most of the venue. An opulent palace is depicted, in a state of turmoil, symbolised at the outset by a collapsed chandelier which is later hoisted, somewhat unconvincingly, into place. Blank mirrors sometimes frame the action, and there is an almost constant shifting of chairs within and out of the main playing space signifying the transience of events therein.
Carlo Vistole and David Hansen in Artaserse (photograph by Brett Boardman)
Director Chas Rader-Shieber, in response to these spacial limitations, focuses on making the personal relationships between characters visually clear from the outset. There is an almost balletic flow to the movements as characters position and reposition themselves during the long static arias, the returning A section of the aria with its ornamentations often being reflected in a more energetic physical response. The turbulence underlying the relationships finds expression in the many false exits as figures seem to leave, change their minds, and quickly return. The director confronts static nature of opera seria with imagination and aplomb.
Directing from the keyboard, Pinchgut Artistic Director, Erin Helyard, a passionate advocate of Hasse's operas, has done full justice to this opera in a version which he has edited from sources in Dresden. It almost goes without saying that there is great rapport between him and the singers, while the Orchestra of the Antipodes plays this music as if to the manner born, conductor and orchestra alive to every changing emotion and nuance on stage. This is music-making of the highest order; one awaits the projected recording with great anticipation.
Finally, back to the Farinelli, the film. The rivalry depicted between the two theatres was intense, but in the end the poaching of stars, notorious stage fights, and other controversies proved too much for both companies, which soon collapsed. Opera was then, and remains, a risky business. The long silence surrounding Artaserse has echoed through the centuries, but Hasse is given glorious voice in this fascinating performance by Pinchgut Opera.
---
Artaserse, presented by Pinchgut Opera, continues at the City Recital Hall, Sydney, on December 1, 2, 4, and 5. Performance attended: 29 November 2018.
ABR Arts is generously supported by The Copyright Agency's Cultural Fund and the ABR Patrons.