After staggering out of a performance of The Dance of Death, August Strindberg's turbulent portrayal of a marriage, one fervently hopes Tolstoy was right and that each unhappy family is unhappy in its own way. No other theatrical couple – not Edward Albee's George and Martha, not Eugene O'Neill's James and Mary Tyrone or Ezra and Christine Mannon – reach quite the depths of malicious combat achieved by Strindberg's Edgar and Alice.
Strindberg, having survived two tempestuous marriages and being about to embark on a third, had plenty of experience to draw on. His protagonists, however, are based on his sister Anna and brother-in-law Hugo von Philp, with whom, in his usual fashion, after having a close friendship, he had suddenly broken off relations. He had spent the summer season of 1900 with them at their country estate and witnessed the constant quarrels of a couple who, in Anna's words, found joy banal and were never happy unless there was emotional disruption.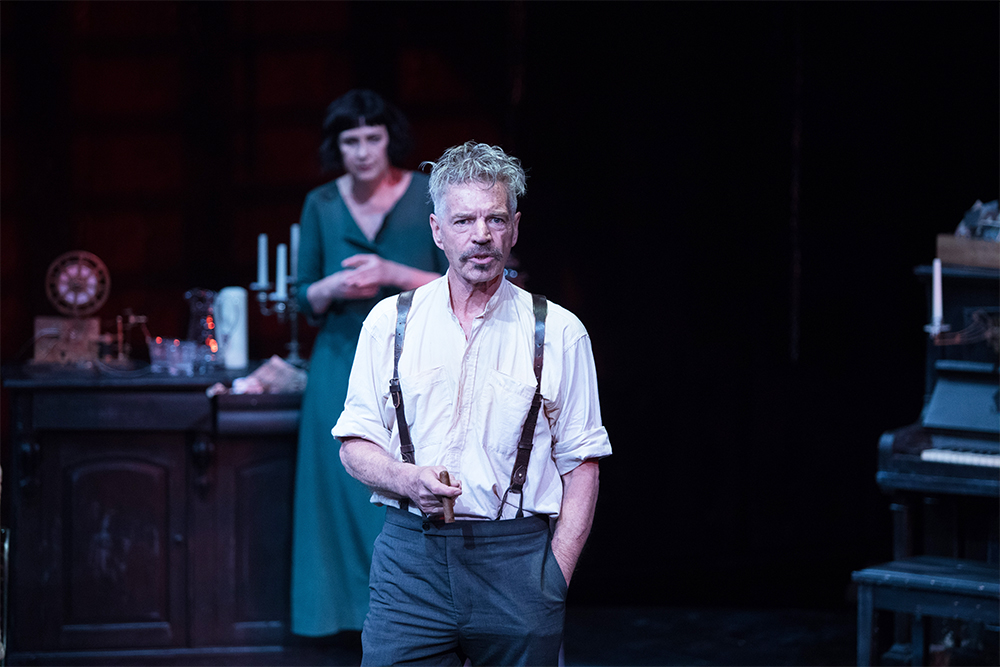 Colin Friels in The Dance of Death (photo by Lisa Tomasetti)
In The Dance of Death, the von Philps – who, when Strindberg stayed with them, were about to celebrate their silver wedding anniversary – become the basis for Edgar, a garrison captain on a bleak island, and his wife, Alice, a former actress, who both are also about to reach that marital milestone. Edgar has managed to alienate the entire population of the island, while Alice's belligerence has ensured that no servant lasts with them – so they are left to their own devices, playing cards and sniping at each other. When Alice's naïve, not very bright cousin, Kurt arrives on the island to take up the position of Quarantine Officer, they drag him into their emotional quagmire, doing their best to destroy him in the process. In his protagonists' self-absorption and self-dramatisation, Strindberg has also created something of a self-portrait. According to one of his more perceptive mothers-in-law: 'I have often wondered if [Strindberg's] dramatic and frequently theatrical events were not so much expressions of an occasional abnormal idea but rather experiments designed to create a good theatrical effect and, also, to test its impact on an audience.'
Although it is nominally a naturalistic drama, director Judy Davis rightly sees The Dance of Death as not so much a slice of realism but as a precursor of the Theatre of the Absurd. She makes Edgar and Alice less like the aforementioned couples and more like a cross between Samuel Beckett's Vladimir and Estragon and Alfred Jarry's Ma and Pa Ubu.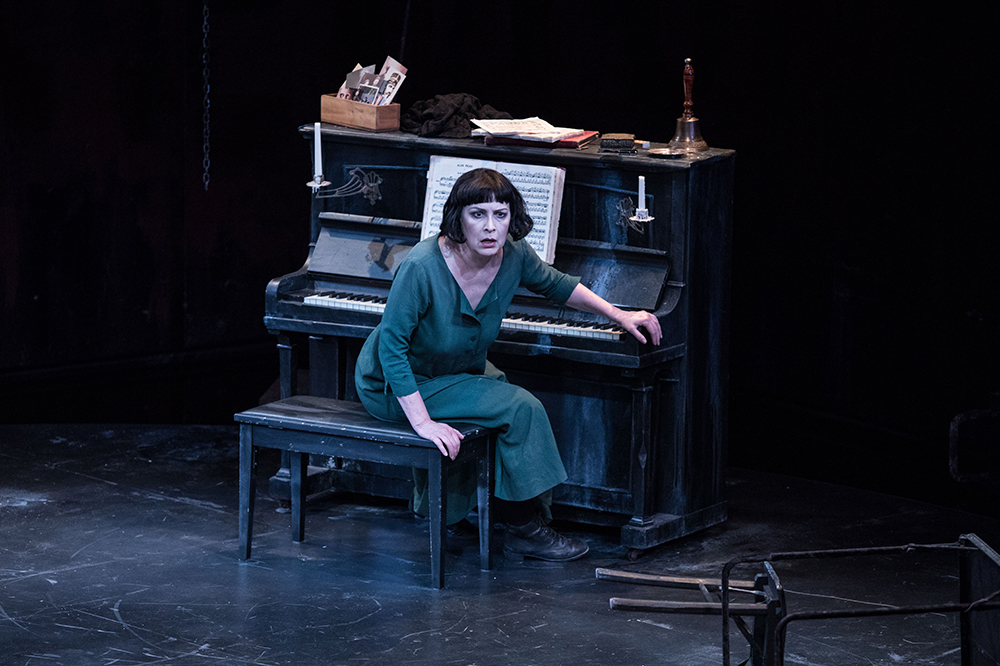 Pamela Rabe in The Dance of Death (photo by Lisa Tomasetti)
Brian Thomson's set, surrounded by a blood-red, watery moat, strikes the right expressionist effect. Splashes of blood continue up the walls, and a poster of Alice in her theatrical prime is prominently displayed. Matthew Scott's melodramatic lighting and Paul Charlier's equally overripe music and sound design add to the desired hysterical effect. If Bela Lugosi or Christopher Lee had suddenly turned up, we would not have been the least surprised.
In such a magnificently overheated production, the actors have to work hard not to be swamped, and for the most part they succeed. In the tiny role of one of the last departing servants, Giorgia Avery slouches on to the stage, delivers her two lines, and slouches off to great effect. One feels this is a servant more than a match for her mistress, indeed maybe an Alice in waiting. For an actor, Kurt is in some ways the most challenging role in the play. He can come across as merely a patsy, a sounding board for the ranting pair. Toby Schmitz, though looking rather youthful for the part, charts his descent from prim, righteous self-confidence to insecure wreck effectively, but he could perhaps edge up his melodramatic intensity a couple of notches.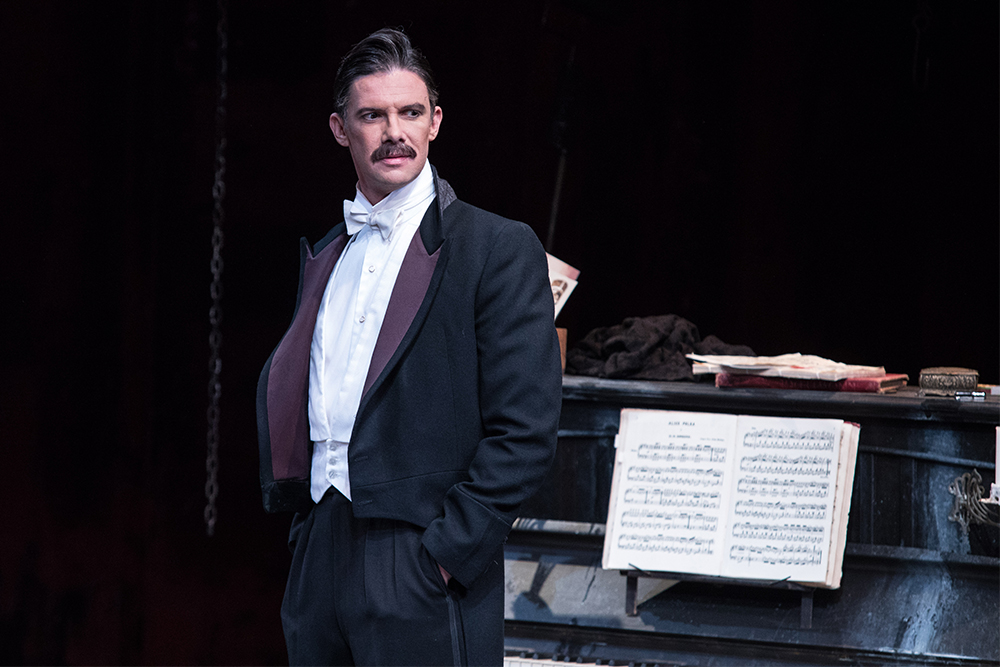 Toby Schmitz in The Dance of Death (photo by Lisa Tomasetti)
Colin Friels seizes the role of Edgar with predatory relish. Made up to resemble Strindberg, his Edgar, a swaggering bully occasionally felled by a mysterious heart affliction, is adept at abruptly changing the rules of the game he and Alice have been playing for years. He carries off Edgar's party-piece dance of the Boyars with panache and easily outwits the unfortunate Kurt. But perhaps he is at his best in a later scene with Kurt when Edgar comes as close to sincerity as he ever does and confesses, in Michael Meyer's translation, 'Then there comes a time when the ability to create, as you call it, stops. And then reality stands forth in all its nakedness. It's terrifying.' At one stage he rips Alice's poster to shreds, but at the play's conclusion he produces another, and one feels there are plenty left for a repeat performance. If there is anything lacking in Friels's Edgar, it is the feral edge that Jacek Koman achieved in Friedrich Dürrenmatt's adaptation of the play at the Malthouse (2013). One never quite feels here as one did there that, at the right moment, Edgar could easily kill his wife.
We are never too sure how successful Alice had been as an actress, but, as played by Pamela Rabe, she would have been a wow as a silent movie star. Slinking around the stage like a superannuated Theda Bara, Rabe delivers the comic performance of the year. Alternating between gruesomely coquettish, ferocious, rabidly self-pitying, and, just occasionally genuinely vulnerable, she presents us with an unforgettable monster.
In May-Brit Akerholt's admirably colloquial translation, Judy Davis has given us a savagely hilarious version of Strindberg's bleak dissection of a marriage.
---
The Dance of Death is being formed by Belvoir St Theatre at the Upstairs Theatre from 10 November to 23 December 2018. Performance attended: 14 November.
ABR Arts is generously supported by The Copyright Agency's Cultural Fund and the ABR Patrons.
Enjoy ABR? Follow us:
(A tick means you already do)
---