Let it be said – indeed proclaimed – that Opera Australia's new production of Wagner's paean to life and art and love is musically as close to a triumph as it could have been. If, by the end, you feel the outside world is a better place than the one you temporarily abandoned six hours earlier, then Die Meistersinger von Nürnberg has surely wrought its magic. Did this happen on Tuesday? Well, almost.
Those mischievous gremlins that activate Wagner's Curse (what could go wrong will go wrong, in spades) were happily not in attendance, and this long and majestic evening unfolded at its own pace and in its own time and space – or what I prefer to call Wagner Standard Time.
From the first bars of the prelude, so confident and assured, to the affirmative C major chorus at the end, conductor Pietari Inkinen cast the work in one huge paragraph in which the intervals seemed mere distractions. Yet, within this colossal framework, there were always things one noticed anew; little things that focused the mind. For example, the soft horn phrasing that ushers in Sachs's Flieder monologue in Act II, or those darting and devious jabs from the upper strings as the wounded, nosy Beckmesser furtively searches Sachs's house in Act III. But the big things, too, such as the riot of Act II or the Wach auf! chorus of Act III, emerged out of the score as naturally as turning the page of a storybook.
Here, as with his sterling conducting of Der Ring des Nibelungen in this theatre in 2013 and 2016, Inkinen was indeed masterly of structure, but also balance and pace. Not as easy to get right as one might think: the margins between grandeur and intimacy are especially treacherous, even more so in an opera as lengthy and complex as this one. A huge wreath of elder leaves, therefore, to Inkinen and to Orchestra Victoria, which played with tireless magnificence throughout.
Meistersinger is exceptional among Wagner's operas in that it is the most human: it deals not with gods, dwarfs and dragons, but with real people: people with names and surnames and jobs; people who exist not in the upper reaches or lower depths, but at a definitive place and time: Sixteenth-century Nuremberg, midsummer's eve and day. The time of Albrecht Dürer (he is mentioned in the libretto), but also of his near-contemporary, Meistersinger's central character, Hans Sachs.
If Wagner's Curse had been at work, then it was before the performance. Opera Australia was forced to change its Sachs twice: James Johnson (the Wotan in the company's 2016 Ring) withdrew, as, more recently, did Shane Lowrencev. Luckily, as Hans Sachses don't grow on linden trees, the Opera found a third one, the German bass-baritone Michael Kupfer-Radecky, who has sung the role at La Scala and the Bavarian State Opera, Munich.
Kupfer-Radecky must have had his work cut out. Not so much with the role itself, which he sang with grace, dignity, beauty, and quiet authority and, of course, in flawless German, but assimilating himself, effectively at the last moment, with a production new to him – and one far from traditional, with lots and lots of tricky stage business to learn. More of Kasper Holten's intriguing staging in a moment.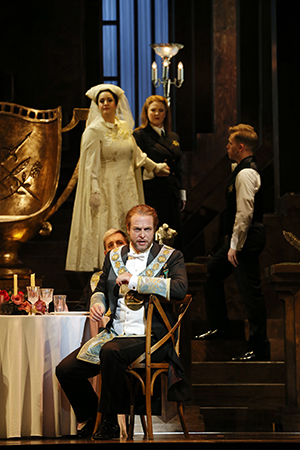 Michael Kupfer Radecky as Hans Sachs Natalie Aroyan as Eva Dominica Matthews as Magdalene and Nicholas Jones as David (photo by Jeff Busby)
Meistersinger is a real company opera, and Opera Australia has cast it strongly and imaginatively, mostly from within its own forces. The chorus of sixty-six, directed by Anthony Hunt, sang their hearts out as if they really believed it was midsummer's day (some members doubled as apprentices). The assorted Mastersingers, a diverse bunch in terms of appearance, age and, no doubt, income, were distinctively fine. Praise to them all: John Longmuir, Joshua Oxley, Kanen Breen, Robert Macfarlane, Andrew Jones, Michael Honeyman, Gennadi Dubinsky, and Richard Anderson. Adrian Tamburini's sonorous Nachtwatchman deserves special praise if only because he had to deliver his second strophe dressed as a satyr.
Senior Meistersingers included Daniel Sumegi's stalwart Pogner, and Luke Gabbedy's youthful Kothner. Domenica Matthews's busy-bee Magdalene was not only Eva's maid but a sort of all-purpose concierge and stage manager. Nicholas Jones's agile and ardent David, one of the best I have seen and heard, made definitive sense of his Mastersinger 101 instructions in Act I.
Warwick Fyfe's Beckmesser was simply extraordinary and galvanising. As with his incomparable Alberich in The Ring, Fyfe brought the same combination of quirkiness and menace to Nuremberg's artful Staatsschreiber. His performance remained – just – on the right side of caricature, and was properly sung, not bellowed or distorted. I am intrigued, though, as to why this Beckmesser is devoid of his lute and, instead, plays a celeste.
Stefan Vinke, as Walther von Stolzing, certainly sang the part, if hobbled by a long wig and silly costume that turned him into a wandering tramp. Vinke had the right heroic stamina, and he acquitted his Preislied and variations thereof with no sign of strain. His ability to belt out the notes was admirable, but the role needed more charm and persuasion.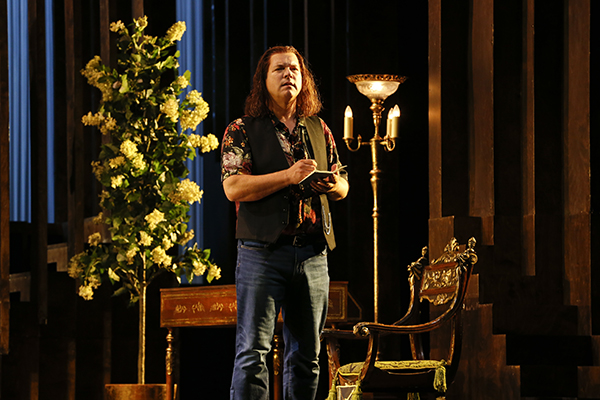 Stefan Vinke as Walther Von Stolzing in Opera Australias 2018 production of Die Meistersinger von Nürnberg at the Arts Centre Melbourne (photo by Jeff Busby)
Natalie Aroyan's Eva was gloriously sung and impetuously performed: this Eva is to be reckoned with, I thought. I wasn't wrong. I hope to hear more of Aroyan. There is definitely an Elsa or Senta in the making there.
Kasper Holten's production (here revived by Dan Dooner) was first given last year at the Royal Opera House, Covent Garden, his farewell as the company's director of opera. Costumes – a mixed bag of epochs and styles, let alone terrible hats for the Mastersingers in Act III – are by Anja Vang Kragh, and the adroit lighting by Jesper Kongshaug.
Holten's production banishes all notions of medieval Nuremberg, and is set in what he describes in his synopsis as the Mastersingers' club: a club to which Walther craves admittance. Clearly, as we see in Act I, this is a men-only establishment, but with many bustling serving maids and the occasional haughty Frau Meistersinger in attendance. Ceremony is limited: the marker's booth is more of a curtained-off lectern, and the guests sit at neat round tables.
Mia Stensgaard's permanent set, criss-crossed with stairways and awkward angles, resembles more an M.C. Escher drawing than anything more clubbable. Yet, this handsome, tall structure, which at the end of Act II physically distorts to set the scene for a real Bacchanalia, still suggests the original setting. It is more effective in the first scene of Act III, where the entire set almost imperceptibly revolves, its inexorably slow axis transporting us from Sachs's workshop to the festivities.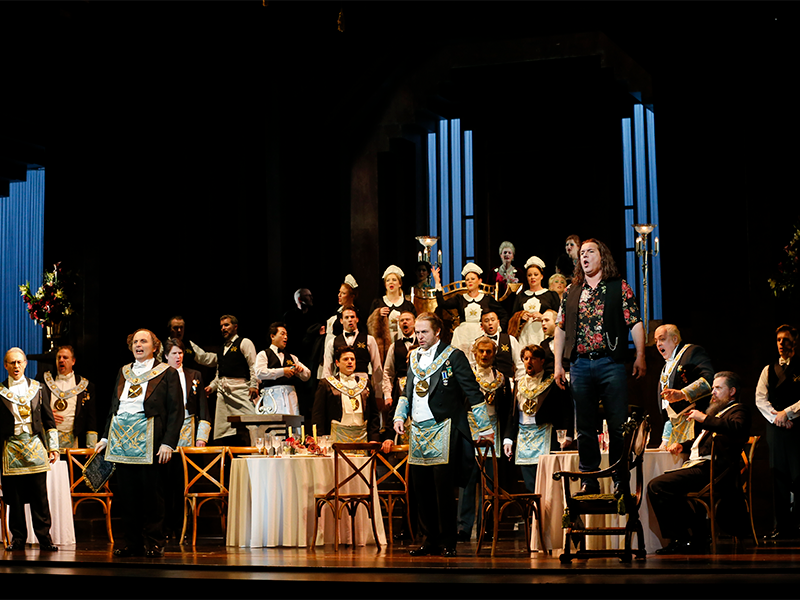 The cast of Die Meistersinger von Nürnberg (photo by Jeff Busby)
There's nothing wrong with updating Meistersinger, and I think of recent productions set at the Nuremberg trials and in a suburban backstreet. Holten's club analogy has its points, and the guild-within-a-guild concept, along with the labyrinthine set, works well. But my inner-Beckmesser is still smouldering at one master-mistake that hobbled the very end of the opera – just as all and sundry are celebrating the joy of life and art and love, Eva, for reasons best known to the director, flounces off in a rage, all because Walther, having rejected membership of the Mastersinger Club, is persuaded by Sachs to accept it. Whatever contemporary message this is supposed to have conveyed, this misguided, egregious, and distracting moment sullied not only Wagner's intentions, but most that had gone before.
At one stage, Walther scrawls a graffito on the wall: Kinder, Schafft neues! Or, Children, think of the new! This quote, from Wagner himself, remains eternally encouraging. As far as Holten's thoughts on Eva Pogner are concerned, they are simply childish. That ending should be reworked.
---
Die Meistersinger von Nürnberg, presented by Opera Australia, continues at the State Theatre, Arts Centre Melbourne on November 17, 19, and 22. Performance attended: 13 November 2018.
ABR Arts is generously supported by The Copyright Agency's Cultural Fund and the ABR Patrons.
Enjoy ABR? Follow us:
(A tick means you already do)
---