Now in its twenty-ninth year, the Wangaratta Festival of Jazz and Blues continues to deliver programming that is innovative, ambitious, and far-reaching. That a long-running Festival of this scale and significance takes place annually in a regional Victorian city says much about the tenacity and dedication of the Festival's artistic team, its board, its many volunteers and supporters, and the general goodwill of the local townsfolk. There can be little doubt that the Festival has, over its near three-decade existence, helped shape the course of jazz in this country, whether via its commitment to showcasing ambitious new work by Australian composers, or staging large-scale performances beyond the scope of most jazz clubs and venues. Along the way, the Festival has delivered substantial audiences for this music and has nurtured several generations of Australian musicians via the National Jazz Awards.
An outstanding feature of this year's Festival was the prominence given to large-scale ensembles. On the Friday evening, the Australian Art Orchestra presented the world première of a three-part suite by composers Peter Knight, Tilman Robinson, and Andrea Keller. Entitled 'Sometimes Home Can Grow Stranger Than Space', the work marked the centenary of Armistice Day and paid tribute to the plight of those men and women who returned to Australia in the aftermath of war. Scored for a nine-piece, electro-acoustic ensemble, the compositions explored a range of musical textures, melding the dark registers of bass clarinet and trombone with dense percussion, strings, spoken text, found recordings, and ambient electronics. The resulting soundscapes, directly inspired by firsthand stories of pain and loss, were delicate and affecting. While of an entirely different order, the work recalled Steve Reich's unearthing of buried histories for his three-movement piece 'Different Trains'. The AAO is scheduled to deliver a further performance of the suite at the London Jazz Festival later this month.
Adam Simmons reprised his dramatic, hour-long suite 'The Calling', premièred earlier this year at forty five downstairs as part of his series 'The Usefulness of Art', to an ecstatic audience. Performed by the Adam Simmons Creative Music Ensemble with the Afrolankan Drumming System, the composition is directly inspired by Simmons's Sri Lankan heritage through his mother's ancestry and his travels there in 2016. Drawing upon a wide-ranging musical palette, 'The Calling' summons the sights and sounds of Sri Lanka, the landscapes, foods, rhythms, and people. The music, accompanied by Jean Poole's striking visuals, careens wildly from joyous giddy rhythms to passages of profound longing, culminating in dancer Vikram Iyengar's extraordinary duet with Simmons, in which the dancer's movements literally embrace and become one with the saxophone's plaintive cry. Exploring questions of place, identity, and where we belong in the world, 'The Calling' is an astonishing work – musically, visually, and dramatically – that resonates long after its jubilant finale.
The Sirens Big Band, a mostly female ensemble, launched their new recording of Ellen Kirkwood's ambitious composition [A]part with a performance of the hour-long suite. Joined by high-profile guests Sandy Evans, Andrea Keller, and Gian Slater, the sixteen-piece band proved remarkably proficient at handling Kirkwood's complex charts. Slater's wordless vocalising was used sparingly but effectively throughout. Sandy Evans revelled in her assigned role of setting this music ablaze, shrieking and hollering on tenor saxophone, and even, at one point, clowning with a barrage of toys and little instruments. The musical suite, which explores themes of climate change, the refugee crisis, and the omnipresence of the internet, cycled rapidly through an array of moods, embracing serenity, atonality, rhythmic jauntiness, and rollicking big-band sounds. Composer Ellen Kirkwood, who both conducted and played trumpet throughout, is clearly an emergent talent, whose work bears comparison with composers like Maria Schneider and James Darcy Argue.
Ten Part Invention, founded in 1986 by drummer John Pochée, is a veritable Australian jazz institution, our equivalent of the long-running big bands of Duke Ellington or Count Basie. While Pochée's health no longer allows him to perform, it was a heartfelt moment to see him take to the stage to introduce Ten Part Invention's Sunday performance. Despite the passing of several key members – Roger Frampton, Ken James, and Bernie McGann – the current line-up comprises a powerhouse of commanding improvisers and composers: Sandy Evans, Miroslav Bukovsky, James Greening, Paul Cutlan, and Andrew Robson. For this performance, the band shared around compositional credits, playing Frampton's 'And Zen Monk', Bukovsky's 'Moon Too Soon', and a section of Evans's suite 'Unidentified Spaces'. Andrew Robson dedicated to the late Richard Gill his own composition 'Poets Must Keep Their Eye on the Moon', inspired by poet Michelle Morgan. Haunting and evocative, it proved a highlight of the performance.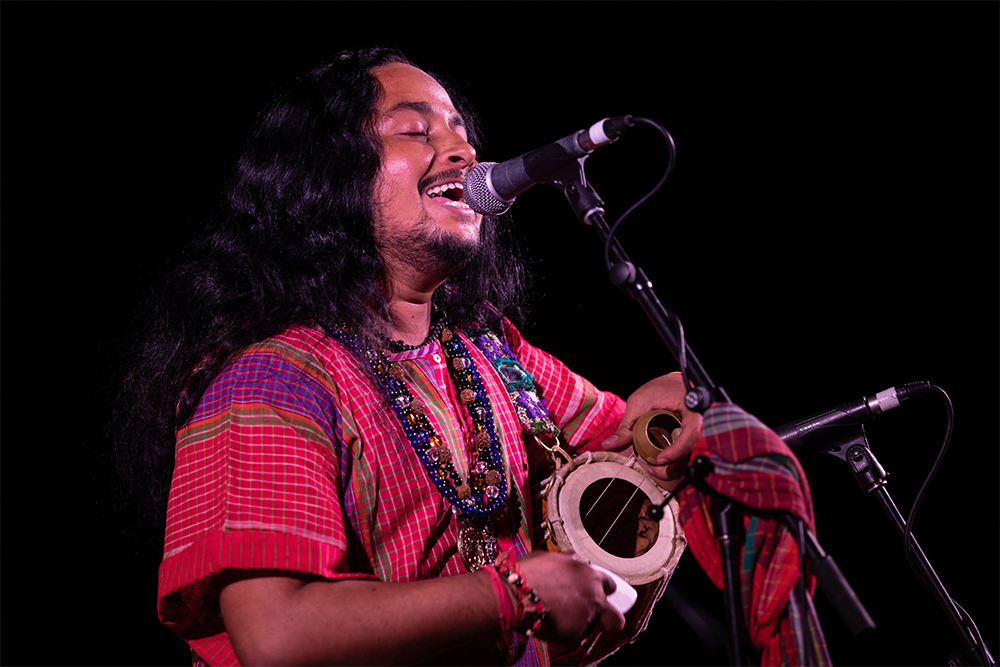 Raju Das Baul from The Three Seas
If large ensemble performances provided one thread for this Festival, another explored the intimate art of the duo. These encounters, many held in the glorious surrounds of the Holy Trinity Cathedral, fostered personal exchanges and dialogues, along with a more open-ended approach to improvisation. Trumpeter Niran Dasika and Japanese pianist Sumire Kuribayashi delivered an exquisite set on Saturday afternoon, brimming with melody and stripped-back themes. Dasika's tone was full-bodied and luxuriant, floating above Kuribayashi's mellifluous piano. Sunday's duo performance by multi-instrumentalist Adrian Sheriff and drummer Ted Vining, by contrast, was a wholly improvised affair, boldly experimental, and exploratory. Other noteworthy duo performances included saxophonist Sandy Evans with pianist Andrea Keller; and trumpeter Miroslav Bukovsky with Czech pianist Emil Viklický.
While we associate the birth of jazz with the streets of New Orleans, American idioms were in short supply at the Festival. Instead, a more inclusive and global trend was evident, incorporating unorthodox rhythms that are a far cry from blues and swing. Saxophonist Julian Banks's quartet integrated the sounds of Indonesian master percussionist Cepi Kusmiadi; the quartets led by James Macaulay and Niran Dasika both featured Japanese musicians, most notably the extraordinary talents of drummer Shun Ishiwaka; and Sydney saxophonist Matt Keegan's latest project The Three Seas fused jazz with West Bengali music. Melbourne's Garden Quartet drew upon the Persian roots of several of its members; while Egyptian-born Australian oud player Joseph Tawadros – already a towering figure on the Australian musical landscape – wowed a large audience in the Cathedral with a virtuosic solo display.
The Festival's major international acts hailed from Europe. Dutch saxophonist Yuri Honing's quartet delivered a seamless performance, accentuated by Honing's exquisite tone on tenor. Performing his latest album Goldbrun, a seven-part suite dedicated to European integration, Honing's quartet brought to mind the near-mystical quality of Keith Jarrett's great European quartet of the 1970s with Jan Garbarek. Germany's Trio ELF, on the other hand, were all high-spirits and mad-cap energy, melding classical piano trio with electronics in the manner of former Swedish unit the Esbjörn Svensson Trio (or e.s.t.). The trio's music plumbed the soft-loud template pioneered by Nirvana and the grunge movement, and it came as no surprise that their deconstructed makeover of the Blink-182 song 'Down' proved an audience hit.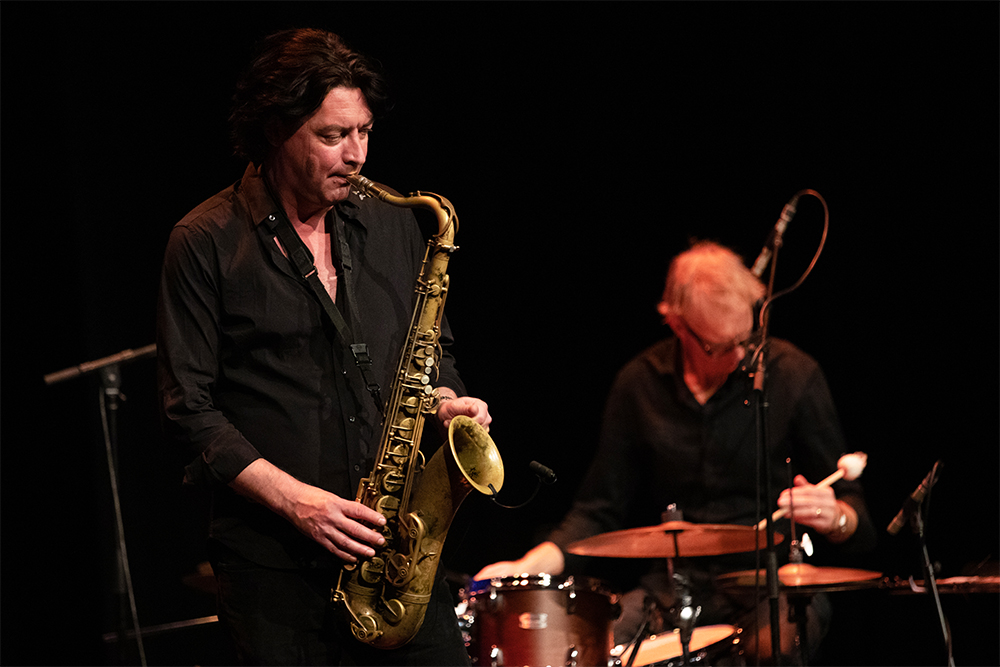 Yuri Honing and Joost Lijbaart from the Yuri Honing Quartet
The 2018 Festival was notable for providing a launching pad for a number of rising stars of the Australian jazz scene. James Macaulay and Niran Dasika, winner and runner-up in last year's National Jazz Awards, were consistently impressive throughout, both leading their own quartets and performing in other ensembles. Drummer Aaron McCoullough led a quintet that performed music from his recent album Providence; trumpeter Reuben Lewis demonstrated why his band, I Hold the Lion's Paw, is one of the most exciting ensembles to have emerged in the past year; and saxophonist Cheryl Durongpisitkul fronted an eight-piece ensemble playing her extended composition 'Follow Me Through the Red Ash', based on her musical investigations into Igor Stravinsky ballet 'Petruschka'. These are all musicians to watch in 2019.
Since their inception in 1990, The National Jazz Awards have played a critical role in providing wider recognition to younger musicians, and the list of past winners reads like a who's who of contemporary Australian jazz. This year's featured instrument was drums, with first prize going to twenty-four-year-old Sydney drummer Alex Hirlian, ahead of runners-up Angus Mason and Oli Nelson.
One of the most memorable performances came from young Japanese pianist Sumire Kuribayashi. Her Sunday morning concert, featuring original repertoire drawn from her recent album Pieces of Colour, was a surprise hit of the Festival. Supported by local players – including Sam Anning, Adam Simmons, James Macaulay, and Niran Dasika – she displayed an uncommonly light touch on keyboards, holding down rhythmic patterns with her left hand, while improvising freely on the upper registers. Her compositions, often based around simple themes, were abundant with melody, evoking the flowing rivers and cascading waters of Japan.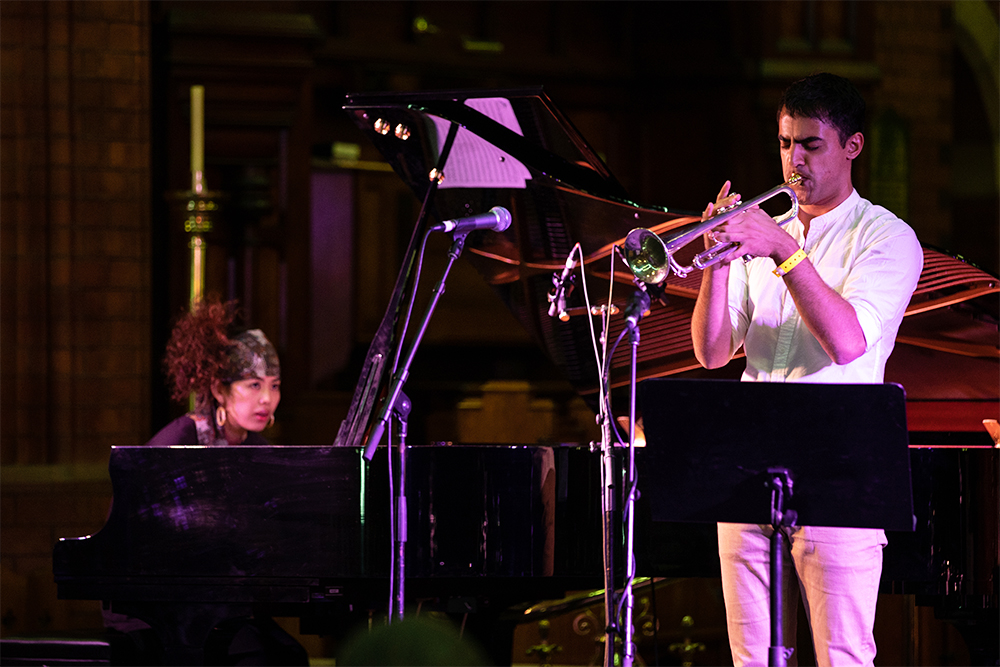 Sumire Kuribayashi and Niran Dasika
For this writer, the Festival ended with a spellbinding duo performance by master percussionist David Jones and electric six-string bassist Evri Evripidou. For sixty minutes, these two musicians took us on a sonic journey, fully improvised, that began and ended with silence. In between, they ever so gently unfolded a series ambient and electronic soundscapes, much of it registering as no more than a whisper. With eyes closed, and in near darkness, I let this music wash over me, oblivious as to who made what sounds. By the end, there was the feel of communal exhilaration palpable in the room; that and exhaustion. A smiling David Jones announced: 'You'll sleep tonight.' And that we did.
The Wangaratta Festival of Jazz and Blues ran from 2 to 4 November 2018.
ABR Arts is generously supported by The Copyright Agency's Cultural Fund and the ABR Patrons.