This reviewer has the unfashionable opinion, at present, that Patrick White, like Henry James, was a novelist and short story writer of genius who had an unfortunate obsession with the stage. In the 1960s, the nascent Adelaide Festival produced the one play of his that deserves repetition, The Season at Sarsaparilla (1962). Its success motivated him to write another couple, one of which was A Cheery Soul, which John Sumner directed for the Union Theatre Repertory Company in 1963. More unfortunately, towards the end of his career, he was encouraged to write plays of an increasingly third-rate standard, which diverted him from what could have been his final masterpiece, the novel The Hanging Garden.
A Cheery Soul started life as a short story based on an irritating neighbour of White's who harassed the denizens of Castle Hill, the then outer Sydney suburb to which White and his companion, Manoly Lascaris, had condemned themselves in the 1950s. White transmogrified his neighbour into Miss Docker, whose relentless compulsion to do good temporally shatters the lives of an uptight but loving couple, causes chaos in an old folks' home, and destroys the life of the local vicar.
What works in a short story – in particular, the rhythm of White's prose – doesn't transfer successfully to the stage. White's dialogue veers from the arch to the mystifyingly mystical. A chorus, which has echoes of T.S. Eliot's The Family Reunion (1939), also has the sort of voice-over effect adaptors use when they can think of no other way of getting across aspects of the original work.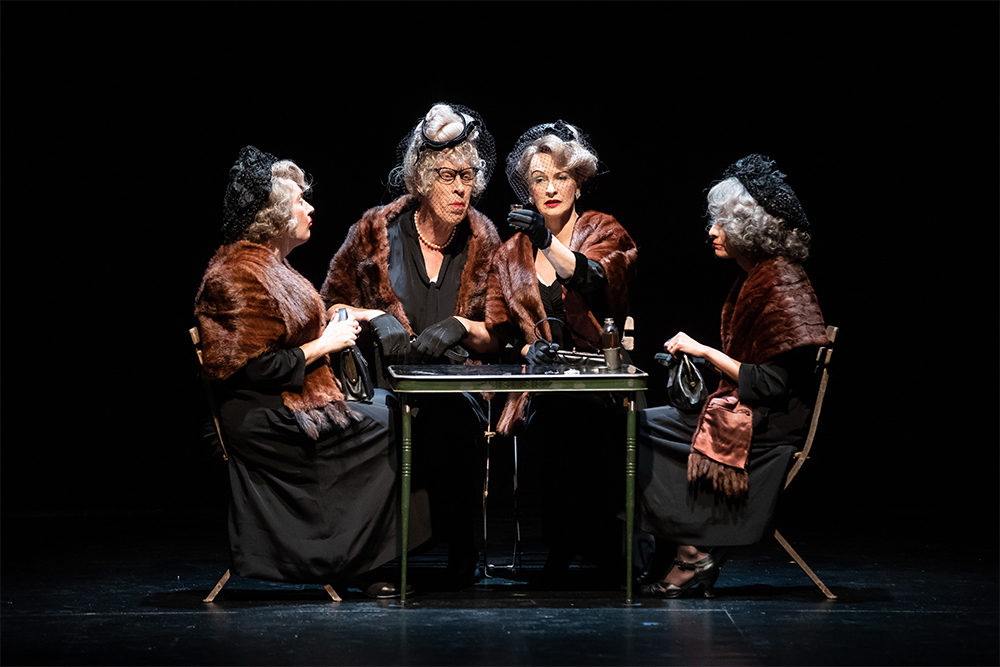 Jay James-Moody, Bruce Spence, Tara Morice and Emma Harvie in A Cheery Soul (photo by Daniel Boud)
The first production was something of a disaster, and A Cheery Soul lay dormant until Jim Sharman revived it in 1979. Sharman realised that the only way to breathe life into this moribund piece was to jettison any attempt at realism and to make Miss Docker completely grotesque. Robyn Nevin, with all guns blazing and the most effective silent scream since Helene Weigel, duly obliged. Nevin's Miss Docker had a terrifying vitality that contrasted with the narrow, pinched lives of her neighbours. At the play's conclusion, when Miss Docker has been rejected not merely by her acquaintances but also by her God, Nevin exited with an unquenchable resilience, which won her character the respect if not the affection of her audience and echoed the final lines of the story. 'Then the tears gushed out of Miss Docker's eyes. It was the wind of course, the dust, the grit … She must not let on though. She was not the kind to spread despondency, encourage grief. Never, ever, ever, ever.'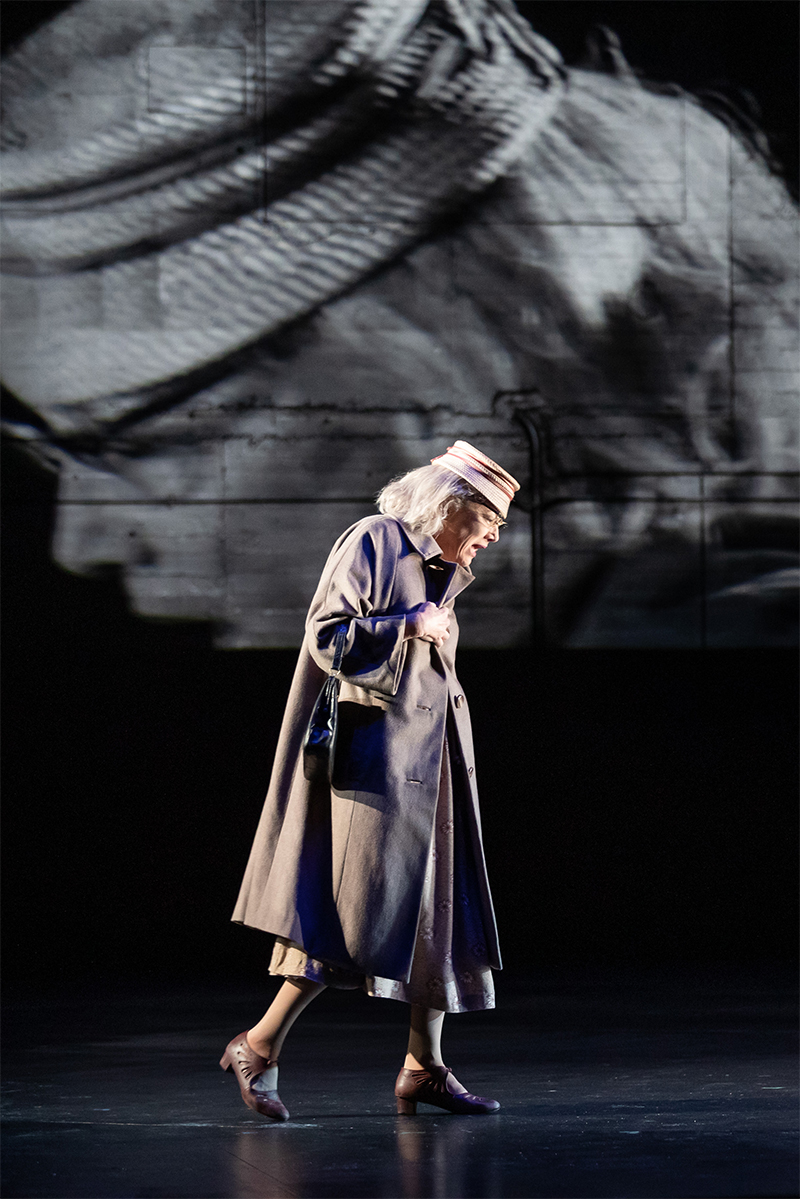 Sarah Peirse as Miss Docker in A Cheery Soul (photo by Daniel Boud)Director Kip Williams is also determined to bring the audience to Miss Docker's side. In his program notes, he says: 'it's very important to myself and the whole team that she's not simply a figure of derision or a clown to laugh at'. Ironically, by emphasising her human qualities and having Sarah Peirse play her in a merely slightly exaggerated style, he loses the dynamism that is the only thing that makes Miss Docker almost admirable, and she remains merely a disruptive bore.
Technically, Williams gives the play the works. Elizabeth Gadsby's sets move seamlessly from suburban home, complete with the ubiquitous Hill's Hoist to a decaying mansion, a bleak roadside, an almost empty church, and, finally, a windswept suburban street. Nick Schlieper's lighting emphasises the overt theatricality of the play. In contrast to Williams's recent production of Bertolt Brecht's Arturo Ui (1958), the video elements here are used effectively and with restraint. Only Clemence Williams's too imposing and attention-grabbing music doesn't quite work. The bemusing guest appearances of Judy Garland and Barbra Streisand, presumably included to cover costume changes, had this reviewer scratching his head.
Williams has picked himself a stalwart cast, and there are some stand-out performances. Peirse is always an interesting performer and, within the limits imposed on her by the script, she manages some trenchant moments, especially in her dealings with the Custances, the well-meaning couple who take her in in the play's first act. Anita Hegh is both funny and sad as Mrs Custance, a warm, passionate woman shackled by the chains of suburban norms in 1960s Australia. Her relief when the tiresome old baggage is dispatched to the Sundown Home is the one genuinely joyous moment in the play. Tara Morice is both imperious and frail as Mrs Lillie, the once well-connected beauty who threw in her lot with a handsome ne'er-do-well and ended up first in a poky suburban house with a corrugated iron roof and finally in the musty embrace of the Sundown Home. But all the cast handle their multiple roles with aplomb. The sight of an imposing, frocked-up Bruce Spence made one long for his Lady Bracknell.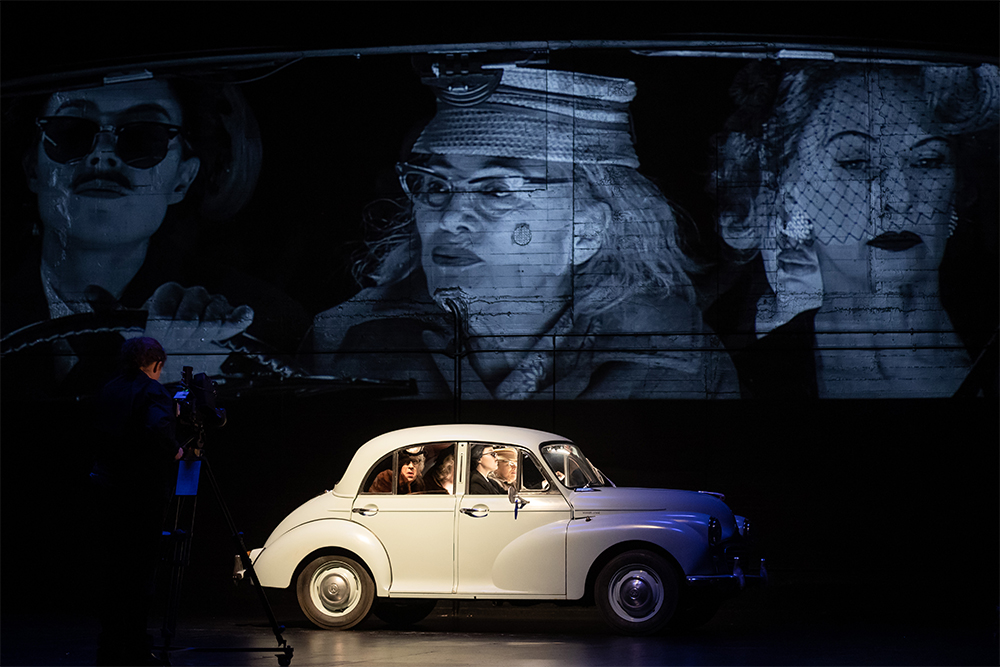 Nikki Shiels, Sarah Peirse and Tara Morice in A Cheery Soul (photo by Daniel Boud)
It is essential for a healthy Australian theatre that what is now a sizeable reserve of plays is re-examined, and all praise for Kip Williams's attempt to find a contemporary approach to A Cheery Soul. But could we move past White and re-explore Dorothy Hewett, perhaps, or Louis Nowra?
A Cheery Soul, written by Patrick White and directed by Kip Williams, is being performed at the Drama Theatre, Sydney Opera House from 10 November to 15 December 2018. Performance attended: November 9.
ABR Arts is generously supported by The Copyright Agency's Cultural Fund and the ABR Patrons.