Krapp's Last Tape was first performed in 1958, which places it towards the end of Samuel Beckett's middle period: those fruitful postwar years during which he wrote his major plays, Waiting for Godot (1952) and Endgame (1957), and the three extraordinary novels known collectively as the 'Molloy Trilogy' (1951–58). Between them, these works have come to define the themes and the aesthetic qualities we now think of as distinctively Beckettian. Their creative breakthrough was, famously, achieved as a result of his decision to switch from writing in English to writing in French – a decision he made, in no small part, to escape the smothering influence of his old mentor James Joyce, who, he felt, had taken stylistic abundance to its logical conclusion, and who inspired in Beckett a counter-resolution to achieve his effects, as he later put it, by 'subtracting rather than adding'.
In this context, Krapp's Last Tape is a play of special significance. It is not only a superb example of Beckett's spare and exacting mature style (the script in my old Faber edition is all of eleven pages long); it is the first of his postwar works to be written in English. Perhaps not coincidentally, it is also a play notable for its numerous autobiographical references and its deep reserves of pathos.
It is this moving quality most effectively drawn out in Laurence Strangio's production, with Max Gillies in the title role, though the play begins in comic mode. Krapp is one of Beckett's grubby clowns: a tired and dishevelled old man – 'wearish', as the script has it – who appears to subsist entirely on booze and bananas. The opening sequence is a dumb show that recalls Beckett's affection for the physical comedy of Charlie Chaplin and Buster Keaton. So there is plenty of potential for broad humour as Krapp futzes about with his keys and rummages in the drawers of his desk. But Gillies signals his intentions with a restrained performance that errs on the side of drollness – he even manages to pull off the slapstick banana-peel gag with a certain battered dignity. Right from the start, his performance evokes the tragicomic quality of Krapp's character: here is a lonely and disappointed man clinging to the melancholy remnants of an exhausted life.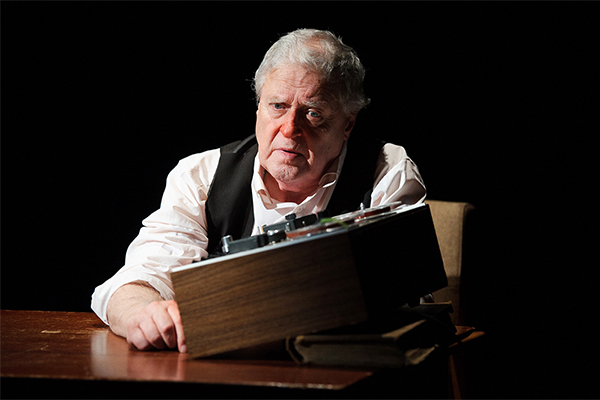 Max Gillies in Krapp's Last Tape at fortyfivedownstairs (photo by Sarah Walker)
There is really only one way to stage a dramatist as fastidious as Beckett: faithfully. The set is simple and stark. A small desk sits in the middle of a bare stage in a pool of bright light, surrounded by a much larger expanse of darkness, into which Krapp periodically shuffles to pop the cork from another bottle of plonk or to fetch one of his outsized props: a ledger in which he keeps track of his recordings; his boxes of tapes, accumulated over the course of a lifetime; a large dictionary he uses to look up the strange word 'viduity'; and, of course, his rickety, reel-to-reel tape recorder. The latter supplied the only technical blemish on the opening night's performance, when it developed a distracting squeak at several crucial moments.
Beckett claimed he had never seen a tape recorder when he first had the idea for Krapp's Last Tape. But the simple conceit of a one-man play with two voices – a man at the end of his life listening and responding to the recorded voice of his younger self – provided him with an ingenious way to give memory a dramatic form. Krapp the younger is, in fact, middle-aged: he is thirty-nine, which makes Krapp the elder sixty-nine – one year shy of his allotted three score and ten. And it is the understood but unspoken prospect of his imminent death, the absoluteness of his solitude in the face of mortality, that hang over the action, informing the play's fathomless silences and the ebb and flow of Krapp's reactions as he moves between puzzlement, fascination, exasperation, and irritation at the 'stupid bastard' he once was.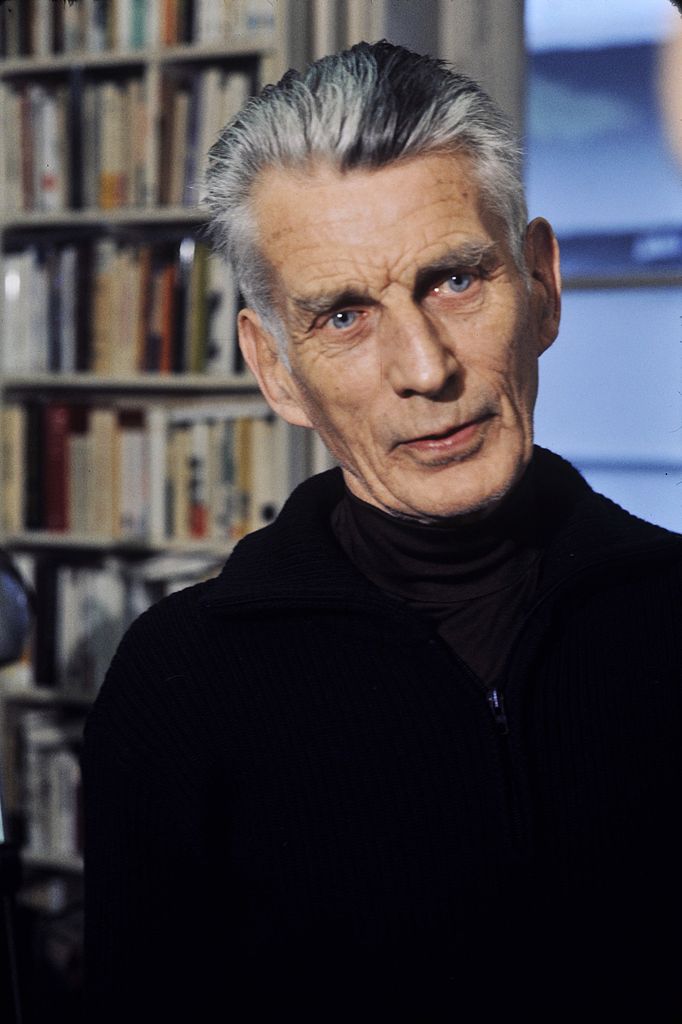 Samuel Beckett (photo via Wikimedia Commons)Gillies navigates these shifts in mood with ease and authority. His huffing presence conveys Krapp's weary sense of the futility of it all, his conflicted awareness that his recorded memories are constitutive yet ephemeral and elusive, and that the emotions they evoke have no ultimate point and nowhere to go. His estrangement from, and frustration with, his bumptious younger self, who feels himself to be 'intellectually … at the crest of a wave' and who wonders how to separate 'the grain from the husks' of his experiences, reach their dramatic apotheosis when the taped voice begins to describe the lyrical 'vision' central to the play, prompting him to leap up in frustration and hit the fast-forward button.
This year is the sixtieth anniversary of the first performance of Krapp's Last Tape, but remarkably it is also fifty years since Gillies first appeared in the play. I didn't manage to catch him in the earlier production, when he would have been considerably younger than the 'young' Krapp, but it is hard to imagine his youthful self summoning the kind of emotional depth he brings to this performance. As the comical elements gradually fall away, as Krapp's constrained existence contracts even further and the play arrives at its final, static image – Krapp bent over his tape recorder as the darkness closes in, straining to hear his own voice speaking to him from the depths of the past, as it delivers the play's profoundly ironic, profoundly ambiguous, and justly famous closing lines – Gillies's unmoving face conveys a world of loss and regret.
Krapp's Last Tape by Samuel Beckett, starring Max Gillies and directed by Laurence Strangio, is being performed at fortyfivedownstairs from 31 October to 11 November 2018. Performance attended: November 1.
ABR Arts is generously supported by The Copyright Agency's Cultural Fund and the ABR Patrons.