Almost one hundred and forty years have passed since Henrik Ibsen's A Doll's House shook the European bourgeoisie with its proto-feminist depiction of a woman walking out on her husband and children. Now American playwright Lucas Hnath has written a sequel of sorts, A Doll's House, Part 2, which picks up Nora's (Marta Dusseldorp) story fifteen years after she slammed the door on her loveless, suffocating marriage to bank manager Torvald (Greg Stone).
In Hnath's play, which was rapturously received on the occasion of its Broadway première in 2017, Nora has become a writer, under a pseudonym, of best-selling 'books about women'. Hnath's play opens with a reversal of Ibsen's 'door slam heard around the world': Nora returns (via an arresting video sequence) to the house she left to finalise her divorce from Torvald. Widely assumed to have died, Nora has in fact 'done very well', as she tells housemaid Anne Marie (Deidre Rubinstein), out of writing about the ways in which 'marriage is cruel and destroys women's lives'. But for the impositions of a still patriarchal society – her heroines must ultimately suffer for their liberation, dying of consumption and the like – Nora has become, it seems, every bit the independent, self-actualised woman suggested in Ibsen's play.
If this sounds like an unpromisingly low-stakes foundation for a sequel to one of the pioneering works of modern drama, you'd be right. There is no great struggle at the heart of Hnath's play, and little that substantially advances the arguments of the original. The plot is thin and sprinkled with unconvincing details. Psychologically, Nora's wish to make the divorce official rings untrue, while Hnath's making her a writer smacks of convenient invention rather than organic character development. In his stage directions, the playwright asks for a space like 'a forum', a clue to Hnath's conceptualisation of the play as a vehicle for ideas, but the result is didacticism of a curiously hollow kind. The dramatic tension, such as it is, revolves less around the kind of world-making philosophical differences that drove Ibsen's play than it does around sedate talking points and banal increments of plot (yes, Hnath knows his nineteenth-century Norwegian divorce law).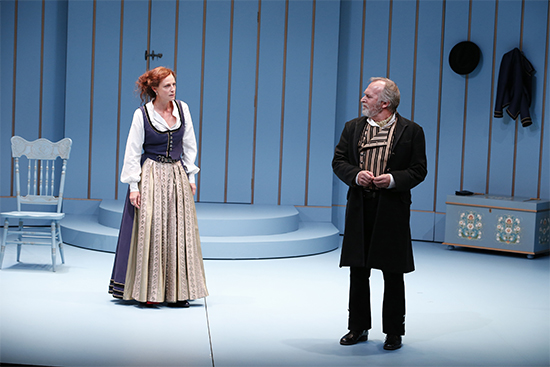 Marta Dusseldorp as Nora and Greg Stone as Torvald in A Doll's House, Part 2 by Melbourne Theatre Company (photo by Jeff Busby)
More interestingly, the play both recapitulates Ibsen's critique of bourgeois marriage and problematises Nora's decision to leave her family, shining a light on its consequences. 'You run off,' Torvald says to her, 'and pretend that's the same thing as being strong.' Meanwhile, their recently engaged daughter Emmy (Zoe Terakes) argues for the value of marriage – an assertion, in a way, of her own independence of thought – despite the unappealing example set by her parents. Although it is not obviously illiberal or anti-feminist, it's possible to read the play as a critique of the kind of individualism that, in part, empowered Nora to leave.
Hnath, it seems to me, is striving for some sort of third way, one that seeks to neither condone nor condemn Nora's walking out, but to show it in its many dimensions. It is an almost painfully even-handed play, down to its structure, which sees each character take their turn, opposite Nora, in the spotlight (projections of their names denote each new scene). This structure also allows for some intriguing tangents: for example, the class commentary introduced in Anne Marie's scene, the housemaid telling Nora that 'I didn't have the same options you did', factory work or prostitution beckoning as the only two paths out of a life of indigence.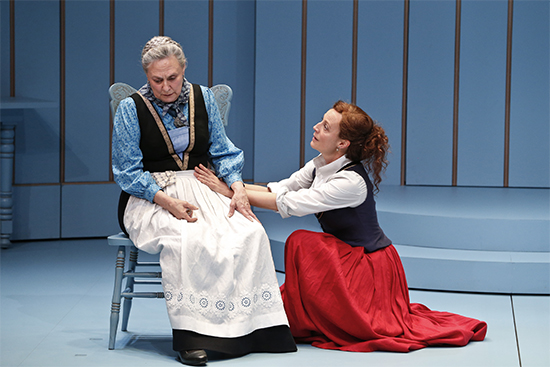 Marta Dusseldorp as Nora and Deidre Rubenstein as Anne Marie in A Doll's House, Part 2 by Melbourne Theatre Company (photo by Jeff Busby)
Hnath relays all of this to us in the dress of the period, but the language of today. His style is characteristic of the modern American naturalists: funny, fast, sharply demotic (amusing for its incongruousness, Anne Marie swears like a sailor) and rather knowing. Designer Tracy Grant Lord's minimalist set, dominated by an outsized door and effectively lit by Niklas Pajanti, feels both claustrophobic and denuded, a space set in aspic until Nora's revitalising return. Under the restrained direction of Sarah Goodes, the cast of four – anchored by the fine Dusseldorp, whose buoyant Nora is a gripping mixture of strength and vulnerability – excel.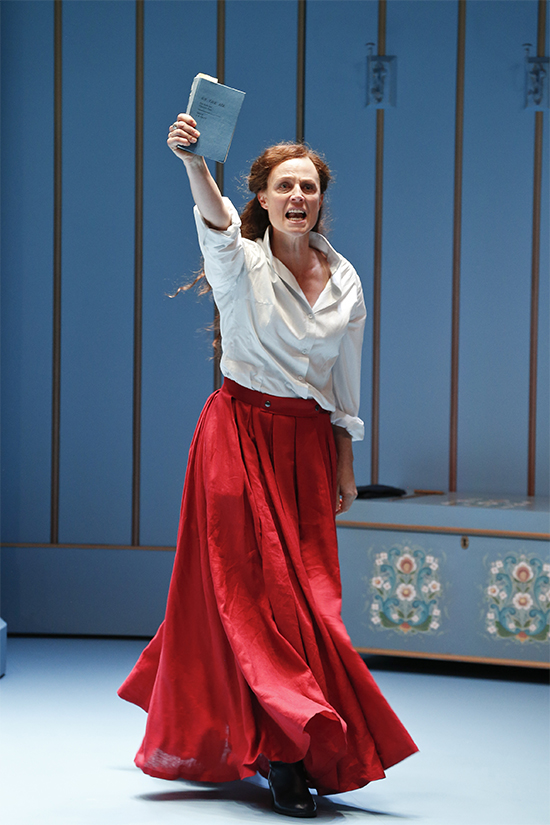 Marta Dusseldorp as Nora in A Doll's House, Part 2 by Melbourne Theatre Company (photo by Jeff Busby)For all this production's commendableness, we are left with a strangely insubstantial play that – though not unentertaining while in motion, thanks largely to Hnath's zippy dialogue – ultimately disappoints. There is something satisfyingly, and even movingly, human in the way the final scene, a duologue between Nora and Torvald, cuts through the polarised rhetoric of contemporary gender debates to simply say, as Torvald puts it, that learning how to be with someone – anyone – is hard. More than ever in our increasingly fractious, finger-pointing public discourse, we need such acknowledgements of our shared anguish. But such ambivalence is a liability, too. Unlike Hnath's other plays, such as Red Speedo (on drugs in sport) and The Christians (on evangelism in America), A Doll's House, Part 2 errs too much on the side of homage to meaningfully speak to the contemporary moment. 'One day everyone will be free – freer than they are now,' says Nora near the end of the play; a convincingly Ibsenesque sentiment, but one that feels underpowered, even naïve, in the age of #MeToo, marriage equality, and all the rest.
A Doll's House, Part 2, is being performed by Melbourne Theatre Company at Southbank Theatre 11 August to 15 September, 2018. Performance attended: 16 August.

ABR Arts is generously supported by The Ian Potter Foundation and the ABR Patrons.