BlacKkKlansman begins with Vivien Leigh as Scarlett O'Hara in Gone with the Wind (1939), picking her way through a mire of injured Confederate soldiers. Then it cuts to Alec Baldwin as a fictional mid-twentieth-century eugenicist spewing racist pejoratives and bilge about 'the International Jewish Conspiracy'. Footage from D.W. Griffith's profoundly racist and egregiously influential film The Birth of a Nation (1915) is projected across his face. Baldwin is noted for his Saturday Night Live caricatures of contemporary American racist Donald Trump, and BlacKkKlansman's director, Spike Lee, is banking on that recognition. The slippage between personages, images, and decades is a part of his strategy. Are we watching a bigoted artefact from the distant past, or yesterday's Fox News?
BlacKkKlansman is many things: a caper; a cop flick; a polemic; a critique of US cinema's foundational racism; a homage to Blaxploitation films of the 1970s, and, finally, a tragedy. It is also a tall tale that mostly happens to be true. Cut to Colorado Springs, Colorado, in some unspecified year in the 1970s, where Ron Stallworth (John David Washington) – a rookie cop, an aspiring undercover detective, and the only black man on the force – is about to make contact, practically on a whim, with the local chapter of the Ku Klux Klan.
This really happened. The film's four credited screenwriters, including Lee, based the main part of their script upon the real Ron Stallworth's memoir of his time infiltrating the Klan. It is such an unlikely premise that Lee can make from it a trenchant yet surreal comedy. Fluent, as he boasts, in both 'King's English and jive', Stallworth poses on the phone as a white supremacist, while face-to-face meetings with Klan members are handled by Stallworth's colleague Philip 'Flip' Zimmerman (Adam Driver), who pretends to be a white Stallworth. Flip also happens to be a non-practising Jew, who finds himself having to deny that heritage to gun-wielding, anti-Semitic cranks. 'You've been passing for a WASP,' Ron comments to Flip. 'It's what some light-skinned black folks do: they pass for white.'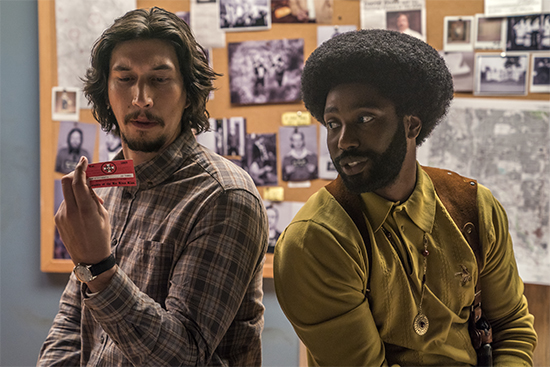 Adam Driver as Flip Zimmerman and John David Washington as Ron Stallworth in BlacKkKlansman (photo by UPI Media)
As if this weren't enough code-switching and counterfeiting for one film, Ron is also lying to the woman he's interested in, Patrice Dumas (Laura Harrier), a student activist. The two meet when Stallworth is sent undercover to a public address given by black radical Kwame Ture, formerly Stokely Carmichael. Patrice is confident in her bearing and forthright in her beliefs. When she asks Ron if he's 'a pig', he denies it. Their tentative romance isn't wholly convincing on the level of character, but it allows Lee to build into his film another set of political questions. Can a prejudiced system, in this case policing, be changed from the inside? Or must it be dismantled? During Kwame Ture's speech (a barnstorming cameo performance by Corey Hawkins) Ron raises a fist in salute to Black Power. He is trying to pass, but he's also torn between conflicting self-identities. There are so many versions of himself in play. Washington doesn't overstate his performance in this multi-faceted role. Driver, too, is watchful, sometimes weary.
And in the end this isn't a game. Lee can wring laughs out of split-screen phone calls between white racists and a black man pretending to be one of them, but he knows that more is at stake. White fascists might be foolish; they are also violent and dangerous. Nor does Lee ignore the effects of a more insidious, covert racial prejudice: Richard Nixon's 'silent majority' is invoked in one scene, while a police colleague of Ron's is obviously a racist who just won't come out and say so – until he does. In contrast to the foul-mouthed style of the local bigots, we also get David Duke (Topher Grace): then Grand Wizard of the Ku Klux Klan, now an enthusiastic supporter of Donald Trump. Duke is besuited, articulate; the kind of racist who gives a good interview. He is also poisonous.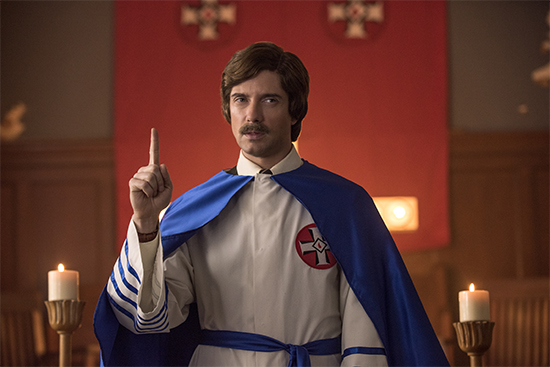 Topher Grace as David Duke in BlacKkKlansman (photo by UPI Media)
Perhaps it was only a matter of time before a contemporary director alighted upon Stallworth's story and used it to make a point about the persistent threat of racism and fascism today – and not only in the United States. No director but Lee, however, could have made from this material a film so audacious, so tonally sure, even when that tone shifts all over the place. Lee is an everything-and-the-kitchen-sink filmmaker: he gives us parody and grotesquery and a jukebox singalong and Harry Belafonte. Just when you think that it's all about to conclude with a cheeky flourish, BlacKkKlansman turns utterly chilling.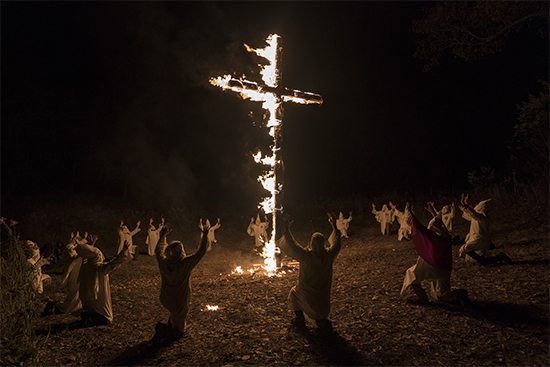 A still from BlacKkKlansman (photo by UPI Media)
This isn't the first time that the Ku Klux Klan has turned up in Lee's filmography. The organisation also appeared briefly in Lee's biopic Malcolm X (1992), which starred Denzel Washington. John David Washington, star of BlacKkKlansman, is Denzel's son. There is a real sense in which this film speaks to, and with, Lee's earlier work – its faces, its energies, its arguments – while also being his most brilliantly realised film in years. Lee has always been a filmmaker concerned with the urgency of our need to eradicate racism, and that urgency remains, in the mood of Lee's film but also beyond it, in the world. BlacKkKlansman is unequivocal in its conclusion. Some viewers may feel that Lee is being didactic, or literal, but I think that BlacKkKlansman is a vital film arriving at a critical moment.
BlacKkKlansman (Universal Pictures), 135 minutes, is directed by Spike Lee. In cinemas 16 August 2018.
ABR Arts is generously supported by The Ian Potter Foundation and the ABR Patrons.